There are various reasons people decide to enter the nursing workforce. One of the primary motivations for many is because they want to care for and treat sick patients. For others, it's due to the fact they want to be a role model for younger people.
If these justifications resonate with you, then consider becoming a nurse. With the sector continually expanding, there are many specialties, job roles, and environments to work for you to choose from.
Still on the fence about pursuing a nursing career? Continue reading this article and learn about the reasons people choose to become nurses.
Creates a Positive Impact
One of the primary motivations for people to go into the nursing workforce is to help those in need and positively impact the lives of others. When you work as a nurse, you're making a difference each day. Whether you're assisting other healthcare providers or administering medicines to patients, your role produces a significant impact on other people's lives.
The current COVID-19 pandemic highlights how humankind needs nurses. These individuals relentlessly treat injured or sick people, care for communities, and save the lives of others. They're indispensable and their work can help considerably change a person's life.
Whatever healthcare environment you eventually choose to work in, each person you help will surely be grateful for the service you rendered.
Offers Optimal Benefits
Some of the typical employment benefits nurses receive are the following:
Paid time off
Life insurance plan
Tax savings plan
Pension plan
Flexible schedule
Tuition reimbursement
Medical-dental-vision insurance
The above are only a few benefits nurses enjoy. On top of those, nurses get to wear comfortable scrubs regularly. This type of clothing help ensure that they can move freely while performing their work. However, not all scrubs are made the same. Quality matters. It's important to choose reliable providers like Keswi to ensure a comfy, stylish fit.
Increasing Industry Demand
Based on a Bureau of Labor Statistics report in 2015 titled 'Occupational Employment Projections to 2024,' job growth for registered nurses is approximately 16.4% between 2014 to 2024. Some of the reasons for the rate increase are the aging population and more people opting to obtain treatment at their homes. As nursing remains one of the most highly demanding jobs, job candidates have higher chances of landing jobs and even making shifts in their positions within the nursing industry. Nursing-focused job boards are great sources to learn about career opportunities and vacancies. Read here more to discover job opportunities and different contract options within the field.
Diverse & Broad Job Roles
Besides the increasing demand for nurses across different settings, many people choose to become nurses since they can pursue diverse and exciting job roles. Nurses can work in geriatrics, mental health, family practice, pediatrics, and adult health. They can likewise seek employment in any of the following healthcare environments:
Schools
Community and public health centers
Outpatient facilities
Doctor's offices
Patient's homes
Corporate clinics
Satisfying & Rewarding Role
Another reason people choose to become nurses is the financial and emotional fulfillment that the role can bring. As the job allows individuals to care for various people every day, they feel a sense of satisfaction in their roles, especially when they see their patients' health improving.
Additionally, given the high demand for nurses in most parts of the country, the job also offers a rewarding salary. Since people will always require quality healthcare, a nursing career is a dependable and steady choice.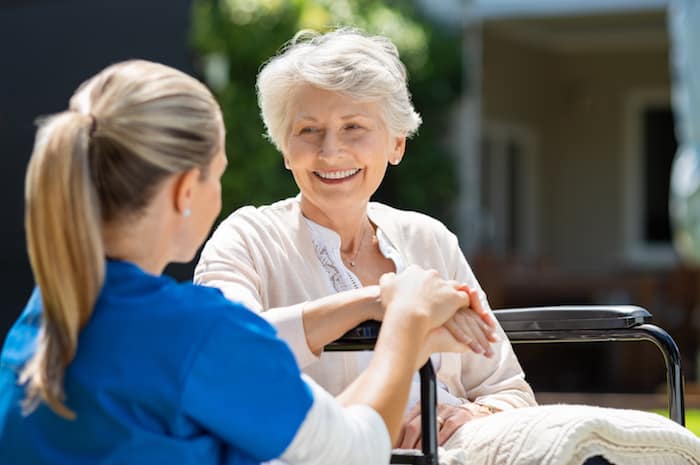 Esteemed & Honorable Job
According to a recent survey, people view the nursing vocation as an admirable and honorable job. Working as a nurse is a job you can always be proud of, and people will respect you because of it.
Indeed, nursing may not be the initial profession others think of when they visit hospitals or any healthcare institution. However, nursing is one of the top jobs that comes to mind when people are searching for honest and esteemed work.
Entails Continuous Learning
The requirements for becoming a nurse tends to differ per state. However, one of the common requisites is the continuing education requirements. After all, as humankind continually evolves, so does the healthcare needs. Because of this reason, nurses need to cultivate their knowledge continuously. And for some who enjoy learning, this is an excellent reason to join the workforce.
Plenty of Technological Advances
Technology has been revolutionized so many industries, and the nursing sector is no different. Developments created through technology help reduce duplicate tasks, allow practical use of work areas, enhance healthcare settings, and optimize safety in the job.
Moreover, these new advancements are generating new paths for nurses. Many nurses can choose to specialize in specific roles or disciplines such as healthcare informatics where they can perform the following tasks:
Mentoring healthcare workers on using computer systems
Analyzing and gathering patient data
Automating clinical care
Formulating an operational data system
Exhilarating & Productive Work
On the other hand, are you a person who hates to be stuck behind a desk the whole day, staring at a monitor? Nurses are on their feet most of the time caring for patients or assisting other healthcare providers.
Yes, the job may involve some dull tasks, but nursing is way beyond an ordinary desk job. The role is productive and sometimes exhilarating. There's plenty of opportunities for you to learn something new or encounter something unfamiliar each day.
Provides Opportunities to Travel
And finally, good healthcare is a global requirement. One of the excellent reasons people become nurses is because the vocation provides the opportunity to travel.
Travelling nurse jobs is an exciting option for individuals who prefer to be always on the go. These nurses travel to various hospitals, covering and responding to unplanned staffing requirements. And because of the stringent nature of the role, travel nurses receive excellent salaries.
Final Thoughts
As shown above, there are numerous reasons people become nurses. Nonetheless, the primary motivation for those that seek the path is the opportunity for them to establish a positive impact on the lives of others.
Nurses are unquestionably caregivers, and it's essential they're compassionate people who'll never hesitate to help others. With today's world permanently altered by COVID-19, it's creating a vast transformation in roles, responsibilities, and skill sets of so many nurses.
If you wish to be a nurse, now is the excellent time to enter the workforce since it's becoming even more evident how vital nurses are in society.
Senior Outlook Today is your go-to source for information, inspiration, and connection as you navigate the later years of life. Our team of experts and writers is dedicated to providing relevant and engaging content for seniors, covering topics such as health and wellness, finances, technology and travel.