Artdesigns
Check out the curated art from artdesigns.com! Keep up with #springdecor with warm blues and neutrals or start focusing on fall! Artdesigns has so much to choose from year round with their carefully selected items!
Brighten Up Your Home With artdesigns
Effortlessly transition into spring with these fresh favorites
Spring is finally here! Celebrate the trends of the season and let your space blossom with artdesigns! Refresh your home decor and add a splash of color with the lively, vibrant spring accessories for your humble abode. Whether you're wanting a warm blue hue or the modern designs of nature, make your space a spring sanctuary with artdesigns!
Add bursts of color, energetic patterns, and lively springtime motifs to your home with the carefully curated artwork from artdesigns. Say sayonara to winter and bring on the flowers! Embrace spring early with the following on point trends:
Warm Blue: Explore the twists and curves of rugged, natural beauty seen through an interiors perspective with this wonderful warm blue hue. All natural elements are mixed into sustainable, modern homes as it intersects clean, sophisticated minimalism with a chic, bohemian lifestyle.
Neutrals & Nature: Give a gorgeous nod to nature and merge an elemental aesthetic with slightly modern and industrial touches. Paying homage to an outdoor lifestyle and timeless culture, these neutral pieces incorporate unexpected beauty and tactility.
Welcome a new season with bright, bold touches around your home. Freshen up your space and achieve your aesthetic with the effortlessly elegant artwork from artdesigns.
Want to add some #spring flair to your home? Visit https://www.artdesigns.com to shop for the best wall art displays.
ABOUT ARTDESIGNS
Dedicated to delivering carefully curated artwork for any modern, stylish home, artdesigns can take your decor to the next level. A perfect match for interior design, home renovation or even remodeling, these gorgeous pieces were created to offer the best in home design. Search for that perfect statement piece to complete your home or collect inspiration with several selections of hand-picked designs made just for your space.
---
Volcanica Candles Hand Carved Candles
Handcrafted in Bali, these carved candles showcase the intricate craftsmanship of the local artisans. But don't worry about lighting them—they burn inward, so the textured surface stays intact. It's made from locally sourced bees and palm wax, so it burns cleaner, too, without any soot, smoke, or fragrance. When the wick is done, pop a tea light in to use it as a luminary.
---
Flagology
Flagology specializes in personalized photo flags, so you can show off your favorite picture on a high-quality decorative flag. These make the perfect gift as each flag is a unique way to cherish a memory, remember a special moment or honor a personal hero. Made to order in North Carolina, Flagology offers world class personalized flags to match any mood, holiday or season.
Flags For Every Occasion
With an incredible range of seasonal and holiday-themed flags available, you can easily rotate flags all year round. Personalize your own or use Flagology's dozens of premade designs to create a seasonal flag.
Features of Flagology's Personalized Flags:
Versatile decor- Flags can be used for all your celebrations: birthdays, weddings, graduations, holidays and more.

Custom photo flags- Upload a photo of your furry friend or hero, add a personalized message and accents such as a frame or border.

Printed on both sides- Flags are printed on each side in your choice of two premium fabrics. Incredible quality!

Great gift idea- Whether it is a pet or a human, Flagology is the perfect way to honor someone special. You can also capture landscapes, events, and milestones.

FREE personalization– Unlimited personalization is included in every single flag. No character limits.

Memorial flags- Their large collection includes memorial flags to honor a beloved pet or hero's passing.
Available in 2 sizes- Garden (12.5" x 18") and house (28" x 40") sizes.
Customers can choose from a wide range of designs or customize their own online. Flagology's user-friendly website offers an easy-to-use online flag designer where you can be the creative director. Design and decorate your flag by choosing text, clipart, and hundreds of other designs to create a personalized flag for your home.
---
Gone are the days of hurting your legs and back while trying to clean the grout around your house just for it to still look dirty! Introducing you to Grout Express… your new cleaning partner-in-crime. This commercial-grade product, that targets grout lines not just the surface area, has been made available for at-home use. Get every little nook and cranny in your house looking as good as new with Grout Express…The Ultimate Tile Grout Scrubbing Device!
The revolutionary designed cleaning device uses disposable scrubbing pads attached to either an adjustable/removeable pole or a handheld handle (both included with purchase), making Grout Express more sanitary than brushes that are used over and over. It also won't scratch your floors and can be used on sealed or unsealed grout lines.
With a $24.99 price tag, tackling the bacteria, dust, mold and pet dander that hide within grout lines and can make your household sick is not just easy, but it's affordable! You get everything below in each box purchased:
Grout Express base

Adjustable pole
2 pad glides
20 scrub pads
1 hand held handle
Micro Fiber Pad
Grout Express can be purchased directly through their website, www.groutexpress.com.
Apply Discount Code: VALUE to purchase the Express Combo (kit + Eco Cleaner) for $17.99
Apply Discount Code: SAVE to purchase the Eco Cleaner for $9.99
Get one for yourself and enjoying the feeling of having a completely clean home!
---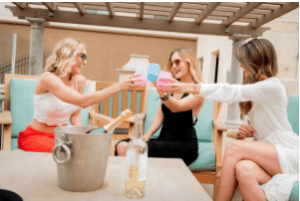 Bendiware
Say goodbye to messy party fouls with help from Bendiware's silicone wine glasses. Bendi is made from 100% BPA-free, food-grade silicone that is flexible yet strong enough to withstand the most intense wine nights with the pals! These colorful, fun cups are perfect for sipping vino or other cool cocktail concoctions at your next backyard bash.
Bendiware also makes planning for the perfect brunch with friends and family easy and fun with their silicone wine glasses. Fold them up and toss them in your bag or backpack or display the vibrant colors on your back patio while sipping away the evening. Bendis are fun and flexible wine glasses that keep the party going. Cheers to that!
· Built to last…
· Made of high-quality silicone, these glasses won't break when dropped;
· Portable: fold them up and take them anywhere! Toss them in your purse, backpack or even your back pocket and they'll pop open to their original shape;
· 100% BPA free: feel safe while you're sipping away;
· Freezer and dishwasher safe: Bendis are easy to clean, plus they won't freeze, crack or shatter when place in the freezer or dishwasher.
---
Gaia Tablescapes
The Lola, Teton, and Independence tableware sets from Gaia Tablescapes brings "the best of the earth" to consumers with tableware notable for its organic shapes and colors, designs, and finishes inspired by nature and patterns from around the world. Lola from the GEO collection is characterized by its unique pattern and texture, along with its lively colors. Teton, from the Metallic Elements collection, combines lustrous metallic washes with Gaia's noteworthy stoneware to produce an elegant, reflective finish. The Independence, another design from the Metallic Elements collection, boasts sharp lines and hammered textures, producing a bold visual impact. These pieces are far beyond the ordinary and will make any spring gathering an event to remember.