THE ESSENTIAL OILS DIET: Lose Weight and Transform Your Health with the Power of Essential Oils and Bioactive Foods by Dr. Eric Zielinski and Sabrina Ann Zielinski
Introducing bestselling author Dr. Eric Zielinski and his wife, natural health guru Sabrina Ann Zielinski (Dr. Z and Mama Z). Their new book THE ESSENTIAL OILS DIET: Lose Weight and Transform Your Health with the Power of Essential Oils and Bioactive Foods (Harmony Books | $25) arrives on bookstore shelves on May 7!
The new book introduces readers to a sensible, evidence-based, two-phase program designed to help readers best utilize essential oils for a healthier, more vibrant life. The first phase is the 30-day Essential Fast Track that helps readers banish excess pounds quickly. It is followed by the Essential Lifestyle, a gentle, sustainable maintenance program that has been designed to be followed for life. It also includes more than 80 recipes to help the reader live a healthier, more vibrant life with essential oils.
Dr. Z has pioneered natural living and health education since 2003 while Mama Z is a home birth mom of four, a certified group fitness instructor, health coach, and beauty pageant trainer with a vast background in natural living that has helped empower thousands of women to reach their true potential.
---

THE SHERLOCK HOLMES & LUCY JAMES MYSTERY SERIES
Penned by father-daughter author duo Charles Veley and Anna Elliott (Annais the acclaimed historical novelist behind the Twilight of Avalon trilogy and The Pride & Prejudice Chronicles), in the SHERLOCK & LUCY series, Holmes is as brilliant and engaging as ever… and the father of Lucy James: an independent, modern-minded American actress living in Victorian London who inherited her father's intelligence, detective skills, and bravery.
This series is an absolutely delightful and worthy addition to the Holmesian canon! DIE AGAIN, MR. HOLMES — the latest and eighth book in the series which, like its predecessors, can easily be enjoyed as a standalone novel.
In a recent review, Publishers Weekly calls DIE AGAIN, MR. HOLMES "entertaining" and says it "provide[s] a clever variation on a familiar theme by making the concept of Holmes as a parent plausible."
About THE SHERLOCK HOLMES & LUCY JAMES MYSTERY SERIES
BOOKS: The Last Moriarty (Book #1 – 2015), The Wilhelm Conspiracy (Book #2 – 2016), Remember, Remember (Book #3 – 2017), The Crown Jewel Mystery: A Prequel (Book #4 – 2017), The Jubilee Problem (Book #5 – 2017), Death at the Diogenes Club (Book #6 – 2017), The Return of the Ripper (Book #7 – 2018), and Die Again, Mr. Holmes (Book #8 – 2019).
PUBLISHER: WILTON PRESS
FORMATS: PAPERBACK, E-BOOK, AUDIOBOOK
LINK: https://www.amazon.com/gp/bookseries/B01N9EDWKO/
---
Gather As You Go by Carol Lavin Bernick
Gather As You Go –a collection of short, digestible lessons that can be read in a minute or two, is a book that offers powerful lessons, key insights and helpful tips from Carol Lavin Bernick, former executive chairperson of billion-dollar conglomerate Alberto Culver and local Chicago resident.
Through her book, Bernick shares insights she's learned (often the hard way) through her many roles: corporate and civic leader, working mother and philanthropist. The wisdom focuses on three pillars —Life, Leadership and Purpose — making it a read that benefits everyone, from stay-at-home parents to boardroom bosses. Gifting books isn't a novel idea (see what we did there?), but gifting wisdom is a perfect fit for everyone on your list. Gather as You Go is a true-life resource for every occasion, from throwing a home dinner party to helping your kids with homework to leading a company, and everything in between.
With all net proceeds donated to Enchanted Backpack, a non-profit organization that provides essential school supplies and other needed resources to the underserved elementary and middle schools in the Chicagoland area Gather As You Go is a gift you can feel good about giving.
Link for purchase is here: https://www.gatherasyougo.com/book/. Price: $50
---
100 Things to Do in Pittsburgh Before You Die by Rossilynne Culgan
EXPLORE THE ULTIMATE PITTSBURGH BUCKET LIST WITH THE NEW AND IMPROVED SECOND EDITION
Reedy Press announces the second edition of its popular guidebook, 100 Things to Do in Pittsburgh Before You Die, by Rossilynne Culgan. The revised list is still comprehensive, fun, and quirky, and celebrates the top ways to connect with the city and nearby surroundings.
The story of Pittsburgh's transformation from a smoky steel town to a modern, high-tech city draws people from around the world to this corner of southwestern Pennsylvania. Pittsburghers are known for their deep pride in the city, and with so much to do and see (and eat!) around here it's no wonder why.
100 Things to Do in Pittsburgh Before You Die, 2nd Edition features itineraries and tips on what you'll discover in the Steel City. Scale Mount Washington on the Incline, a century-old cable car. Admire the artwork of Pittsburgh native Andy Warhol. Kayak the three rivers. History buff? Travel back in time to the drama of the Whiskey Rebellion, which unfolded right here. Devour a Primanti's sandwich topped with French fries. Maybe even pick up a little Pittsburghese, yinz. As a lifetime resident and a seasoned traveler, author Rossilynne Culgan combines a local's expertise with the spirit of discovery in her hometown. With this book as your guide, you won't miss a thing on your quest to make memories in Pittsburgh.

100 Things to Do in Pittsburgh Before You Die, 2nd Edition is available wherever books are sold.

Book Details: 100 Things to Do in Pittsburgh Before You Die, 2nd Edition-part of the part of the 100 Things to Do Before You Die series, by Rossilynne Culgan, ISBN 9781681062020, paperback 8.5 x 5.5, 160 pages, $16.00

---
In Focus Chakra Healing is an essential guide providing in-depth summaries about all six chakras, followed by expert advice from Roberta Vernon on how to identify and restore blocked, weak, or closed chakras. Through the various healing practices covered, chakras can be corrected. Common ailments addressed include overeating, fatigue, stress, headaches, digestive disorders, and allergies. Includes an 18×24" wall chart!

In Focus Reiki teaches the basics to this increasingly popular practice to reduce stress, depression, anxiety, and physical pain and tap into your inner healer. Divided into chapters channeling each body area and its common ailments and aches—including those on our pets—and fully illustrated, this book provides everything you need to get started with this growing practice, including 7 reiki meditation cards.
---
10-Minute Crystal Ball and 10-Minute Magic Spells
Though we may yearn to expand our spiritual selves, most of us do not have the time to fully immerse ourselves in study. Luckily, there is the 10-Minute series with two new titles from Fair Winds Press: 10-Minute Crystal Ball and 10-Minute Magic Spells. These books are designed for practical, busy people who want to improve their psychic and magical skills an use them more effectively in their daily lives.

The 400-plus tips and tricks in 10-Minute Crystal Ball: Easy Tips for Developing Your Inner Wisdom and Psychic Powers will help you expand your ability to see into the future, understand yourself and other people better, and create your own reality. It will teach you all the tricks of the trade—allowing you to open new doors and explore fresh opportunities as you uncover the wisdom you never knew you possessed. Sharpen your intuition and divination powers to understand meaningful messages, interpret dream symbols and their significance, attract love an contentment, and more.
10-Minute Crystal Ball by Skye Alexander
$18.99 US / $24.99 CAN, Hardback, 208 Pages, ISBN: 9781592338818, May 7, 2019
---
Designed for the novice, the spells and practices in 10-Minute Magic Spells: Simple Spells and Self-Care Practices to Harness Your Inner Power can be performed in minutes and don't require expensive, hard-to-find ingredients. Some magic is basic and practical, such as finding a treasured item you've lost; some is performed as part of an ongoing practice of self-care. With just a little guidance you'll soon be performing a variety of spells to protect your home, attract a lover, bring good health, and more.

10-Minute Magic Spells by Skye Alexander
$18.99 US / $24.99 CAN, Hardback, 208 Pages, ISBN: 9781592338825, May 14, 2019
---
Wild Wisdom: A Warthog's Tale by Laurada Byers
The wise and resilient Laurada Byers now shares her universal epiphanies in her newly released (and recently featured in the Philadelphia Inquirer) book Wild Wisdom: A Warthog's Tale. Why a warthog? This beautifully illustrated story is captured through the movements of a scrappy, imperfect warthog—who, full of warts and flaws, climbs out of its hole to face life head on—with tail up! It's also her favorite animal who openly bears life's ugly for all to see.
Finding a sense of purpose is about making an ongoing series of small but meaningful decisions. Wild Wisdom is a reminder of that potential and the capacity that exists in every one of us. It's a book about choice. Our reactions, not our circumstances, create our story."
Breaking down the "big five" in Wild Wisdom, readers will connect with the Warthog's sayings and imagery about:
Identity: Identity is refined not by what happens in our lives but by how we respond to what happens
Purpose: Attitude is everything. Instead of asking if you will achieve your goals, ask how you will achieve them and start there.
Relationships: Grief can silence you or give you a voice; I've learned you have a choice. Make it a good one.
Crises: How to respond in a crisis? Sometimes Plan B is really Plan A.
Health: Your goal is not to survive but to thrive. It's always amazing how much one body can take.
More information about Laurada here: https://warthogproductions.com/about/
Learn more at warthogproductions.com.
Wild Wisdom: A Warthog's Tale (February 2019) is available via Amazon.
---
The Most Effective Ways to Live Longer: The Surprising, Unbiased Truth About What You Should Do to Prevent Disease, Feel Great, and Have Optimum Health and Longevity by Jonny Bowden
You can be more productive, healthier, and happier for longer. Learn how, with The Most Effective Ways to Live Longer.

Jonny Bowden, one of America's top nutritionists, can lengthen your life. His recommendations will keep you strong, healthy, energetic, and active so you can get the most out of each day and do the things you've always dreamed of through every decade of your life. These methods, all backed by the latest research and scientific studies, are easy, yet work anti-aging miracles. There's no better time to start than now. Within these pages, you'll find a road map to a longer, healthier life, advocating key strategies for the food we should eat, the supplements we should take, and the lifestyle adjustments we should make that will help keep us going stronger longer. With these strategies, you can win the battle against aging.

In The Most Effective Ways to Live Longer, Jonny shows you how to:
Combat Oxidative Damage caused by free radicals from the environment and your own body, wearing you down from the inside out
Fight Inflammation, the "silent killer" that is a factor in just about every degenerative disease
Avoid Glyctation, a process that is implicated in many of the diseases of aging
Reduce Stress, which can cause more damage to your overall well-being than you think
More and more studies are proving that we can strongly influence how long and well we live. Jonny offers the smartest program for living a longer, healthier, better life.
---
The Silver Disobedience Playbook by Dian Griesel
This book is for anyone seeking to make life and relationships work with greater love. Written by Dian Griesel—a perceptive human behavior analyst, social influencer, businesswoman, model, wife and mother —the book is designed as a "read-any-way-you-want." Readers are encouraged to open to whatever headings capture attention, where they will find essays from Dian's daily blog, Silver Disobedience®, about living and loving agelessly. There's a good chance moms and dads 48 years and older follow Silver Disobedience on social media and will appreciate her essays in a portable form.
The Silver Disobedience Playbook ($24.95): https://amzn.to/2IOM5uO
---
TwinsX3 (2019 Edition) by Fran Pitre
If You Think Motherhood Is Driving You Crazy – You May Be Right
Even in two-parent families, it appears that the bulk of child-rearing duties still fall to one person.For all the help dads give, it is moms who take on most of the emotional labor of parenting, according to a recent study by researchers at Arizona State University and Oklahoma State University. Mothers handle grocery lists, doctor's appointments, playdates, homework help, and other responsibilities.
And sometimes juggling all those duties becomes more than they can bear, creating a strain on their mental health – as mothers themselves can tell you.
"I hit a time in my life when my ability to cope with the normal challenges of every day was weakening," says Fran Pitre, a mother of three sets of twins and author of the book TwinsX3 (www.franpitre.com), in which she described the joys and stresses of raising six children.
When other relaxation measures didn't work, a doctor temporarily prescribed to Pitre an anti-anxiety medication to counter the chemical imbalance that the non-stop daily stress had created for her. She says that medical assistance was critical at that time in her life. But, as the mother of six, she also found that staying organized was also crucial to keeping her family – and her mental health – under control.
Her tips to help other mothers avoid being overwhelmed by the normal stresses and strains of raising children include:
Know everyone's plans. Children and parents have plenty of activities, and family members can end up going in many different directions. To avoid becoming frazzled, Pitre says it was imperative that she know everyone's plans for the upcoming week. Initially, she tracked this on a calendar, but switched to an erasable white board. "Because each night needs a meal, I would insist that the older kids communicate their evening plans so that I didn't cook for eight people, and have four or 10 show up," she says.
Everyone must pitch in. At one time Pitre exhausted herself physically and emotionally by trying to keep her children's bedrooms organized and clean. "I gave that up when I began going to school while working outside of our home full time," she says. "Not only did I believe each kid had the ability to take over this task and should, I was just too tired and had too little time."
A curfew is a must. Few things take more of a toll on a mother's mental health than worrying about where her children are and whether they are safe. Pitre says that's why a curfew is a must, and should be adhered to except on special occasions, such as a prom. "If they realize they are going to be a little bit late, they need to text and let you know what's going on," she says.
Remember to take care of yourself. Mothers can become so focused on caring for others that they fail to care for themselves, Pitre says. "Don't neglect your own needs such as exercise, wellness check-ups, quiet alone time, and regular visits to a salon or spa," she says.
General Information
Title: Twins X 3 / Author: Fran Pitre / Price: $23.99 / ISBN: 978-1984571274 / Publisher: Xlibris
---
MENSCH•MARKS: Life Lessons of a Human Rabbi by Rabbi Joshua Hammerman
"Using wisdom from Hillel to Winnie the Pooh, Rabbi Hammerman has written a book that will make this world a kinder, gentler place. I'll be recommending it to both my nice friends and the cranky ones, too."
―A.J. Jacobs, New York Times bestselling author, The Year of Living Biblically
"Rabbi Joshua Hammerman offers us a window into a deeply-lived life. From a genuine mensch, we learn what it is to live a life measured by moral growth and devotion to people and causes beyond us. Reading Mensch•Marks is bound to leave us all determined to live better lives and be better people."
―Daniel Gordis, author,
Israel: A Concise History of a Nation Reborn
---
HONORABLE MENSCHEN
A rabbi shares what it means to be fully human
If Rabbi Joshua Hammerman has his way, the word mensch will become as popular and ubiquitous as that other Jewish favorite, the bagel. But unlike everyone's favorite excuse to eat cream cheese, being a mensch is good for the soul—and it doesn't hurt your waistline.
According to Hammerman, being a mensch, an exceptional human being, transcends any other accomplishment. The award-winning journalist and veteran spiritual leader believes there's nobility in normalcy, especially in these tumultuous times, which is why he's written MENSCH•MARKS: Life Lessons of a Human Rabbi (HCI; April 2, 2019). Anne Lamott meets David Brooks in this memoir full of the wit, wisdom and pathos of being fully human.
Mensch is a Yiddish word that has gone beyond its basic definition—a human person—and has become a shining symbol of how simply being human in today's world has become an act of heroism. As the Talmud states, "In a place where there is no humanity, be human." To help us on our road to discovering our inner mensch, Hammerman presents 42 brief essays that mirror the 42 stops that the Israelites made as they wandered in the desert. These stories, full of the joy, sorrow, messiness and redemption of everyday life are designed to lead us out of our own wilderness toward realizing of our own promise as a better person.
He knows the truth we all share—being a morally evolved human being actually means to be fallible and imperfect, even as we strive to do better. Being a mensch means seeking justice tempered with compassion, understanding our human connection, serving a higher cause and living with dignity and integrity. In a time when every measure of civility is being overturned, being a mensch may be the only measure of character that truly matters. "If by sharing what I've learned, I can add a modicum of generosity, honesty and human connection in a world overflowing with cruelty, loneliness and deceit, then I'll have done my job," says Rabbi Hammerman, forever the optimist, who believes that we can turn things around, one mensch at a time.
---
The Struggle of Raising, Teaching, and Guiding Your Kids as a Father in America Today WHAT IT MEANS TO BE A GOOD DAD IN 2019
Where have all the good men gone? While almost any man can father a child, there is so much more to the important role of being dad in a child's life. Men are encouraged to be brave, the breadwinners and career oriented, but how can we encourage them to be good dads? Studies show a positive and close relationship with your father is directly associated with an adolescents' psychological well-being. But the role of fathers has changed so much in the last few generations. So where are the role models? Where do we encourage men to find the strength to be the dads their children really need? Carew Papritz, the author of The Legacy Letters, has advice for Father's on how to make the most of their relationship.
From the White House to Hollywood, we have seen many high profile scandals and misconduct involving family men in the past few years. It's a heartbreaking reality, especially when children are in the mix.
We are still surrounded by good men and fathers, but sometimes it's hard to recognize who they are. Sometimes we need a little reminder of what it means to be a good father in this day and age–
Carew Papritz is not only an award-winning author, he can relate to the struggle of raising, teaching, and guiding your kids as a father in these modern times. He has interviewed and spoken to groups about what it means to be a father in this day and age. (See Mankind Project Interview)
"Becoming a man means doing the right thing even though it may be hard or difficult. Boys do what is easiest. A man does what is right, whether easy or not."– The Legacy Letters
Carew Papritz, also known as "The Cowboy Philosopher" is the author of the multi-award winning book The Legacy Letters.Though fictional, The Legacy Letters has won acclaim as a life lessons book for all generations, gaining the distinction of being the only book in publishing history to win awards in both fiction and non-fiction categories. A Renaissance Man in an age that lauds the specialist, The Huffington Postsays Papritz "intrigues and enlightens, charms and catalyzes change for every reader."
As part of his many innovative and adventurous first-ever book signings, Carew truly lives his book's central message to "live life to the fullest" while signing books on top of a volcano, on horseback, in post-Castro Cuba, while on Amtrak and even on an glacier!These events and other "CarewTube" videos, such as the "I Love to Read" series and his annual literacy-driven charity event, "The Great Book Balloon Launch," inspire kids and adults to rediscover the joy of reading while supporting such charities as The Make-A-Wish Foundation, Reading is Fundamental, The Military Mama's Network, and The Seattle Children's Hospital. Papritz strongly believes in being an advocate for literacy and teaching future generations about the importance of legacy. Learn more about Carew at www.carewpapritz.com
---
NEVER! 750+ Things You Should Never Do
"Never make a mistake when someone else can make it for you."

Words of advice on what you should do will never be as straightforward or as helpful as what you should never do. NEVER! collects all the wisdom you could ever need.



A wise man once said that "never" is a ridiculous word you should never use. NEVER! contains hundreds of quotes from people telling you to never do something. From the inspirational like "Never agree to surrender your dreams" from Jesse Jackson to the comedic like "Never moon a pit bull after sitting in A-1 sauce" from Johnny Carson.

Full of wit and wisdom, this collection of "never do's" is a keeper.

NEVER!
Edited by Gerd De Ley
978-1-57826-796-5, $15.00 hardcover

Published by Hatherleigh Press.
Distributed through Penguin Random House.
Available wherever books are sold.
www.hatherleighpress.com
---
The Book of African Proverbs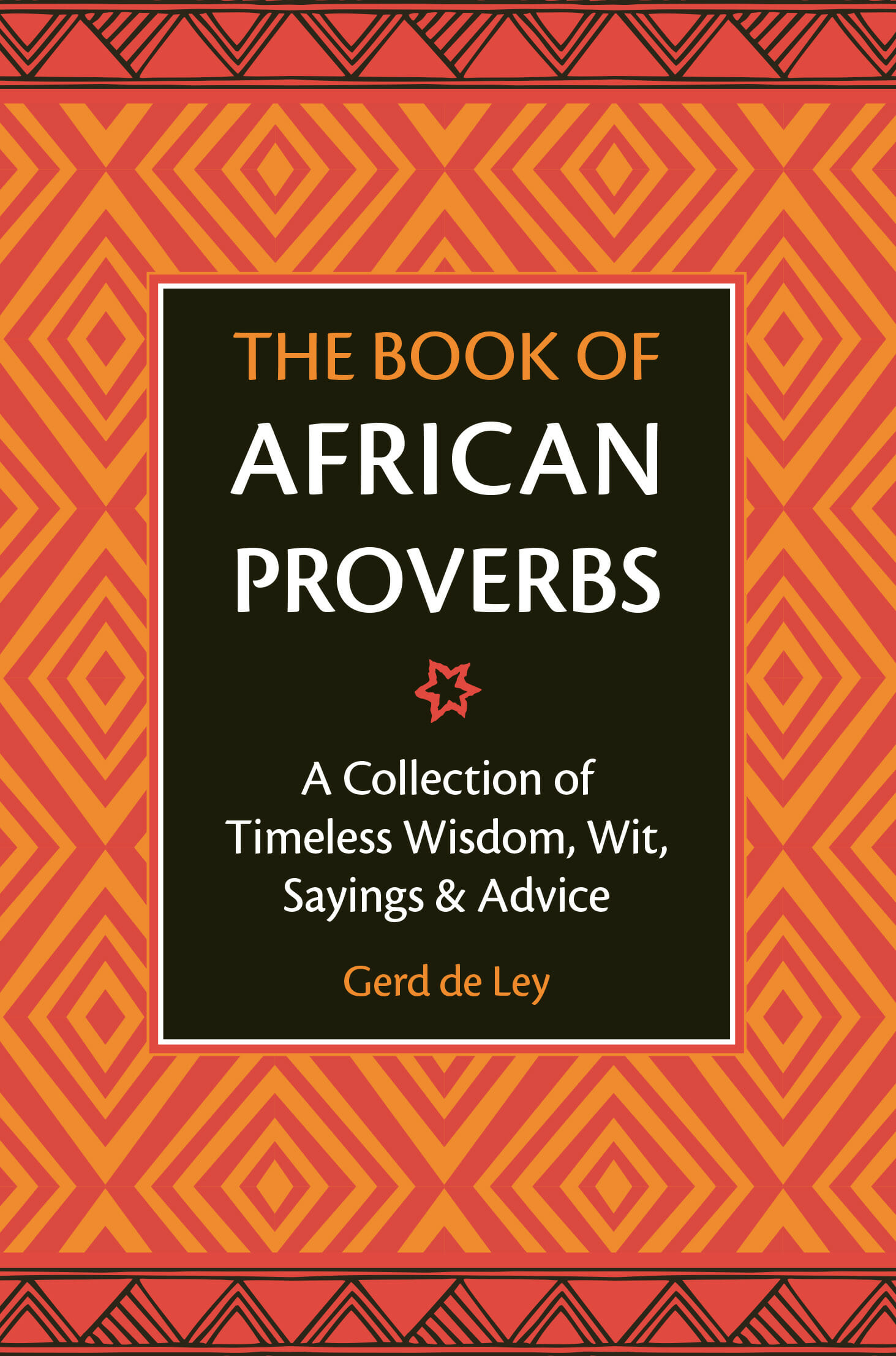 The Book of African Proverbs contains over 1,200 of the best, most profound and illuminating proverbs from Africa, its nations and its people.

The Book of African Proverbs highlights the wisdom, humor, and character of people from all over Africa.

The Book of African Proverbs
Edited by Gerd De Ley
978-1-57826-803-0, $15.00 hardcover

Published by Hatherleigh Press.
Distributed through Penguin Random House.
Available wherever books are sold.
www.hatherleighpress.com
---
Entertaining and Celebrating: An Elegant Feast For Every Occasion by Chef Kristal's Damron
How better to inspire shoppers to pick up tableware and decor than with beautiful inspiration from Chef Kristal's Damron's entertaining book Entertaining and Celebrating: An Elegant Feast For Every Occasion.
A visual extravaganza, this coffee table treasure takes you through a year featuring monthly themes highlighting each season's bounty. The themes are designed to spark your own creativity, with stylish table settings, four-course menus with cocktail and wine pairings, and suggested ways to serve that will wow your guests. Cultivating a warm and casual mood while dishing up flawless execution and service is what Entertaining and Celebrating is all about.
"In the fast-paced complexity of the modern world, many of us have lost the art of slowing down to appreciate the simple pleasures in life," Chef Damron says. "Preparing to entertain is an example: setting the table, creating an ambience, planning the menu and wine, paying attention to the details and beauty of things."