Squishmallows
Squishmallows makes great gifts for under $10 or $20, depending upon the size. Plus, the smallest size (SRP: $2.99) makes a terrific stocking stuffer.
Ready, Set… Squish! Kellytoy Unveils its All-New Squishmallows™ Collection
Squishmallows squad has eight styles in four sizes including pink and blue penguins, purple and grey owls, a cat, fox, frog and hedgehog. Popping with personality, each Squishmallow character's background story is detailed on its lenticular printed hangtag, a process that results in a 3D image that moves, depending on viewing angle.
The Squishmallows collectible plush toy line is available in four sizes. Clip-ons (3.5"), small (8"), medium (13") and large (16") sizes have a suggested retail price of $2.99, $6.99, $9.99 and $19.99, respectively. The cuddly toy line is perfect for kids, tweens, collectors and toy lovers of all ages.
The unique line is made of super soft spandex "EF" and polyester stuffing — similar to memory foam — for crazy, cuddly fun. Caring for Squishmallows is easy; give them lots of love, wash in warm water and tumble-dry on medium heat.
For more information, visit www.kellytoy.com
---
One Of The Most Iconic Children's Brands Celebrates Its 20th Anniversary With The Ultimate Gifts For Your Little Ones
TELETUBBIES: SILLY FUN
TELETUBBIES: LET'S SING & DANCE
Both DVD Gift Sets Are Available December 5 and
Include a Special 6″ Super Soft Plush Character that is Perfect for Cuddling and Playtime!
Just in time for holiday gift giving, Sony Pictures Home Entertainment will have your children dashing through the shows as they sing, dance and hug their new toys! TELETUBBIES: SILLY FUN and TELETUBBIES: LET'S SING & DANCE will both be released on DVD with special on-pack premium plush characters on December 5. Bring home the wonder and magic of the Teletubbies with Po, Laa-Laa, Tinky Winky and Dipsy as they help your children develop their physical, emotional, and cogitative skills in a warm, loving and playful environment. Each of the two sets feature six all-new episodes from the series that kids and parents can enjoy together. The DVDs encourage early social skills (including taking turns, sharing and patience), physical activity and coordination, exploration of music and rhythm, discovery and imaginative play, and color recognition. To bring the experience to life, and to help kids act out their favorite scenes, the included plush premium is perfect for playtime, naptime and bedtime!
TELETUBBIES: SILLY FUN:
TELETUBBIES: LET'S SING & DANCE:
Both DVDs have a run time of approximately 75 minutes. The collections are not rated.
---
Funnybone Toys offer games that are designed to give players' brains a workout without them even realizing they're learning!
Whim Risky Word Game: Race your opponents to find words that include specific letters you choose for each round, but it gets tricky because the die decides if the letter must appear in the beginning, middle or end of each word!
Calliope Games is a family-run company that creates affordable and quality tabletop games, while promoting family-fun interaction!
Hive Mind – Player take turns rolling the die, moving along the board asking questions to assess their compatibility with the "hive". Points are scored by answering questions the same way as their fellow "bees". The more answers they have in common with other players, the more points they get!
---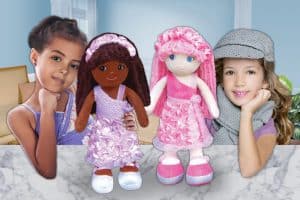 Girlz N Dollz
Girls N Dollz: The Perfect Holiday Present For Your Little Princess
Give the gift of unique, fun and stylish dollz
If you're looking for birthday, Christmas, or just-because gifts for the little princess in your life, Girlz N Dollz is sure to put a smile on her face! Celebrating everything there is to being a girl, your delightful darling will love their brand new present. With Dollz that will encourage them to express their uniqueness, be confident and believe in themselves, their "I AM ME" mantra is strongly personified in their affordable, extra soft, fun, and unique dollz!
Need some ideas on the perfect holiday gift? Teach her to be confident and happy in her skin with unique, stylish dollz in various hair colors, and ethnicity:
Plan ahead in your holiday shopping – buy your little one affordable, soft and cuddly dollz with unique personalities that she will want to collect, interact with, and love.
Dollz range in price from $14.99-$29.99 and can be purchased at girlzndollz.com, at various boutique toy and gift stores nationwide, as well as all major online retailers, Amazon.com, and Overstock.com.
---
Piper Computer Kit
The Piper Computer Kit is a DIY kit for kids that uses Minecraft and Raspberry Pi to teach them the fundamentals of electronics, coding, engineering and problem solving, while instilling confidence and fostering creativity. The Piper Computer Kit is one of the highest rated STEM tools available on Amazon, is endorsed by Steve Wozniak and is used in the school Elon Musk's kids attend.
Piper flips the passive experience of current screen time consumption that many parents struggle to limit, and instead gives kids an active role in the technology they use. Kids assemble a handcrafted wooden toolbox and screen into a computer, and then move on from their engineering feat to code and program the computer through step-by-step instructions provided within the 3D world of Minecraft.
The kit retails for $299 and is available to buy at Toys"R"Us, Barnes & Noble, Amazon.com and directly from the Piper website.
---
National Wildlife Federation Launches Cougar Trading Card Collection Perfect for Holiday Giving and as Stocking Stuffers
With the fascination of mountain lions at an all-time high, the National Wildlife Federation (NWF) has launched a trading card set of LA Cougars perfect for young and old alike. The first in a series, these new cards are fun and educational and help keep track of the famous Los Angeles area cougars – the cat kind. Each card features a photo on the front with the cougars name, sex and age. The back of the card has fascinating facts about the cougar itself. Who is P-22's favored love match? What mountain lion has given birth to the most kids? Who takes the best cougar selfie? The set features the first 54 cougars that have been studied by the National Park Service in the Santa Monica Mountains and Greater LA area since 2002. See the trading cards here.
These cards are fun for people of all ages and make the perfect birthday or holiday gift, as well as the perfect fit for schools, zoos and hospitals. The full color set of 48 cards comes with durable plastic case. All proceeds benefit the National Wildlife Federation's #SaveLACougars campaign.
For more information about #SaveLACougars go to www.savelacougars.org.
About The National Wildlife Federation
One of the oldest and largest conservation groups in the country, the National Wildlife Federation with its over six million supporters nationwide is a strong voice for wildlife, dedicated to protecting wildlife and habitat, as well as inspiring young people today to become conservation-minded adults. Visit www.nwf.org for more information.