September is just around the corner, which means it's time once again to gear up with the hottest new essentials for back-to-school.
Now that your kids and grandkids are leaving the nest, give your teens what they need to spruce up their new life in college. Whether your child is going into their freshman year or starting graduate school, we have a list of recommended school supplies for their dorm or apartment.
Also, just a special thank you to those of who also sent in your back-to-school gift ideas and suggestions for 2017. If you're looking for a gift idea, our picks below feature a wide variety of gift ideas in categories such as home, fashion, beauty, family, technology, and fitness:
TEACH TO WORK: How a Mentor, a Mentee, and a Project Can Close the Skills Gap in America by Patty Alper
A breakdown exists between the preparation students receive in school and the skills they need to enter and succeed in the twenty-first century job market. Thankfully, America is abundantly rich in adults with know-how who can help mend this gap – from the millions of working professionals to the millions of retirees who have a lifetime of career experience to share.
In her new book, TEACH TO WORK: How a Mentor, a Mentee, and a Project Can Close the Skills Gap in America (Taylor & Francis), Patty Alper explains how adults with expertise and wisdom can have a significant impact on education by becoming ambassadors of talent, grit, and skill inside the classroom.
In her book, Patty touches on:
My Company Says I'm Ready for Retirement; But I'm Just Getting Started

How to Get Involved in a Rewarding Mentorship Program
Why Retirees Could Be Key to Closing America's Skills Gap
Why Passing Your Skills to The Next Generation Is More Important Than Ever Before
Why Becoming a Mentor May Be the Most Rewarding Thing You'll Ever Do
Getting Involved in Your Community After Retirement
Patty Alper has been in the field of marketing, communications, and sales for thirty-five years. She's successfully served firms in the real estate, hospitality, finance, and non-profit sectors through her consulting practice, The Alper Portfolio Group, Inc. For eighteen years, she has been a trustee of the Alper Family Foundation. It is through her philanthropic giving that she became engaged with the Network for Teaching Entrepreneurship (NFTE) and how she ultimately developed the "Adopt a Class" program. Alper was honored as the 2010 NFTE Philanthropist of the Year, DC region and currently sits on the National Board.
---
Girltrunks (www.girltrunks.com)
Girltrunks is a swimwear line for the modern-day woman who wants to completely eliminate the dreaded bathing suit drama and just feel comfortable, confident and stylish. Girltrunks offers coverage of the legs and lower body, which many women are very self-conscious about. It's definitely a problem/solution product as well as an emotional purchase for many because it's liberating for them to finally feel confident and comfortable in a swimsuit for the first time in their lives.
The swim shorts are the most popular products, offered in two styles: the "Long on Short" and "Meet Me in the Middle." Both styles feature quick-drying fabric that is water-friendly and comfortable, tapered legs that flatter the figure, attached mesh panty lining, and front pockets.
All styles are available in sizes 4-24 and both swim shorts retail for $79 on www.girltrunks.com.
---
Round Pop-up Hamper by Gain
The perfect solution to the limited space problem in every dorm room is here! Gain's light-weight hamper quickly pops up and folds flat to accommodate every college student searching for more space in their dorm rooms. Not to mention the convenient shoulder strap to handle transportation with ease, this hamper is definitely a must-have!
---
diono® radian rXT Convertible Car Seat
Jason Aldean, aka top American country music artist, is gearing up for his newest real-life adventure – Fatherhood! He and his wife are expecting their first child and are looking for the safest, smartest and most stylish gear.
As one of the many celeb fans of the brand (others include Ali Landry, Tori Spelling, Justin Baldoni and Orlando Bloom). Jason will be toting his little one in the diono® radian rXT Convertible Car Seat. The radian rXT is the ultimate in car seat safety with new deeper side walls providing enhanced side impact protection for little travelers.
WHY DO PARENTS LOVE DIONO SEATS?
Made with full steel frame, aluminum reinforced sides and memory foam

You can fit THREE across!
Folds flat for travel
Comfortably seats rear-facing children from 5-45 lbs
Accommodates forward-facing children up to 80 lbs in a 5-point harness
Converts to booster mode for kids 50-120 lbs
Converts to booster mode for kids 50-120 lbs
diono radian rXT Convertible Car Seat : diono's radian rXT car seat is designed with your child's security and safety as top priorities. Premium materials and thoughtful safety features like a steel alloy frame, aluminum reinforced side walls, energy absorbing EPS foam, and a five-point harness put your mind at ease as your little one stays safe and sound. The reinforced adjustable head support provides additional side impact protection. ($359.99, us.diono.com)
---
Exergen Smart Glow TemporalScanner™
The Exergen Smart Glow TemporalScanner™ thermometer is perfect for parents with kids of all ages going back to school. It helps ease stress for parents who need to care for a sick child, as going back to school often means exposure to new germs and illnesses.
The TemporalScanner™ comes with four ways to make it even easier to take a temperature:
A softly illuminated display for easy reading in any light – perfect for checking the temperature of a sleeping infant in a darkened room

Beeping sound indicating scanning can be turned off or on to avoid waking a sleeping child

Automatically retains the last eight temperature readings for instant recall to check on fever progression

Ability to switch between Fahrenheit and Celsius modes
Made in the United States, the Exergen Smart Glow TemporalScanner™ is the number one preferred thermometer by both nurses and pediatricians, and is backed by more than 70 clinical studies proving its accuracy.
Sold in major retailers including Wal-Mart, Target, Walgreens, Rite Aid, Costco, Babies "R" Us, Toys "R" Us, Kroger and BJ's, the Smart Glow thermometer's suggested retail price is $49.99. To see real moms testing the Smart Glow thermometer and demonstrating the new features visit www.exergensmartglowthermometer.com.
---
EZVIZ
The smart home security camera from EZVIZ, providers of DIY smart home video technology, provides instant access to what is going on inside your dorm or apartment!
EZVIZ Mini Plus is a compact indoor camera and can mount almost anywhere with its optional magnet base. The camera offers a 135-degree viewing angle and two-way audio that lets customers talk to people or pets back at home. Available in standard, pink or pet SKU.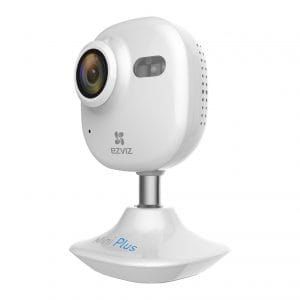 ---
FEIT ELECTRIC
These energy efficient light bulbs from Feit Electric, a leading global lighting manufacturer and pioneer in energy efficient lighting, save you money and customize each room's lighting to create the perfect space to do homework, relax or even throw a school spirited party!
IntelliBulb is a simply smart lighting solution ideal for renters, consumers who are hesitant to adopt smart home tech as it doesn't require additional hardware or apps to integrate into their home or those who want a simple DIY solution, and comes in five different solutions that each solve a specific problem/need a consumer has:
Dusk to Dawn

Switch to Dim *best fit for back to school*

ColorChoice *best fit for back to school*

Motion Activated

Battery Backup
Clear Glass Color Filament Bulbs turn home lighting into lighting expression with a beautiful, colorful instant bright glow through a clear glass housing. Designed for indoor and outdoor installation, these bulbs have more than 18 years of life and come in a variety of attractive color LED filaments to match your personality or school colors, including red, blue, orange, green, pink, yellow and purple.
---
Pyro Pet Candles
For your female friends with quirky personalities comes candles that reveal their WILDER side once lit! Pyro Pet Candles are animal shaped candles that look all beautiful and innocent on the outside, but once the wax melts down, the animal's skeleton is revealed underneath! Keep the skeletonsafter the candle has gone for a quirky decor item. With 12 unique animal candle options to choose from (including cat, deer, bunny, and bird designs), Pyro Pets are a unique collection of modern decorative candles in sleek geometric shapes that burn to reveal a surprise inside! Each candle has a burning time of approximately 16-20 hours. The candles are made of paraffin wax, a cotton wick and aluminum.
Pyro Pet Candles – $18-$35. Available at: https://pyropetcandles.com
---
Swell Forever™, which was founded in 2014 by mom of two, Brooke Henze, offers customized heartfelt gifts for the home and baby that also give back. Their most popular being gorgeous blankets that come with custom printed fabric tags stitched into every blanket (customers include messages in their own handwriting or fonts!)
For every purchase, Swell Forever makes a direct donation to their sister non-profit, Foster Swell, a 501(c)3 Henze started in 2016. The Foster Swell Fund offers mini grants to children in foster care that fund extracurricular activities and therapy products and services not covered through state stipends. The fund also offers grants to adoptive families to offset the high costs associated with adoption.
Founder Brooke Henze explains, when you gift a Forever Blanket, you are sending a wish someone's way for a Swell Forever. Swell Forever or "happy ever after" is my wish for the 100,000 children waiting to be adopted in the U.S. foster care system. With your purchase we can help make this dream a reality. You don't have to be a foster parent or an adoptive parent to contribute to my mission. Just share your heart with someone you love, take the chance to tell them how you feel and customize a Forever Blanket for them.
For all options and more information on Swell Forever visit swellforever.com.
---
Chasing Light: An Exploration of the American Landscape
Chasing Light: An Exploration of the American Landscape, is a 256-page hardcover coffee book collection of stunning photographs of America's natural wonders in rarely seen and hard-to-reach places. This new coffee table photography book was released just in time for Father's Day and it would be a great gift for outdoorsy & patriotic dads, as well as dads who want to help support our national parks!
The photographer, Frank Lee Ruggles, is based in the D.C. area and took the photos during his off-duty time serving as Eminent Photographer for the United States National Park Service from 2007 – 2011 (a position once held by Ansel Adams). Also a former U.S. Paratrooper and member of the legendary 82nd Airborne division, Ruggles used his Ranger skills to reach remote locations deep in the backcountry and captured the true essence of the parks.
Chasing Light ($49.99) is available to purchase online. A portion of the proceeds will go to the National Parks Trust to support the Kids-to-Parks program.
Post-it and Fiskars
New from Post-it® Products:
Post-it Pop-up Note Dispensers in new styles including a Bear, Camera and Rose Gold design

Post-it Dry Erase Surface – a flexible whiteboard solution for your desk, wall, locker and more
Fun shaped notes like Emojis and Paw Prints and other on-trend designs including marble and metallics
ï
From Fiskars: Kids Scissors
#1 Teacher-recommended brand

Feature an innovative safety-edge blade for high-quality cutting with a safer blade angle

Patented handle design provides a natural, comfortable fit for kids' fingers
Accommodate right- and left-handed users
---
Dionis Skincare
Who knew that goats were the answer to fabulous hands? Dionis Skincare has the best goat milk skincare products on the market!
A Goat And Your Hands Have What In Common? Dionis!
Moisturize with the power of goat milk hand cream
Goats are not only adorable to watch on YouTube, but they provide the key ingredient to Dionis! Treat your hands to a luxury hand cream to make your hands look, feel and smell amazing!

For 35 years Dionis has been making their products in Bucks County, Pennsylvania. They believe in using quality ingredients for their superior line that is dermatologist tested, cruelty free, gluten free and paraben free. Dionis believes in producing only the highest quality products that will nourish every skin type and keeping you smelling fresh and confident all day long!
No longer do you have to dread putting on hand creams because you don't want that greasy residue to get all over your clothes, papers, steering wheel or even babies! Dionis hand creams are made to absorb into your skin leaving your hands hydrated and healthy no matter what your hands get into.
The Dionis difference is Goat Milk! Dionis uses Goat Milk as their main ingredient because:
Goat Milk is packed with essential vitamins including A, C, E and D as well as B Complexes, Lipids and Triglycerides.

Goat Milk will fortify your skin and prevent moisture loss.

People have reported the following when using Goat Milk skincare products:

Acne Treatment

Protects Skin

Only skincare option for sensitive skin (including Eczema, Psoriasis, Keratosis Pilaris)

Easily absorbs into the skin because we share the same PH as goats.

Our lightweight formula absorbs quickly with no greasy feeling.
Do your hands a favor and give them the gift of Dionis Goat Milk Hand Cream!
To learn more about Dionis Skincare please visit http://www.dionisgmskincare.com/.
---
A natural, cruelty-free, shea butter-based personal care brand, SheaMoisture offers over 500 products to meet individual needs. The hair and skin products are formulated with natural and certified organic ingredients and contain no mineral oil, parabens, phthalates, propylene glycol or sulfates. Shea butter is ethically-sourced from 14 co-ops in Northern Ghana as part of our purpose-driven Community Commerce business model that supports women's empowerment in three key areas – education, entrepreneurship and equity.
---
Nubian Heritage offers hundreds of culturally authentic natural skincare products, inspired by global ancient healing traditions, that are free of sulfates, parabens, phthalates, paraffin, gluten, propylene glycol, DEA, silicones, mineral oil, petroleum, synthetic fragrance and artificial color, and never tested on animals.
nyakio™
Nyakio™ is a new skincare collection grounded in ethically sourced ingredients that combines cultural traditions with modern, results-driven formulas. The line features a five regimen collection: (Cleanse, Exfoliate, Restore, Moisturizer and Treat) that work together to hydrate, revitalize, smooth and provide anti-aging benefits.
EatSmart Products, a leading designer and manufacturer of innovative travel and health care products, introduces its TravelWise Packing Cube System – Durable 5 Piece Weekender Set.
The TravelWise 5 Piece Packing Cube Set is a travel essential that allows clothes to stay folded and neat when packed in their own "small drawers". The cubes are fantastic for staying organized on both short and long trips and help travelers avoid over packing. Constructed of lightweight, durable nylon, these multi-sized cubes compartmentalize similar items such as shirts, pants, swimsuits and electronic accessories to streamline packing. The open mesh top makes searching for misplaced items a thing of the past and our five color choices allow each traveler to have their own individual set.
Available in nine colors including: black, silver, red, teal and purple. Each set includes (1) small, (2) medium and (2) large cubes to organize different sized items when traveling.
Price | Where to buy: $24.95 | Amazon.com and EatSmart Products website

---
Pieces to Peaces
Whether you're a yogi, indoor cycling fanatic, crossfitter, or just like to get going outdoors, add some spark to your summer and fall with the functional, fashionable accessories from Pieces To Peaces. Blending passion and peace into one brand, Pieces To Pieces creates stylish and functional fashion accessories. Handmade to perfection, this beautiful brand believes that what you wear should be cute and comfortable.
---
"The Ultimate Guide to College Safety: How to Protect Yourself from
Online and Offline Threats to Your Personal Safety at College & Around Campus" by Pete Canavan
As a university public safety professional, IT consultant, and martial arts/self-defense instructor, Pete Canavan's unique blend of expertise enabled him to write this comprehensive guide.
This guide contains many online safety tips regarding identity theft, creating secure passwords, and how to recognize phishing attacks for starters. There are tons of offline safety tips including how to define your personal space, alcohol responsibility and party safety, dealing with active shooters and how to defend yourself against physical assault.
Never before has the need for a college safety guide been greater. It's time to help parents of college students get some sleep at night. They can rest easy knowing that their child has a safety advantage by being "armed with awareness(tm)" and this, "The Ultimate Guide to College Safety."
---
Mohu – The Cord Cutting Company
Leaf Glide: is Mohu's newest HDTV antenna that delivers outdoor antenna performance with the simplicity of an indoor antenna. With its a 65-mile reception range, the antenna offers unlimited access to free, OTA broadcast TV (including NBC, ABC,CBS, FOX, etc) for a one-time fee of $89.95.
Untangle.TV: is Mohu's free online application that provides suggestions on how to cut the cord based on your TV viewing behaviors. Untangle.TV provides a customized list of product recommendations – a mix of OTA and OTT devices and services – in order to help consumers save time and money by taking the guesswork out of their cord cutting journey. Users can save about $100 a month by using Untangle.TV to guide their cord cutting journey.
Leaf Glide is the perfect gifts for budget-conscious students who want TV in their dorm rooms without the painful cable subscription costs. Additionally, Untangle.TV will allow them to determine the best devices and streaming services to suit their entertainment needs.
---
Armitron Watches
Armitron offers a stylish and functional line of fashionable and affordable dress, sport and outdoor adventure watches perfect for any graduate!
For Her:
Winter white can be worn all-year-round, not just in the summer, and the Armitron Leather Strap Watch is a simple, stylish accessory for the whole school year, setting the tone for everything from the first impression on the first day of school to the winter formal. Available on Armitron.com for $50 in black, white and blush.
Rose gold pairs perfectly with brown boots, trench coats, and leather, and the Armitron Rose Gold Watch with Swarovski Crystals will beautifully compliment your fall wardrobe. The Swarovski-adorned face and chain link bracelet add extra sparkle so you don't need any other accessories. Available on Armitron.com for $65 in rose gold or silver tone.
If you're heading to practice right after school, the Armitron Women's Digital Chronograph Watch is a must-have accessory. The bright pink band and small face complement every outfit, but won't hinder your skills on the sports field. It also provides the day/date, has a chronograph with lap time, alarm, dual time, and backlight functions. Available on Armitron.com for $25.
For Him:
Strong, reliable and crafted to make a statement, the Armitron Stainless Steel Black Leather Strap Watch mixes gold and silver-tone hardware that will help you make a statement on your first day back in class. Available on Armitron.com for $85.
The Armitron Stainless Steel Mesh Strap Watch is the perfect accessory for everyday wear or special occasions like prom and picture day. With either a black or blue face, this watch will complement your favorite jeans and polos or button-downs. Available at Armitron.com for $65.
If you are starting a new sport this year, you will love the new Armitron Adventure Digital Tracking Watch. With a barometer, altimeter, temperature reference and weather station all built in, you will be ready for any sports or outdoor adventure, whether it's baseball, ski team, or swim team. Available in black or yellow for $95 on Armitron.com.
---
Teacher Peach (teacherpeach.com)

Teacher Peach is the go-to brand for amazing teacher gifts and motivating classroom products that help teachers inspire kids to become confident and creative–in school and out! From certificates, greeting cards, positive postcards, and more, teachers recognize student success–easily, economically, and of course, effectively with Teacher Peach classroom products.
With Teacher Peach's popular and coveted teacher gifts, it's easy for families and PTOs to champion and support these amazing teachers–with amazing products that matter to them! Plus, Teacher Peach donates 10% of the profits from every product sale to fund initiatives designed to help raise confident and creative kids through its nonprofit fund, teacherpeachseeds.org.
---
Keeper Security
Keeper Security manages all your logins and passwords in a secure "digital vault"/app you can use across phones, desktops, tablets, etc., so that you only need to remember one password for you and your family.
Think about all the different logins and passwords we use for different things online, especially students going back to school. The average person has 19 passwords to remember but 1 in 3 passwords are not strong enough. Between the back to school and holiday shopping rush and overall frustration and time it takes to reset a forgotten password, people tend to reuse passwords across apps because they're easy to remember. But that also makes them an easy target for cybercriminals…more than 60% of cyber breaches occur due to weak passwords.
Keeper Security is a gift that will give the gift receiver peace of mind and help protect their digital life securely and conveniently – and it's something they would use every day. Keeper has both an individual ($29.99/year) and family plan (up to 5 people for $59.99/year), dedicated to protecting a person's digital life.
---
Spoonful of Comfort
Food gifts are what teachers want! Teachers often get sick from their students when school rolls back in session, and there's a perfect gift that combines being thoughtful and practical…
Spoonful of Comfort doorstep delivers home-style soups and cookies that are the perfect combinations for sick teachers or anyone you care about. As seen on Shark Tank, Spoonful of Comfort's soup is made with the finest ingredients: including fresh thyme, parsley, seasoned roasted chicken, and hearty noodles.
Receiving comfort foods as if they were homemade adds that special touch when you can't be there—whether it's time or distance, these soups will make anyone feel that personal touch. Plus, there's a soup for everyone! Not a chicken noodle fan? Tomato basil, butternut squash, summer vegetable, and more are all available. Aside from the soups, cookies (including sugar, chocolate chip, and other flavors) can be sent too—which will also bring a smile to your favorite teacher or loved one! Gluten-free options available.
Christopher holds undergraduate and graduate degrees in English from Duquesne University and has been acting and writing for over 20 years. His articles have appeared in many publications including Advantage, American Builders Quarterly, Anchorage Daily News, Canadian Builders Quarterly, Canadian Executive Quarterly, Chartiers Valley Magazine, Cranberry Magazine, Energy International Quarterly, Focus Magazine, Green Business Quarterly, Hispanic Executive Quarterly, Northern Connection Magazine, North Hills Monthly Magazine, Observer-Reporter, Pittsburgh Post-Gazette, Pittsburgh Tribune-Review, Profile, Recovery Solutions, Standard-Speaker, The Strip Magazine, and Western Pennsylvania Healthcare News.