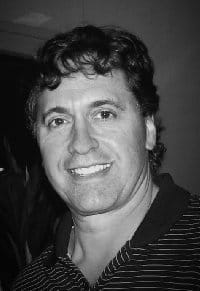 Hang out at any office water cooler around the world and you'll likely hear talk of sustainable living and the fossil fuel industry's effect on our planet.  The dangers of energy depletion represent a real threat … if not today, then in our future. In the opening of his long-awaited new release, The Omega Project, NY Times bestselling author Steve Alten dares to imagine the world after oil reserves run dry. But that's only the beginning…
The Omega Project is an energy future based on cold fusion, managed by a high-tech "thinking" computer named GOLEM, designed to "preserve and protect the human race" by overseeing mining operations on the moon.  When GOLEM inexplicably determines that the mission will take place on Europa, Jupiter's ocean moon, the artificial intelligence selects six men and six women to make the journey – but the computer is hiding its true objective…
GOLEM's creator, Robert "Ike" Eisenbraun, is assigned to join the Omega crew on a training mission in an underwater habitat beneath the Antarctic Ocean to determine if the computer has gone rogue. The mission requires the Omega crew – and Ike to be cryogenically frozen for 30 days.
Ike awakens, only everything has changed. The ice is gone – and so is humanity; evolution run amok.  Alten's extensive research into a post-human Earth is fascinating, but the reader must wait  until the very last page to know whether  Ike is dreaming or a cataclysm occurred while he was asleep – and 12 million years have passed!
A portion of the proceeds from book sales will help fund the first human trials for a potential cure for solid tumor cancers using cancer-killing cells called granulocytes.  Readers can donate directly to the cause at www.ZapCancer.org.
Steve Alten, a native of Philadelphia, earned a bachelor's degree from Penn State, a master's degree from the University of Delaware, and a doctorate from Temple University. Alten is the bestselling author of the MEG series. The series is an international best seller and Hollywood has purchased the movie rights.  Alten is also the founder and director of Adopt-An-Author, a free nationwide teen reading program. Available in all book stores and at Amazon.com and BN.com