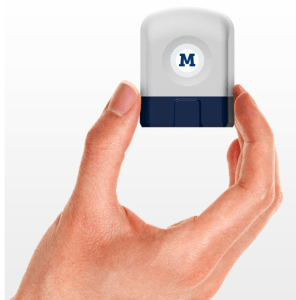 Mechanic Advisor Connection Key
Mechanic Advisor's Connection Key is an in-car OBD dongle/plug-in device for consumers – think a "Fitbit for your car" that can tell you what's wrong with your vehicle – and refers you to a mechanic to get it fixed.
It looks like a return address stamp with a chip reminiscent of old video games that will plug into any car built after 1996. It helps people solve the problem of their "check engine" light to understand what's ailing their cars. It will translate the dashboard error codes into English – something that was only possible for mechanics to do before now.
Through a Bluetooth connection, your car's information is shared with an iPhone/Android app that allows you to track your car's maintenance. Through the app, the driver can even be easily connected to a recommended local mechanic – the MechanicAdvisor.com site has been a referral service of more than 500,000 mechanics nationally for years – and syncs its info with the app. You can even upload a picture of the damage and have area mechanics get back to you with cost estimates.
More information is available at www.mechanicadvisor.com and the cost is $49.95.
---
Coach's Eye
Coach's Eye, the mobile video application from TechSmith, allows one to evaluate performance and instantly playback footage, in slow motion, frame-by-frame to critique.
Coach's Eye is a great solution to provide any male or female looking to keep New Year's resolutions in check, achieve health goals set throughout 2015, and maintain correct form so they can prevent injury. Even Chris Powell, host of ABC's Extreme Weight Loss, has found great success by using the instant replay app to help his fitness clients during workouts.
At $4.99 for Apple, Android and Windows devices, Coach's Eye is an affordable and helpful asset for one looking to maintain a healthy lifestyle.
---
The nabi DreamTab is so much more than just a tablet. It's the key to an unprecedented level of creative freedom, artistic license, and pure, unadulterated joy that comes from bringing your vision to life, whether it's an animated drawing, a self-authored eBook, or an ingeniously edited two-minute movie of your family's typical Tuesday. DreamTab is the first and only tablet to feature Dream Pro Studio™, a suite of drawing, editing and animating tools created in collaboration with the creative minds at DreamWorks Animation. It comes with more than 400 kid-focused, parent-approved features designed to empower, educate and inspire your child. Now, it's his or her turn to show the world what they can do.
---
Vonage Global Phone Card
The Vonage Global Phone Card is a pay-as-you-go calling card that provides international calling at low per-minute rates. This is a great tech gift or stocking stuffer—either for those with loved ones traveling or living overseas, students going off to study abroad, or families with parents who frequently work internationally.
In fact, 71% of adults said that a phone call is their first choice of communication for relaying special moments or important news if they can't meet in person. Perhaps even more surprisingly, 67% of Millennials said they stop texting and start calling when it comes to special moments, such during as the holidays.
Global Phone Cards are available for purchase online or in stores such as Tiger Direct, Fred's, and AAFES. While the card is pay-as-you-go, the minimum amount you can add to your card is $5. With this card the minutes you pay for are the minutes you get, with no hidden fees or extra charges. You do not need to have a Vonage account to use or purchase the cards.
---
ThinOptics
ThinOptics are the reading glasses that always stay with you. The ThinOptics team tested over 200 prototypes to create glasses that are flexible, mobile, and functional for everything from reading text messages to perusing the newspaper.
The glasses, which are made with optical-grade Poly-Carbonate and bullet-proof glass, come thin cases that fit both iPhone and Android phones as well as a Universal Pod that can fit in any pocket or purse. ($24.95-$38.95)
---
Motorola Moto E from Republic Wireless
Many seniors are on fixed budgets – they may want a smartphone, but are looking for just the basics and a plan that allows them to know exactly how much they will spend for service each month. Republic Wireless was created 4 years ago to put smart back in smartphones and create a company that is laser focused on doing things in a consumer friendly way – out with contracts, early termination fees, confusing promotions, etc. While we offer higher-featured phones, for seniors on a budget, Republic just started offering the Motorola Moto E for $99 – which has been named the "best entry level phone on the market today" by PC Magazine. We offer 3 simple, all inclusive plans that use a combination of both WiFi and cellular to keep the service plans low.
For the Moto E: 3 plans and the cellular plan is unlimited data on Sprint's network + 25 MB cellular data while roaming.
Unlimited data, talk, and text on WiFi only – $5/month
Unlimited talk and text on WiFi and cellular, and unlimited data on WiFi – $10/month
Unlimited data, talk, and text on WiFi, plus on-network 3G cellular – $25/month
---
AutoSock
AutoSock is a patented, branded and safety-certified textile hi-tech snow sock system designed as a "First Aid Kit" in emergency situations, usable for considerably increasing tire to road grip and traction when driving on snow or ice. So as the snow starts to fall and ice accumulates on side streets, roads and highways, the AutoSock can ease the pain, and ensure that seniors are safe when traveling in a car these holidays, and throughout the winter.
The AutoSock is easy to mount and provides much needed grip on slippery surfaces. Specially patterned fibers optimize grip on slick surfaces by managing the thin layer of water on top of ice and snow. The AutoSock was modeled after friction theories from the skiing industry. This same layer of water that allows skiers and snowboarders to slide down mountains, has been harnessed for the opposite effect for drivers.
AutoSock which is beginning its concerted push into the US market (with approvals to sell across the US), has seen great traction in other countries where it has sold more than 2.5 million units.
---
Vapor Corp.
Vapor Corp. is a leading U.S.-based e-cigarette and vaporizer company and one of the only public "pure-play" companies in this industry.
Brands include Krave®, VaporX®, Alternacig® and Fifty-One®, and in direct response to the continuously growing e-cig / vaporizer industry nationwide, the company recently launched a new, premium line of USA-made e-liquids for electronic vaporizers and other e-vaping devices.
---
V.ALRT by VSN Mobil is a new device that makes it easy to send out urgent calls, text messages, and location information at the press of a button, summoning help wherever and whenever someone should need it.
The V.ALRT is a small wearable device that can be carried discreetly in a pocket or bag, worn on the wrist with the included band, or around the neck as a pendant. With V.ALRT, students that become injured, witness suspicious individuals/unusual behavior, or who find themselves in a dangerous situation can simply press the button to call for help.
Using Bluetooth SMART (4.0 LE) technology along with a mobile applications provided by VSN Mobile (Android and iOS), the V.ALRT connects with the user's smartphone and sends personalized text messages, phone calls, or location information (with GPS on) to three pre-selected contacts indicating help is needed.
V.ALRT provides up to a year of use on a single battery and is available for purchase at www.VSNMobile.com and Amazon.com for $59.99, with no monthly or service fees of any kind.
---
Anthony Gallo Acoustics
Turn Dad's living room into a movie theater with Anthony Gallo Acoustics (www.roundsound.com) Micro SE speakers! They are little 4" balls that sound WAY bigger than their size. 

But don't take my word for it, this is what Cnet had to say:

http://www.cnet.com/news/gallo-micro-se-how-can-a-speaker-this-small-sound-this-good/

For more information, pictures, and pricing, click here.
---
RealPad
RealPad is a first of its kind tablet device built to address the specific needs of 70 million Americans 50+ who are yet to fully embrace tablet technology to help them stay connected. RealPad comes with preloaded how-to videos spanning from photo basics to video chat basics. It's also pre-loaded with a ton of fantastic apps such as the RealQuick Fix (which addresses complex issues in one-click), games, entertainment and AARP tools. Retails for $189.00.
---
Nokia Lumia 635
With a 4.5" screen, 5MP camera and digital personal assistant Cortana, the Lumia 635 provides a full smartphone experience without the hefty price tag. The Lumia 635 also comes with Microsoft Office built in, making the phone very user-friendly for anyone who has had any experience with Windows programs. The phone is free with two-year contract.
The Nokia Treasure Tag is also a great accessory you can pair with your Lumia smartphone to help keep your important belongings close by–great as a tech stocking stuffer!
---
SONY Mobile
Xperia Z2 Tablet – $499.99 with 2 year VZW agreement; $599.99 full price
Waterproof, dust- and scratch resistant

The slimmest and lightest waterproof tablet
8 MP camera with Exmor RS™ for mobile, delivering stunning shots in any light
The fastest processor in a tablet with ultra-fast 4G/LTE technology for sending photos or emails to family
Battery STAMINA Mode significantly improves battery life and increases tablet use for a longer duration without charging
---
Waterproof

Powered by Android Wear: contextually aware and smart Android Wear gives you useful information at a glance and responds to your voice
Can be used with or without your smartphone
---
Xperia Z3 Smartphone – Price varies depending on T-Mobile agreement; $630.00 full price
Waterproof and dust-resistant, where you can still find your way in a downpour or a dive into the pool (on purpose)

Innovative battery life that lasts up to 2 days, increasing usage for a longer duration without charging
Unparalleled video sharpness full of authentic details with 4K Ultra High Definition video recording
The fastest processor in a tablet with ultra-fast 4G/LTE technology for sending photos or emails to family
---
Nixplay 13-inch HD WiFi connected photo frame – $299 full price
The 13-inch cloud frame, now in HD, is a smart connected frame that can receive images directly from an iPhone, Android phone, any email, Facebook, DropBox, Picasa and Instagram. With the nixplay app (for iPhone and Android), users can send photos to any nixplay frame anytime, anywhere – perfect for family and business sharing. It's simple and intuitive to use and users can sync up to 10 frames on one account. See here for glowing reviews of nixplay's previous Wi-Fi connected photo frames.