SnapPower
The SnapPower Guidelight (starting at $15) can safely and easily transform an outlet coverplate into a convenient night light. They automatically turn on and off by a sensor and are equipped with energy-efficient LED lighting for perfect nighttime illumination.
The SnapPower Charger (starting at $20) allows you to easily convert your outlet coverplate into an attractive USB charger. It requires no wires or batteries and leaves all outlets free for use.
Efficient: Our LED lights cost less than 10 cents per year and last 25+ years
Convenient: Practical design leaves all electrical outlets free for us
Easy: Install our products in seconds – requires no wires or batteries
Attractive: Products are built to fit any décor
---
TrackR bravo is a coin-sized Bluetooth device that people can attach to all their important belongings — from wallets to laptop bags to even pets — to make sure they never get lost.
Once you pair your TrackR bravo with the free iPhone/Android app, you can use your phone to locate any misplaced item in seconds. Plus, with the world's largest Crowd GPS network, when an item is truly lost, the entire TrackR community is activated and will anonymously update the customer with the exact GPS location of their lost item. Finally, with custom printing options, you can choose any photo to print directly onto a TrackR, making it the perfect personalized, low-cost gift this holiday season!
---
Goze Antimicrobial, Sound-Amplifying Smartphone Case
Goze is the only anti-microbial, drop-safe, and sound-amplifying cell phone case. A perfect gift for any member of the family, goze goes everywhere with you. Grandparents are able to utilize this sound-amplifying technology, whether its in the car or the kitchen. Moms and Dads can give this gift to children without worrying about it picking up bacteria at school.
More Product Details:
SELF CLEANING: The goze case has a coating that actually kills bacteria and microbes you come across on a daily basis. No need to sanitize or wipe down your phone again. Never get grossed-out again from picking up germs while using your cell phone on the treadmill, in the doctor's office, on the plane or even in the bathroom (gasp)!
SOUND AMPLIFYING: Designed to naturally amplify the smart phone's speaker sound up to 250% louder! Enjoy listening to your playlist, phone call or GPS navigation voice at 4X the volume.
PROTECTION: Goze smartphone cases have been military drop tested up to 4ft and protect your cell from cracks and damage on top of bacteria and microbes.
Details: Cases available for both Apple and Samsung model smartphones. Choose from Slim, Theater or Original style cases in: red, light blue, green, dark blue, black
Price: $29.99-$34.99
---
AmpliFi is the world's first powerful Wi-Fi system designed to eliminate the general shortcomings of today's Wi-Fi demands of the modern home.
For the holiday party season, AmpliFi is the perfect solution designed to serve multiple connected devices, deliver high-quality video streaming for everyone, eliminates dead spots and distributes fast internet bandwidth ubiquitously throughout the home. (Price $199)
---
August Home enables your smartphone to be your smart key. With the August Doorbell Cam, you'll be able to see who's there, from anywhere through your smartphone so you feel safe at all times.
---
EZVIZ is the leading provider of cloud camera solutions. The EZVIZ Mini O ($79) lets you easily view 24 hours of footage in two minutes to quickly check in on your homes, pets, or loved ones anytime, anywhere!
---
YouMail is a productivity and call management app that would be a great gift for folks who want to organize their voicemails and block spam callers. YouMail's "Call Block" feature automatically directs robocallers and spam callers to a disconnected number dial tone, making them think your phone is out of service. The dial tone also prevents robocallers from leaving time-wasting messages and clogging up inboxes. Users can also manually add in the numbers they want to block, without going through their carriers and paying an extra fee. This is a great feature for seniors who are tired of getting spam phone calls.
YouMail's other features include:
Visual voicemail: users can read or listen to their messages from their phone or tablet

Auto-reply: users can instantly reply to missed callers with a text, letting them know they're unavailable
Reverse phone lookup: users can find the details of phone numbers in the US or Canada and get in touch with important callers, or ignore the ones they don't know
---
Seniors, frequent travelers, geeks and homeowners looking to inexpensively automate their homes now can turn traditional devices into smart devices with the ConnectSense Smart Outlet manufactured by Grid Connect. The Smart Outlet fits over any existing, standard North American electrical outlet. Its two Internet-connected electrical sockets enable users to automate everyday plug-in devices, such as lights, fans and holiday decorations.
Because the Smart Outlet is built on the Apple HomeKit platform, users can control devices plugged into them using Siri (via iPhone, iPad, iPod touch or Apple Watch) or through the ConnectSense app.
Premium features include:
Apple HomeKit support for easy set up and configuration, data security through end-to-end encryption, and Siri's voice
control.
Two WiFi connected sockets that can be monitored and controlled individually plus there is a USB charging port for cell phones, tablets and other devices.

The ConnectSense Smart Outlet can be purchased at www.connectsense.com and on Amazon.com Price: $79.95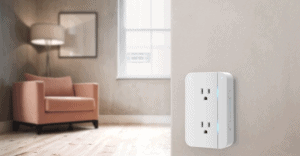 ---
Ditto wearable from Simple Matters is a tiny waterproof smartphone notification wearable that allows its users to customize how they stay connected without constantly checking the phone (or having it on them). Ditto can be clipped near the skin in a jean pocket, on a strap, or on a band and works for everyday life, staying close at home or at work.
Ditto helps ease the mind of parents as well as adults 50+, who don't always have their smartphones on them, or are unable to hear their phone ring. Ditto allows its users connected to what's most important to them by alerting them through custom vibrations of important incoming calls or messages, ensuring that they don't' miss them, even when they don't have their phones with them. It also notifies users if they are about to leave their smartphone behind, and can serve as a morning alarm—also through custom vibrations.
In addition to helping users stay connected and having the peace of mind that they're not missing calls or messages from loved ones, or other important notifications like emails, etc., Ditto also keeps track of users smartphones with its tether feature.
---
Chamberlain
Chamberlain has three great garage-related tech ideas perfect for gift giving this holiday season:
For the stocking
The Universal Mini Remote is a convenient, compact device that replaces clunky keys. The Mini Remote lets anyone coming and going from your home – you, your kids, the neighbor, the nanny – open and close the garage door with added safety and convenience, no key necessary. Compatible with all major brands of garage door openers.
For under the tree
Never drive away from home and wonder if you remembered to close the garage door. Instead, check whether or not it's open on your smartphone, and then close it if you need to. Put a bow on a brand new garage door opener with MyQ technology for smartphone control of the largest door in your home. Some openers with belt drives are whisper quiet; other models offer a backup battery if the power goes out.
Don't want to replace your garage door opener? Then wrap up the MyQ Garage upgrade kit. It's an easy DIY project that can make most any brand of garage door opener smarter with smartphone control.
---
Fujitsu ScanSnap
Fujitsu recently announced four new partner integrations, including Box, Shoeboxed, LedgerDocs and Rocket Matter, for its ScanSnap Cloud feature.
ScanSnap Cloud, launched this past June and is a free feature that allows ScanSnap customers to deliver scanned data directly to their favorite cloud service without the need for a computer or mobile device. With the push of a button, customers can eliminate multi-step processes to digitize, save and use information with the ability to scan directly from their ScanSnap iX500 or iX100. Other current partner integrations include Dropbox, Evernote, Expensify, Google, and OneDrive.
---
TripIt (www.tripit.com)
TripIt and TripIt Pro are perfect, unique gifts for stress-free travel (for moms, dads, and all family travelers)!
In short, TripIt automatically creates a master itinerary for every trip, so you can access all of your travel plans in one place, along with maps and directions. The process is simple. You handle the booking – from flights, hotels to restaurants – and TripIt handles the rest.
Once you've set up your TripIt Pro account:
* Download the TripIt app
* Forward confirmation emails to plans@tripit.com
* Get your master itinerary – TripIt automatically transforms your emails into a master itinerary for every trip so all your plans are in one place
* Access plans from anywhere – view your itinerary anytime, on any device (even when offline); Receive flight status and fare fund alerts, track your points, get better seats, and more!
The Gift of Stress-Free Travel:
https://www.tripit.com/gift?us=ti&um=ip&un=pg
TripIt: What's New
Launched TripIt for iMessage and Enhances Real-Time Flight Alerts (iOS10): With TripIt for iMessage, TripIt users can send flight information, hotel reservations, rental car details and other travel plans without leaving Messages. Travelers can share plans from their next two trips to easily keep family, friends and coworkers updated on travel plans. In addition, for TripIt Pro users, select flight alerts have been enhanced to rich notifications—adding a new expanded view that shows a summary of the flight and the ability to react to the alert directly from the notification. Users can select from multiple options within their alert to check in for a flight, find a new flight if their flight has been delayed, and more.
Enhanced Mobile Design (Android 5.0 or iOS 8.0): The Trip Summary has been enhanced with a new look and feel. Travelers now see itineraries in a timeline view that shows where they are within their trip and what's next. Within the timeline travelers will still be able to see the most important trip details, like flight or confirmation numbers, as well as a new layover summary that tells travelers how much time they have until their connecting flight takes off.
TripIt has also revamped how travelers find things to make it even easier. Now, travelers will find a navigation bar at the bottom of their screen that allows them to quickly jump to whatever information is needed—whether that's checking an alert just received or viewing your next trip.
Launched TripIt for Android Wear: Our TripIt for Android Wear app allows travelers to quickly access the information needed most while traveling (flight, hotel and rental car information), all without having to stop and pull out your phone. TripIt's Android users also get something extra—a new flight countdown timer. TripIt Pro users will also receive real-time flight alerts, including: connecting flight information, gate changes, flight delays and more.
Enhanced the Android Experience: To make it even easier to see the trips coming next, TripIt has enhanced the view of a travelers trip summary. This includes enhanced icons (flights, lodging, rentals) as well as highlighting key information such as confirmation codes, terminal and gate info, trip name, trip dates, and alerts (for Pro users). We also now send travelers directly to their next trip when they open up the app, offer a new display of upcoming trips and provide a new floating action button which allows travelers to quickly create a trip.
Added Merging Capabilities: Now travelers can merge trips together or move plans from trip to trip directly from the TripIt mobile app.
Enhanced Maps & Directions: It is now easier for travelers to get to hotels, meetings, and other activities. New feature enhancements include an improved design to quickly access maps and directions, direct access to the maps you would like to get directions from (Google Maps, Apple Maps, etc) and long press function to copy the address of a location in the app.
Released a Ground Transportation Feature (in Beta): TripIt launched a new feature, in beta. The new airport ground transportation feature makes it easy for users to search for their ground transportation options from their airport to their next destination. To do this TripIt has teamed up with Rome2Rio. Now, when users look at their itinerary in TripIt they'll be able to go directly from their itinerary to the Rome2Rio site, where their arrival airport is pre-populated as their starting point. After entering their next destination (a meeting, hotel, etc.), a simple search allows them to see a comparison of their transportation options including time and cost. For public transit, detailed directions are also included.