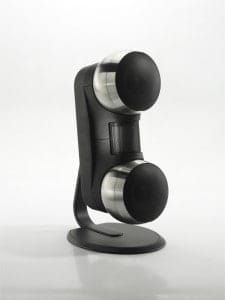 Anthony Gallo Acoustics (AGA)
Anthony Gallo Acoustics (AGA) has always strived to create loudspeakers that capture the realism found in music, movies and television. But, this time the company has taken it to an entirely new level with the Strada 2. The genius of the Strada 2 is that it was designed to offer true high-end, audiophile performance, but without the real world limitations often associated with the breed.
At first glance, the Strada 2 looks like its predecessor – sleek and modern. However, underneath the bold look are an updated driver technology, and a new drive circuit for the proprietary CDT 3 tweeter. The Strada 2's dispersion/wave launch pattern has also been recalibrated to project a holographic sound field into the listening area regardless of room acoustics. In addition, the efficiency of the new Strada 2 is up 95% and will play just as loud as its previous incarnation using just half the input power.
"I was very excited when we developed the original Strada, but the new version goes places I didn't think were possible," says Anthony Gallo, founder of AGA. "What impressed me most was the Strada 2's ability to make most bad recordings still sound enjoyable, and better recordings sound amazing. From whisper-soft volume levels to extremely loud, the speakers create a vivid, crystal-clear 3-D soundstage that resonated with me at an emotional level like I've never experienced before. That's when I knew we had a real winner."
The changes incorporated into the Strada 2 now enable them to perform equally well up close on a desktop or in stereo/home-theater systems, regardless of room size or mounting options. Because they offer amazing performance in any application, they are a perfect fit for everyone from audiophiles to diehard gamers to everyday folks who just want great HDTV sound.
For more information, visit http://www.roundsound.com/reference-speakers/reference-strada-side-speaker-bundle.html. 
---
Keepy
Keepy is a FREE family app that saves and organizes artwork, schoolwork and life moments in one safe place. Grandparents don't have to deal with Facebook, or guess who their sharing what with. With 43% of grandparents living more than 200 miles away from their grandchildren, Keepy helps families stay connected by providing a fun and easy way to comment on uploaded content via voice or video responses.
Keepy is a safe and private scrapbook for grandparents, grandkids, aunts, uncles, other family members and close friends to view and comment on photos and videos, delivering a personal, interactive experience that even the youngest user can understand. Additional features include photo cropping tools that can turn a smartphone into a scanner, auto sync with Dropbox, unique timelines for every family member, and accessibility from all devices. Users can also print photos, mugs, t-shirts and greeting cards directly from the app through partner companies who bring these cherished memories to life.
Monthly subscribers at $5.99/month and yearly subscribers at $29.99/year receive unlimited photos and videos.  Free and paid subscribers receive unlimited kids, fans, voiceovers and comments, as well as unlimited Dropbox sync and Ad Free. http://keepy.me/pricing.
---
The award-winning Mosaic (top) takes 20 photos from your Apple or Android device and allows you to create a physical photo book in minutes. It's the fastest photo book you'll ever make. For $30, pick 20 photos and your book will arrive right to your doorstep within a few days. It's quick, inexpensive, stunning and thoughtful. Watch Mixbook's Mosaic in action: http://vimeo.com/51841853 or visit www.heymosaic.com.
Montage is the new smart, friendly and efficient premium photo book experience on the web. Montage takes the hassle out of photo books by automatically assessing the quality, chronology and importance of your uploaded photos and does the work for you, laying it all out in the right order in no time. Choose up to 120 photos and build up to 50 thick, lay-flat pages with no extra page fees. Customize your book with captions, design themes and personalize your cover Montage. The book is wrapped in luxury, eco-friendly Italian leather and comes in a 6" square size for $39. For a larger, yet affordable book, Montage is also available in 8.5" and 12" square sizes for $59 and $119, respectively.
---
Fujitsu's ScanSnap
The ScanSnap iX500 is Fujitsu's flagship desktop scanner with built in Wi-Fi, allowing users to scan directly to an iOS, Android, or Kindle Fire mobile devices, without even turning on the computer.This would be ideal for graduates that want to go paperless and who have a heavy paper load! 
Grads can also benefit from the ScanSnap iX100. It's the same technology as the iX500, but smaller and battery powered. One key difference is users can scan wirelessly even without a router. This means that you can scan anywhere, whether in the library, park, or at a conference, etc. It's small and can easily slip into your backpack (weights 14 oz)…so perfect for a graduate's on-the-go mobile lifestyle. (Priced around $229.00)
Both scanners come with productivity and receipt scanning software (in addition to a number of other features).
---
SanDisk
SanDisk iXpand Flash Drive  – Designed for users who never have enough space on their iPhone/iPad, the iXpand sports two ports – a Lightning port for connection to iOS devices and a standard USB port. Users can now easily transfer content to/from iOS devices and never worry about running out of space! Through the free iXpand Sync app, you can play music, movies or open documents, directly from the iXpand.
Connect Wireless Flash Drive – The smallest wireless USB storage device available to date, it provides a convenient and affordable way to wirelessly store, share and stream content across mobile devices and computers, no Internet required! The drive allows users to enjoy extra storage for their devices, and up to 8 users can simultaneously access photos, movies, music and documents from multiple devices without the need for an Internet connection or cables. Up to 3 devices can stream HD video at the same time as well. The drive comes in 16GB, 32GB and 64GB capacities for $49.99, $59.99 and $99.99 respectively.
---
LifeTrak C410w
The LifeTrak C410w, a new fitness tracker designed specifically for women from LifeTrak, maker of innovative, heart-monitoring wearables. The C410w is perfect for someone who wants an accurate, all-day wear fitness tracker that is simple to operate and won't break the bank (MSRP $99). Plus, LifeTrak's ECG heart rate monitoring capability is ideal for tracking health over time.
In addition to heart rate, the tracker monitors steps, distance, calories burned, and even tracks sleep quality. It connects to the LifeTrak app on iOS or Android through Bluetooth so you can track progress over time. Plus, it never needs charging (runs on an inexpensive watch battery) and is waterproof.
---
CVSphoto.com
On CVSphoto.com and in CVS stores at the Kodak Picture Kiosk, customers can easily personalize wall décor with photos of family and friends using candid photos from their Facebook or Instagram accounts to infuse personality into a space. Wall art is a great way to brighten a space without the commitment or hassle of painting.
CVS offers Photo Panels, Posters, and Canvas Wraps that are convenient and affordable as compared with similar products from other retailers. (starting at just 12.99!)
Canvas gallery wraps (starting at $12.99) – bring high-quality décor to the office so he can always have a piece of home with him
Photo books (starting at $5.99) – keep memories of Dad's favorite moments in a timeless (and affordable) gift
Happy to share information on men's photo ties, mouse pads, etc., depending on the angle of your gift coverage – or promo codes for you to create samples!
Personalized photo phone and tablet cases allow you to take a favorite photo anywhere you go – and it's perfect for your grads favorite device!
CVSphoto.com, starting at $34.99
---
Contrary to what many believe, your brain doesn't have an expiration date when it comes to learning, especially a new language.
In fact, there may be more motivational benefits in learning a new language as you age, such as a better memory, multitasking improvements, increased attention, dementia prevention and more.
Babbel, this leading language learning tool with 25 million downloads, has also compiled comprehensive survey statistics sourced from its users. Luckily, your intelligence can be improved at any age, and particularly with Babbel, you can now train your verbal memory and conceptual reasoning skills easier and more efficiently than ever before!