Light 'n Go® Yule Log
The custom of giving a Yule Log is a centuries old Nordic tradition that has been adopted and changed by many different countries and cultures all over the world. Originally, burning a Yule Log was a celebration of the winter solstice, which is the darkest time of the year. Celebrating Yule meant no work as long as the special log burned. The burning of the Yule Log continued a few weeks after the winter solstice until the days started getting longer, marking the rebirth of the sun.
Today, Essay Group® brings good luck to all those that gift and receive a Light 'n Go® Yule Log around the holidays! The Light 'n Go Yule log combines the best attributes of premium firewood and manufactured firelogs, to create a visually stunning, 100 percent natural, safe solution that offers unmatched portability, convenience, and lights with just one match. The Yule Log's patented design has also made it possible for it to be composed of hardwood, which is unique among other products in the category. There is no quicker or easier way to enjoy a fire, indoors or out!
---
GelPro Decorator Collection
GelPro®, the world's leader in luxury comfort flooring mats, promises more comfort and joy in the kitchen this holiday season with an array of new contemporary Decorator Collection designs as well as a new wider and longer 9-foot mat to fit today's large, open entertaining spaces.
Just in time for the holidays, GelPro is adding additional designs to its Decorator Collection, including popular patterns such as lattice, ikat, damask and animal prints. The Decorator Collection is available in GelPro's best-selling Elite series which features the exclusive Dual Comfort Core technology with patented gel and energy-return foam. The luxurious GelPro Elite is the plushest, most supportive comfort mat in the marketplace and comes with beveled, no-curl edges, a non-slip bottom and a stain-resistant top surface. GelPro's new 9-foot Elite mat joins the recently introduced 6-foot mat to accommodate larger kitchens with bigger islands, as well as the once-humble laundry room that's been upgraded for more space, convenience and design. The 9-foot mat is also wider; it is 30 inches wide compared to 20 inches for the other GelPro Elite mats.
GelPro Elite mats come with a five-year warranty. Prices start at $119.95 for a 20"x36" mat; $159.95 for a 20" x 48" mat; $239.95 for a 20" x 72" mat; and $549.95 for a 30" x 108" mat. The new 9-foot mats will be available for online orders by October 2016.
GelPro-branded comfort mats are sold direct at GelPro.com and at national retailers, including Bed Bath & Beyond, Wal-Mart, Target.com, Staples.com and Amazon, as well as many kitchen specialty stores.
---
Fiskars
Fiskars is the world-renowned cutting tools brand famous for the iconic Orange-Handled Scissors and known for their superior performance.
From holiday gift wrapping and crafting essentials, to new garden tools for the yard, Fiskars has a product for everyone on your list. In addition to their great products, Fiskars is also a source for fresh decor inspiration and holiday DIY projects, all of which are easy to make with the help of Fiskars tools!
For the Crafting Enthusiast
Fiskars Original Orange-Handled Scissors
Stainless-steel blades feature a precision-ground edge that stays sharp longer and cuts all the way to the tip
Use this tool to make DIY Gift Toppers
With these cute Christmas gift toppers, wrapping gifts may be just as memorable as the gifts you give your family and friends this year.
Fiskars Amplify Mixed Media Shears

Designed to cut through thick and heavy materials like cardstock, chipboard, fiberglass cloth and more
Use this tool to make New Year's Eve Decorations
Ring in a new year primed for fun with five fabulous DIY party decoration projects sure to make guests excited to celebrate
(available in 4 styles)
Quickly and easily create tags perfect for gifts and other crafts; Tag Maker punches a tag, punches a hole and sets an eyelet in three easy steps
Use this tool to make Pop-Up Holiday Gift Tags
Make the holidays merrier with these super fun pop up gift tags
For the Garden Enthusiast
Handle rotates with your hand as you squeeze to further reduce hand and wrist strain
Use this tool to make Winter Front Porch Ideas & Decorations
When your last annuals and perennials have passed their prime, use them to create winter decorations that make your porch inviting and full of holiday spirit.
---
Bondic®
Bondic® is the coolest gadget under $20 in ages. For any age, it can build, craft, fix, fill, and help with thousands of products. Bondic® is like a mini 3D printing pen that fits in your pocket, and can fix just about anything – whether at home or on the go. It's the World's first and original liquid plastic welder and revolutionary bonding tool. Bondic® is made in the USA and is non-toxic, unlike knock-off brands in the market that don't work. Again, Bondic® can fix almost anything – in four seconds! Unlike glue, Bondic® stays in a liquid state until UV light is applied. Bondic® was discovered on the first season of Discovery Science Channel's hit TV show, All-American Makers.
Bondic® can fix virtually anything – phone chargers, R/C Vehicles, drones, fishing lures, air mattresses, tail lights, snowboards, common household issues, and more. Created by CEO Robert Harbauer in conjunction with the oral surgeon who repurposed the UV bonding agent from dental procedures, this unique blend of polymers is now available to consumers for everyday mishaps and fix-it needs. Users can create a permanent or temporary bond to any surface by applying the liquid plastic, exposing to UV light to harden, then file, mold and/or paint. Glue sticks, but Bondic rebuilds.
BONDIC USES AND FACTS:
• Creates commercial-strength bond in 4-seconds or less
• Fixes, molds, fills, and repairs
• Adheres to most surfaces including plastic, metal, fiberglass, and wood
• Can be used underwater and on damp surfaces
• Only hardens when exposed to UV light. Gives user opportunity to scrape off and reapply if necessary
• Solvent-free, non-carcinogenic and does not dry out like glue when you need it
• Bondic® Starter Kit includes Wand, Liquid Plastic, and Curing UV Light
• Retail price starting at $20 or less
• Available at Amazon.com, Ace Hardware, CVS, Grommet.com, Hobby Town, Michael's, True Value, Target, Wal-Mart, and other local retailers
• http://www.notaglue.com
• Social: #howyoubondic, Facebook.com/Bondic, Twitter @JimBondic, Instagram: JimBondic
• How-to videos: https://www.youtube.com/user/HowYouBondic/videos
---
Micro Cotton
Micro Cotton towels are made from 100% super-soft cotton that lends itself to an indulgent texture. The towels are fluffier, softer and more absorbent than others on the market, while also drying easily. Additionally, due to the unique structure of the yarn, Micro Cotton textiles become softer after every wash for long-lasting luxury.
Noble Excellence Micro Cotton Elite Bath Towels ($8 – $35)
Bring a touch of spa-like luxury to your every day with the Noble Excellence Micro Cotton Elite Bath Towels. Crafted of high-quality, ring spun cotton, this durable and ultra-absorbent bath towels feature an extra-soft, plush feel. Available exclusively at Dillard's.
Hotel Collection Ultimate MicroCotton Bath Towel Collection ($7.99 – 34.99)
Experience a new level of luxury with the Hotel Collection Ultimate MicroCotton® bath towel collection. Ultra-soft and extra-absorbent, these towels make a blissful addition to your bath. In favorite neutrals, gentle pastels and rich jewel tones, the standout selection of shades can accommodate every décor.
Liz Claiborne® MicroCotton® Bath Towels ($14.99)
Made with 100% long stable, fine cotton, our bath towel set is super-soft and becomes loftier with each wash.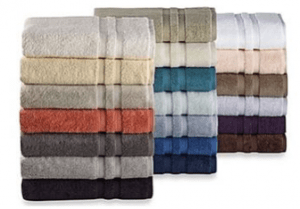 Wamsutta® Perfect Soft MICRO COTTON® Bath Towel ($14.99)
Bring a touch of spa-like luxury to your every day with the Wamsutta Perfect Soft MICRO COTTON Bath Towel. Crafted of high-quality, ring spun cotton, this durable and ultra-absorbent towel features an extra-soft, plush feel.
Hotel by Biltmore® Suite Collection Micro Cotton® Towels ($12.49 – $23.99)
Irresistibly soft and generously oversized, this towel is crafted of the finest spun cotton fibers. Exceptionally thick and soft, the performance of this towel exudes the utmost luxury.
---
Eclipse
Eclipse curtains block over 99% of intrusive light, save up to 25% on home heating costs during the cooler months, reduce unwanted noise, increase quality of sleep and reduce stress levels. Available for both kids and adults in both traditional and contemporary designs, Eclipse offers curtains for every room of the house.
Eclipse Sienna // $15.00
Color: Natural
Available at Big Lots
This curtain panel will look beautiful adorning your wall. It will go great with almost any décor you have, boasting pretty neutral colors that can go well in a modern or traditional style space. Thermal abilities will help keep your room at a temperature you want.
Eclipse Thermapanel // $15.00
Colors: Chocolate, Merlot and Midnight
Available at Big Lots
These solid curtain panel pairs perfectly frame your windows and can match any décor. The thermal properties of the fabrication provide room darkening for a restful night's sleep as well as they are energy efficient, saving money on heating and cooling. Machine washable for easy care.
Eclipse Thermalayer Deron // $26.99 – $41.24
Colors: Marble, Vermillion and Tundra
Available at Target
Experience the silence and darkness of this Eclipse Thermalayer Deron Blackout Grommet Window Panel. Perfect for any room in the home, the Eclipse Deron curtain panel features Thermalayer construction, blocking over 99 percent of light and reducing unwanted noise. This curtain panel offers excellent performance by helping to block heat in the summer and cold air during the winter. Eclipse Deron panels feature a modern, textured woven horizontal stripe with exposed fibers for visual interest. Beautiful coordinating metallic fibers blend with the colors and give the panel an elegant sheen.