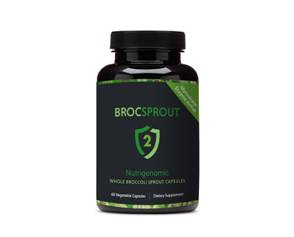 Introducing a new all natural supplement that is changing the health and wellness landscape. BROC SPROUT 2 capsules stand alone in their ability to harness the pure power of broccoli sprouts and Sulforaphane to build a healthier you!
The most potent natural dietary source of Sulforaphane is fresh young whole broccoli sprouts, as they contain the key Myrosinase enzyme and Glucoraphanin compound. BROC SPROUT 2 is a unique supplement that delivers these two dynamic components in a single capsule.
The remarkable benefits of Sulforaphane and its ability to profoundly impact upon the function of every cell in the human body has been extensively published after thousands of scientific research studies and clinical trials. Sulforaphane reigns supreme as a natural trigger of the 'Nrf2' protein within human cells, that stimulates the all-powerful Immune Response processes of the human body.
Where it's sold: Amazon
Price: $59
---
SeaSnax
There is a deep hunger for new food heros as consumers are demanding
more plant-based foods in their diets. The desire for sustainability is
at an all time high and this global fad has become a permanent way of
life. SeaSnax founder Jin Jun, a dynamic innovator in the seaweed
industry, can offer insight behind this mega food trend!
Jin Jun pioneered the natural seaweed snack category over a decade ago
and is thrilled to see plant-based foods take center stage.
"When we first started out our venture, the retail space for natural,
organic plant-based foods was quite small. But now more than ever,
people are starting to care more about what they put into their bodies
and where their food is sourced from. A new generation is concerned
with transparency and traceability and I'm happy to continue to be part
of this revolution," Jun states.
---
GREEN TOYS
Green Toys – For more than a decade, Green Toys Inc. has been dedicated to the development of environmentally friendly and socially responsible children's products using mainly recycled milk containers right here in the USA. Now, Green Toys is taking their sustainable efforts to the next level with the use of OceanBound plastic for their new OceanBound Tide Pool Set.
OceanBound Plastic is a sustainable product, made from plastic at-risk of entering our oceans along coastlines in global communities that lack recycling infrastructure. By using OceanBound Plastic, you are encouraging the development of formal collection programs around the world. Plus, OceanBound Plastic can be recycled again and again, just like traditional plastic.
The 7-piece Green Toys™ OceanBound Plastic Tide Pool Set includes a starfish, scallop, abalone, snail, squid, and jellyfish, as well as a seaweed-patterned storage bag. The palm-sized shells are the perfect size for scooping and pouring water to wash little ones in infant tubs, while the whole set is also great for the beach and backyard. Plus, the pieces are made in the USA from 100% recycled OceanBound Plastic, a sustainable product made from plastic at risk of entering our oceans along coastlines in global communities that lack recycling infrastructure.
---
WILD REPUBLIC
Wild Republic – As a company committed to nature and conservation, Wild Republic proactively strives to be as environmentally friendly and ethically responsible as possible. To further this forty-year commitment, Wild Republic announced their renewed corporate social responsibility strategy, promising to lessen their carbon footprint by reducing, reusing and sourcing sustainable products. This "Promise to the Planet" will include less chemicals, recycled plastic beans in their plush, 80% recycled cardboard, the elimination of single-use plastic and more.
In fact, Wild Republic's Living Ocean Collection is filled using recycled water bottle fibers – there are NO plastic pellets that can cause harm to our sea-animals/creators in the line. The Living Ocean stuffed animals also use a special print on fabric process to achieve vibrant, life-like colors and designs on super soft fabrics. You'll love the realism and the softness of these stuffed animals (sharks and turtles). Living ocean sea creatures are approximately 20-25″ in length; size varies by species.
---
SensaCalm Custom Weighted Blankets
Weighted blankets are the newest trend in stress relief and have become an essential accessory for anyone struggling with anxiety or insomnia. According to The Washington Post, the weighted blanket was the "gift to get" this year.
Using deep-touch therapy, weighted blankets stimulate certain pressure points on the body, which can release serotonin and improve sleep and mood.
SensaCalm's custom weighted blankets can be customized in size and weight for maximum therapeutic benefit. You can also choose the fabric that best suits your style. Hand sewn in the US, these blankets are made from safe, hypo-allergenic, and non-toxic materials and are 100% washer and dryer safe.
---
Now that Aneros® leading FEMME product VIVI™ is making its rounds to Best-Of lists and Award Ceremonies, they thought it'd be the perfect time to bring it to the most sacred space of all: the bachelorette party!
This simultaneous kegel exerciser & intimate vibrating massager will be the talk of the party, as its sleek design and beneficial features will draw in the eyes of everyone in tow.
Get ready for everyone at the shindig to clamour over a for-sure scene stealer that will have everyone talking!
Check out this video for VIVI, here.
A Little Background on VIVI™:
In 2015, Aneros® first women's product, EVI™ was named Sexual Wellness Product of the Year. 2018 marks an evolution in its women's line with the release of VIVI™. VIVI is a dual purpose kegel exerciser and G-spot massager meticulously designed to harmonize with a woman's body, providing simultaneous clitoral, and G-spot stimulation for unparalleled sexual pleasure, while strengthening pelvic floor muscles for better bladder control and pre and postnatal support.
The Tech Advances in VIVI™:
Made with a luxurious velvet soft silicone, VIVI 's powerful internal and external motors offer 12 vibration modes, yielding pleasures ranging from the subtle to the euphoric!
VIVI™ is supported by a free app, available at the App Store or on Google Play, for effortless wireless control of all of the product features.
VIVI™ includes an interactive menu that provides independent control of the internal and external motors, letting the user customize their own vibration pattern.
No smartphone? No problem! VIVI™ has a manual mode for access to 9 preset vibrations with the push of a button.
---
Aneros Helix Syn Trident

Aneros is proud to announce the release of its most recent advancement in prostate massage technology, the Helix Syn Trident. Aneros' mission to bring customers the finest prostate massagers on the market continues to flourish with its newest product! A key to new kind of orgasm, a powerful erotic amplifier for every kind of sensual play, a tool for promoting better health. It's the real deal, and we want to prove it to you!
Helix Syn Trident follows the highly successful Helix Syn, offering men an innovative and ergonomic prostate massager that feels great while providing relief from prostate complications and preventative measures for erectile dysfunctions (ED). With a larger head for greater and more focused stimulation, Helix Syn Trident features a uniquely balanced design for superior internal mobility, along with modified arms for greater external stimulation.
The Helix Syn Trident is the first of Aneros' New Standards line of next-generation prostate massagers, and will soon be joined by the new hands-free Vice 2 vibrating prostate massager, which features 18 vibration patterns at four levels of intensity for a whopping 72 sensory experiences.
---
Salonpas
Salonpas Pain Relief Patch LARGE is the ideal gift for Moms, Dads and Grads who are in pain. Hisamitsu America, a division of Hisamitsu Pharmaceutical Co., Inc., and the marketers of the Salonpas® line of pain relieving products, announce the availability of the Salonpas® Pain Relief Patch LARGE (SRP: $17.99) in a new double size value pack that includes nine large patches.
"There is only one OTC topical pain reliever that is FDA-approved like prescription medicine, and that's the Salonpas® Pain Relief Patch," said John Incledon, President & CEO, Hisamitsu America. "We understand that many consumers suffer from back pain, as it is the most common area of pain. As a response, we decided to launch the new Salonpas® Pain Relief Patch LARGE. They're twice the size as before with the power to target large pain areas. We also included nine patches in this new product to provide a better value to our consumers. Since the patches are now double the size, there is a 35% savings on an equivalized patch basis."
"Clinical trials demonstrated that the Salonpas® Pain Relief Patch works up to 12 hours on mild to tougher moderate pain," said award-winning journalist Dr. Bob Arnot, M.D., internal medicine, who is the author of twelve books on nutrition and health, and previously Chief Medical Correspondent for NBC and CBS News. "As a 70-year old active athlete, I suffer from pain as a result of training and competing. I was a huge fan of the previous Salonpas Pain Relief Patch and it is great that it is now available as a double-size, larger patch which targets my back pain."
Salonpas, the leading OTC topical pain relief brand, makes an ideal gift for the mom, dad and grad who needs quick and safe pain relief!
Information on Salonpas' full product suite of patches, gels and sprays are available at: www.salonpas.us
---
SoClean is a unique gift idea for Dads that suffer from sleep apnea and use CPAP therapy as treatment. (There are about 30 million Americans that suffer from sleep apnea…the majority of CPAP users are middle-aged men.)
SoClean CPAP sanitizer is the perfect gift. Why? It's something they can USE!
SoClean is the world's first automated CPAP cleaner and sanitizer utilizing an all-natural activated oxygen sanitation process, with patented design and ozone technology that kills 99.9% of CPAP germs and bacteria. With the touch one button, SoClean is the only CPAP cleaning systems that will clean the mask, tubing and all other parts of the device without the user even having to take the mask apart.
This one-touch button cleaning is perfect for the Dad who wants a "set it and forget it" gadget. And, while it's not a new golf club or shirt (what we seem to always get Dad), SoClean (available on Amazon) is a gift a CPAP user can put to good use to ensure their equipment is clean every night – and they have restful, clean sleep!
---
Doctor's Best
Doctor's Best PQQ with BioPQQ, Non-GMO, Vegan, Gluten Free, Soy Free
PQQ with BioPQQ helps provide neuroprotective properties which help inhibit memory loss, improve cognitive function, reduce neuropathic pain, and protect the entire central nervous system. PQQ is a polyphenol whose antioxidant properties are crucial for protecting energy-producing mitochondria. PQQ also acts as an enzyme co-factor essential for the biogenesis of new mitochondria and the stimulation of nerve growth factor.
| | | |
| --- | --- | --- |
| What are the benefits of PQQ? – Helps maintain and renew growth of mitochondria for energy. – Helps provide neuroprotection of aging and new nerve cells. – Helps protect the entire central nervous system. – Helps support the heart and brain. | Why take PQQ? – Regulates cell development, cell signaling, even gene functions. – Shown to prevent oxidative stress, mitochondrial dysfunction and cell death in cardiac muscle cells. – Has important properties in cell signaling and as an antioxidant. | How does it work? – Promotes mitochondrial biogenesis and survival and energy production. – BioPQQ contains pyyroloquinoline quinone, a polyphenol nutrient that is an antioxidant and cell regulator. – It has roles in antioxidant protection and as an essential cofactor for a variety of enzymes. – PQQ's capacity for 'redox cycling' is likely the foundation for its unique actions in living systems. |
Best PQQ featuring PQQ supplies pyrroloquinoline quinone (PQQ), a polyphenol that is an exceptionally potent antioxidant and cell regulator. PQQ is found in common foods and human milk, and is a growth factor for the mitochondria that generate over 90 percent of our life energy. PQQ promotes mitochondrial survival, proliferation, and function. Doctor' s best is pleased to provide the most bioactive PQQ at full clinical potency.
Available at Amazon.com
_______________________________________

Honest Hemp Super Breath Blast CBD Spray
Honest Hemp has created a Super Breath Blast – a bioavailable, concentrated CBD breath spray with 160 mg per bottle that retails at 25$. Not only is it a natural remedy for pain and anxiety, but also the perfect travel companion. It fits in your pocket, keeps your breath fresh and helps take the edge off travel hassles. And we hear that it kills the meanest of hangovers in 5 minutes!!!! Perfect for every father to keep his cool
Honest Hemp is a wellness company based in Boulder, Colorado and Los Angeles, California. Our products are a natural alternative for managing your stress, reducing mild anxiety, and relieving pain from exercise-induced inflammation. We offer great tasting MCT + full-spectrum CBD oil tinctures for daily maintenance, a breath spray for on-the-go supplementing, and a magic balm for topical use. All of our products contain hemp oil CBD, which is derived from the cannabis plant, but is 100% legal and has NO psychoactive affect. So, you get all the benefits of CBD without feeling high.