It was the summer of 1946. I was 11-years old. I was playing with Joey, an 8-year old close friend of mine. We were building sand castles off Wilson Avenue, Port Monmouth, New Jersey. Our play was interrupted when my grandmother called to me that dinner was ready.
I left Joey playing on the side of the road and headed up the dirt path to my grandmother's house. Suddenly I heard a load screening sound followed by a sickening thud. I stopped in my tracks to see what was going on. The next thing I saw was Joey's father racing down Wilson Avenue with Joey sling over his right shoulder, arms dangling lifelessly. He was headed toward Dr. Devito's office located at the corner of Wilson Avenue and Main Street.
It was too late. Joey was killed instantly by a speeding, out of control car intoxicated driver. He was hurled 30 feet before landing face first on the paved road.
That could have been my fate too if my grandmother called me in for dinner just 30-seconds later. I believe it was Angelic intervention.
Do Angels Really Play a Role in Our Lives?
I believe Angels are a Devine energy who's mission is to guide us through our incarnated lives. Before we are born, we entered an agreement with the Spiritual Masters on the purposes for this Earthly existence. I believe every person has one or more Angels who watch over them and gently guide them toward their Earthly grail.
Most people don't pay attention to the possibility they may be getting signals from Angel Messengers. The reasons are they don't believe in them or don't recognize their mystical communications. Their messages are often subtle.
A homeless college student might find a discarded newspaper that is open to a page featuring a room rental at a price he could afford. Was it luck, a coincidence or spiritual intervention?
Other messages come in more direct ways. Being trapped in a massive traffic jam in a disabled car and rescued by a motorist riding by could be considered Angelic intervention. This actually happened to me. The passing motorist just happened to have the exact tools and parts necessary to repair a broken cooling system, which had rendered me helpless and the car inoperable.
Maybe You too Will Be Blessed
In asking around, I've discovered people who had similar Angelic encounters like the ones mentioned above. I've had other occasions where I believe I was guided safely from what could have been a deadly situation. The opening story to this article was one such time but there were others. At the time they happened I was much younger and didn't give much thought to a greater power looking out for me. After 88-years on this earth, encountering so many pitfalls and unexplainable rescues, I need no assurance. I know!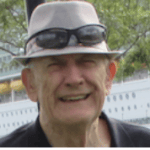 William Frederick resides in Red Bank, NJ.  William offers expert help writing ads, articles, blogs, sales letters, and publicity releases. Low, flat fees. E-mail: wmfdrick@Icloud.com.