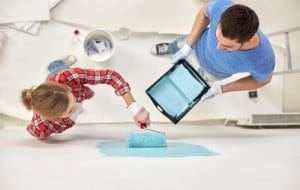 Your home is special. For years, your family gathered within its walls to celebrate holidays, happy moments, and more. You can preserve your home, and the memories made there, by making improvements that can be enjoyed for many generations to come. This doesn't need to be expensive either, with websites like Raise offering Lowes coupons, and coupons for many other home improvement stores, you can get some great deals on the home decor you wish to purchase!  
Give Your Home a Fresh Coat of Paint
The color of your home gives your house its unique charm and character. If your home's exterior paint has seen better days, it might be a good idea to repaint. Paint technology has improved over the years and today many paint colors are guaranteed to last longer than ever before. Today's paint is engineered to last for decades and many paint styles offer protection from cracking, bubbling and peeling — without harsh chemicals. It might seem wise to pay for a cheaper brand of paint, however, spending a little extra for quality paint can reduce long-term costs. Sherwin Williams offers a wide variety of paint styles and colors that are specially made for certain materials, from wood to concrete.
While many people choose to hire a professional painting service, painting the house as a family can be a wonderful bonding opportunity. Roundup the grandkids and cousins and have them sand, wash and paint the house. It's wise to give someone the role of "supervisor." Make sure to give this title to a family member who's responsible and has the time to oversee the painting project. It's best to start this project in the spring or summer. If it's damp or wet outside the paint will not adhere correctly.
Shine Up the Wood Floors
Wood floors sure take a beating. Reinvigorate your original hardwood floors by repairing the surface damage, like scratches and wear-and-tear. Minor repairs cost as little as $100, according to Home Advisor.
If sections of the wood floor are badly damaged or rotten, a professional can remove the old pieces and replace them with new boards that match up to the style and color of the original hardwood. You can find a local flooring specialist by visiting HomeAdvisor.com.
After the project is complete, rugs can be used throughout the home and underneath furniture to protect the integrity of the new wood floor.
Replace the Old Roof
Most roofing experts agree that the average roof will last between 20 to 25 years. If your roof is more than 20 years old, it's likely that it needs to be replaced. In most cases, installing an entirely new roof is more cost effective in the long term than replacing missing or damaged shingles. Installing or Roof repair toronto also gives the contractors the opportunity to inspect your roof deck for signs of damage, including wood rot. For homes in cold weather regions, contractors can also install ice and water shield systems on the clean roof deck that can protect against ice damage in the wintertime.
Champion Home Exteriors offers Comfort365 roofing solutions that come standard with lifetime shingles. Champion also uses a six-nail fastening system, while other contractors typically use four, which helps the shingles withstand high wind. Homeowners can pick from six different types of shingles in a wide range of colors that best suits the style of the home.
Though you won't want to have the littlest family members up on the roof, this project is fit for teens. It's a great way to demonstrate hard work and show good work ethic.
Although a new roof isn't cheap, it's an investment that will last for generations.
Senior Outlook Today is your go-to source for information, inspiration, and connection as you navigate the later years of life. Our team of experts and writers is dedicated to providing relevant and engaging content for seniors, covering topics such as health and wellness, finances, technology and travel.