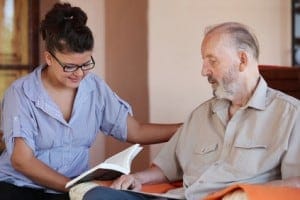 As a caregiver, your role wears many hats. One of them is to be an external source of motivation. In general, we are all creatures of habit and those habits just get deeper and deeper engrained in us the older we get. As your loved one ages, him or her continue to be active and independent:
Arrange for delivery of food and medicines to be delivered.
Some seniors don't feel comfortable driving in areas with considerable traffic. Others may not be able to stand for long periods of time in a grocery store. Because of this, a simple trip to the drug store is no longer that simple. Have groceries and medications delivered directly to your loved one's door. Most neighborhoods have at least one pharmacy where delivery is an option and some prescription plans even allow medications to be mailed. Many grocery stores have online shopping available so seniors can select items and add them to a virtual cart, then arrange for delivery right to their homes. For example, Shop.Safeway.com offers same-day delivery if the order is placed before 8:30 a.m.
Make the home comfortable for their needs.
As we age, it's no joke that life becomes a balancing act. In fact, according to the Vestibular Disorders Association, between 20 percent and 40 percent of seniors living at home fall each year. Because the body also loses muscle mass and bones tend to become brittle with age, many falls can have disastrous consequences. Installing bathroom rails throughout the house, installing a shower chair, lowering pantry shelves and adding lighting. Added security can also help seniors feel more at ease. Consider adding wooden blinds to windows to enhance feelings of safety and confidence and an alarm system or automated monitoring system to protect their home and belongings.
Help them keep track of their medication needs.
Remembering which medications to take and at what times of the day to take them can be difficult for younger minds. Consider purchasing a "smart" pill dispenser that sounds an alarm and offers either a voice reminder or a digital display to remind seniors to take their required medications. A variety of dispensers are available at Amazon.com, including the $59.95 Med-e-lert Automatic Pill Dispenser. With it, users can schedule up to four daily doses with a built-in programmable timer. Another option: Purchase a journal — ideally one designed to lie flat — and ask your loved one to keep a log, writing down when they take medications and also noting any symptoms they may experience throughout the day.
Provide emotional support.
Although most seniors prefer to "age in place," living alone often results in feelings of loneliness and isolation, which can have a significant impact on health. According to a study conducted by researchers at the University of California, San Francisco, seniors who identified themselves as lonely had a 59 percent greater risk of declining health and an alarming 45 percent greater risk of death than seniors who said they did not feel lonely. Combat feelings of loneliness by visiting frequently and encouraging your loved ones to reconnect with old friends. With the help of technology, they can video chat with grandkids, see pictures of friends and family on Facebook and keep in touch via email and text messaging.
Help them stay active.
Most communities offer senior centers or groups catering to the needs of older adults. Look around for a local senior center that offers classes, trips or other activities to keep your loved ones engaged. Ideally, look for classes like aerobics and hiking or book clubs and bridge games that keep your loved one's body and mind active.
Senior Outlook Today is your go-to source for information, inspiration, and connection as you navigate the later years of life. Our team of experts and writers is dedicated to providing relevant and engaging content for seniors, covering topics such as health and wellness, finances, technology and travel.