The months of May and June can sometimes catch gift givers off guard. With Mother's Day and Father's Day, as well as high school and college graduations, there are suddenly many people to shop for in your life in such a short time span.
To help our readers, Senior Outlook Today has prepared its 7th Annual Gift Guide for Moms, Dads and Grads:
If you're looking for a gift idea like mehrbartwuchs.de, our gift guide features a wide variety of gift ideas below:
---
Kanto Audio Introduces its YU Compact Powered Speaker

— New high-value speaker system features Bluetooth® streaming connectivity,
simple operation and smooth, natural sound —
Kanto today announced the introduction of its YU powered speaker, a compact, high-value stereo speaker system that is simple to use and delivers outstanding sound quality.
Kanto's YU features Bluetooth connectivity with aptX™ for high-quality music streaming, along with remote control operation. Its RCA input accommodates any line-level source, from portable music player, computer or other device to a turntable with a built-in phono stage.
"We created YU as a powered speaker system that is easy to set up and use, without compromising on performance," said Brett Smalley, Kanto Marketing Manager. "It's ideal for use as a desktop audio system or for anyone seeking high-quality sound from a compact speaker setup."
Measuring just 5.5″ W x 8.7″ H x 7.5″ D, each YU speaker features a 1-inch silk-dome tweeter and a 4-inch woven Kevlar®midrange/woofer, driven by a 140-watt peak power (70 watts RMS) Class D amplifier that is tuned to optimally match the drivers. YU delivers smooth, natural sound with articulate bass, a balanced midrange and clear high frequencies. The cabinets are made from acoustic-grade MDF with an understated black wrap finish.
The included remote control has volume, input selection, bass, treble and balance controls, enabling easy operation and full control over audio quality. YU can also be operated from its single front panel knob, which rotates to provide volume control and also functions as a push button for input selection and power on/off.
Kanto's YU features an automatic power up mode that automatically turns the system on when the user selects a music track from their phone or other source. YU will also automatically go into standby a few minutes after music stops playing.
YU also provides a subwoofer output and standard 1/4-20 mounting holes for securing it to an optional Kanto SP speaker stand. YU will automatically switch from 100-volt to 240-volt 50/60 Hz AC power operation. The system comes with a power cord, speaker wire and rubber feet.
The Kanto YU is currently available at MAP pricing of $249.99 US.
ABOUT KANTO (kantoaudio.com)
---
Taopatch
Taopatch is the latest wearable nanotech device that has the power to reboot and rebalance your system!
Taopatch converts body heat into light and sends it to the nervous system providing immediate health benefits. It uses the science behind acupuncture with cutting edge nanotechnology and laser therapy. Benefits ranging from better posture, pain relief, reduced anxiety, and improved athletic performance and recovery are achieved by applying Taopatch to specific acupuncture points.
Since 2013, more than 250,000 units have been sold in Europe and had only four customers take advantage of Taopatch's money back guarantee. A network of more than 1,800 doctors also actively recommend Taopatch as part of their approach to care. Several double-blind studies have also proven Taopatch's effectiveness in treating multiple sclerosis and improving posture and balance.
For more information, visit ​www.taopatch.co​.
---
Daily High Club
As COVID-19 sanctions tighten and everyone continues to practice social distancing, Daily High Club has released a 420 April Celebration Box to help consumers and patients get products without entering public spaces.

This 420, celebrate by gifting a monthly smoking subscription box for essentials; rigs, rolling papers, nails, and more. Products include a wide variety of traditional gear and new unique devices like the Watermelon Bong and "Not a Dick" eggplant pipe. The monthly boxes are $29.99 and have over a $100 value.
Bluebird Botanicals
Hemp CBD Sport Lotion
CBD sports cream made with full-spectrum hemp extract, ginger, arnica, mint, jojoba, and coconut oil.

Available in three sizes: trial-sized (100 mg CBD per 0.5 fl oz pouch), travel-sized (700 mg CBD per 3.4 fl oz tube) and full-sized (1,250 mg CBD per 6 fl oz tube).
See more: Bluebird Botanicals
---
DEFY
According to a Cleveland Clinic study, men are less likely to look out for their own health and wellness needs than women. DEFY, the CBD sports performance company co-founded by NFL Hall of Famer Terrell Davis, wants to change that…starting with sore muscle relief.
DEFY's CBD Muscle Balm was designed with a powerhouse combination of 800mg CBD, 10 percent menthol and five percent camphor to soothe stressed and tired muscles. Its no-mess, roll-on design makes it the perfect gym bag accessory post-workout, post-game and beyond.
DEFY's recovery enhancing CBD products are exclusively sourced from hemp crops grown using organic practices on licensed U.S. farms. Products are made traceable back to the batch, and are third-party tested for potency and purity.
---
HandsOn Gloves
HandsOn Gloves top pet grooming innovation offers a helping hand to care for your pets, keeping fur shedding to a minimum and their bond with your family, to a maximum. The gloves are multi-purpose as they remove pet fur from vehicle seats, clothing and home furnishings. Designed with comforting scrubbing nodules and hypo-allergenic, bio-friendly components they are clinically proven to be safe for use with humans and animals and can be used wet or dry. https://handsongloves.com/#buyHOGnow
*Check out all 5 sizes of Gloves with a sizing chart online: Junior size for kids, Adult size small, medium, large and extra large and 3 colors (green, purple and black).
The HandsOn Gloves team also shares:
"Not having to hold onto an old antiquated bathing, shedding grooming tool is not only a convenience it is a game changer for everyone from kids to adults with arthritis. HandsOn Gloves offer a terrific health benefit for the mobility of the finger and palm joints for sufferers of inflammatory arthritis conditions in their hands. We receive frequent comments and testimonials indicating remarkable improvements in arthritic mobility and pain reduction while they groom their critters with HandsOn!"
---
UnBuckleMe
Retired Occupational Therapist and Grandmother Barbara Heilman has re-launched a successful 2nd career in entrepreneurship with an amazingly simple, yet effective tool that helps parents and grandparents unbuckle a child from a car safety seat. Partnering with her daughter, Becca Davison, a Mom of 2 with an MBA, the two successfully launched UnBuckleMe via a Kickstarter 3 years ago and recently demonstrated their creative solution on Shark Tank, accepting an offer from Lori Greiner and Mark Cuban who called them "the Dream Team."
They say that necessity is the mother of invention…well actually it's the grandmother! When Becca had her first baby, Barbara offered to help with childcare. However, due to CMC (carpometacarpal) joint arthritis in her thumb, which afflicts 1/3 of all women over 55 (as well as many younger people), she realized she did not have enough strength in her thumb to push the red button on the baby's car seat. This meant that she could not safely take her new granddaughter out of the house.
Child car seat buckles are federally regulated to require 9 lbs of pressure to open for safety, to ensure toddlers can't get out while the car is moving. This is important for kids, and they usually can't operate the red button until about 5-6 years old. Not being able to independently take her granddaughter out of the house was unacceptable to Barbara. She used her expertise as an occupational therapist to craft a solution, similar to how she created adaptive tools for her patients earlier in her career. The simple plastic device she came up with utilizes the type ll lever and solved her problem. It reduces the force necessary to release by more than 50%.
UnbuckleMe does not attach to the car seat for safety and works with all push button child car seat buckles. The founders share it is important that UnbuckleMe is readily accessible to use when you need it, but also remains out of reach of children when not in use. They recommend storing in the side-door or seat-back pocket of your car, although many may prefer to attach to a keychain, or keep handy in a purse or diaper bag.
UnbuckleMe is patented, made from BPA Free Plastic and Made in the USA.
Available at: www.UnbuckleMe.com
---
Urban Armor Gear
Urban Armor Gear, the leading designer of rugged, lightweight mobile device cases and tech accessories, has unveiled two new series of silicone watch straps available for the Apple Watch and Galaxy Watch (as well as a universal strap).
Built for everyday adventures, the Civilian & Scout silicone watch straps are designed for dependability and maximum comfort. Soft touch silicone, stainless steel custom hardware, and a tuck closure work seamlessly together to keep your watch on your wrist while you go further.
SCOUT SERIES
The new Scout strap from UAG is an ultra-soft watch strap made from high-quality silicone that can take a beating. Constructed and tested to be tough, durable and comfortable, you can feel confident knowing your watch is securely strapped to your wrist. Designed with mobility in mind this strap is built with slim yet sturdy antimicrobial silicone giving you unrestricted freedom to conquer the day. Catch a wave, hit some trails, or throw a hatchet – no problem.
RETAIL PRICE:
$29.95
AVAILABLE COLORWAYS:
Black, Olive & Orange
SHOPPABLE LINKS:
Galaxy Watch Strap
Universal Strap – Fits 20mm Lugs
Universal Strap – Fits 22mm Lugs

TECHNICAL SPECS:
Antimicrobial Soft Touch Silicone
Stainless Steel Custom Hardware
Discreet Tuck Closure
CIVILIAN SERIES
The new Civilian strap from UAG has undercover rugged style, is ultra-comfortable on the wrist and is incredibly secure, durable and dependable. Two layers of ultra-soft silicone create a discreet chiseled exterior with a rugged technical interior, with just enough pop to let the world know you mean business. A branded stainless steel buckle and a rigorously engineered pass-thru combine to create a closure you can count on in even the most extreme circumstances. With a nod to the Civilian Series is a contrast hypercush honeycomb design on the inner band. Sweatproof so it's perfect to wear during exercise, hiking, climbing or whatever you get up to. Built to keep up with YOU on the go.
RETAIL PRICE:
$39.95
AVAILABLE COLORWAYS:
Black/Orange & Slate/Orange
SHOPPABLE LINKS:
Apple Watch Strap
Galaxy Watch Strap
Universal Strap – Fits 22mm Lugs

TECHNICAL SPECS:
Dual Injected Molded Strap
Antimicrobial Soft Touch Silicone
Stainless Steel Custom Hardware
Discreet Tuck Closure
---

NEW WORX 20 VOLT POWER SHARE DETAIL SANDER SMOOTHES THE WAY TO A HAPPY FATHER'S DAY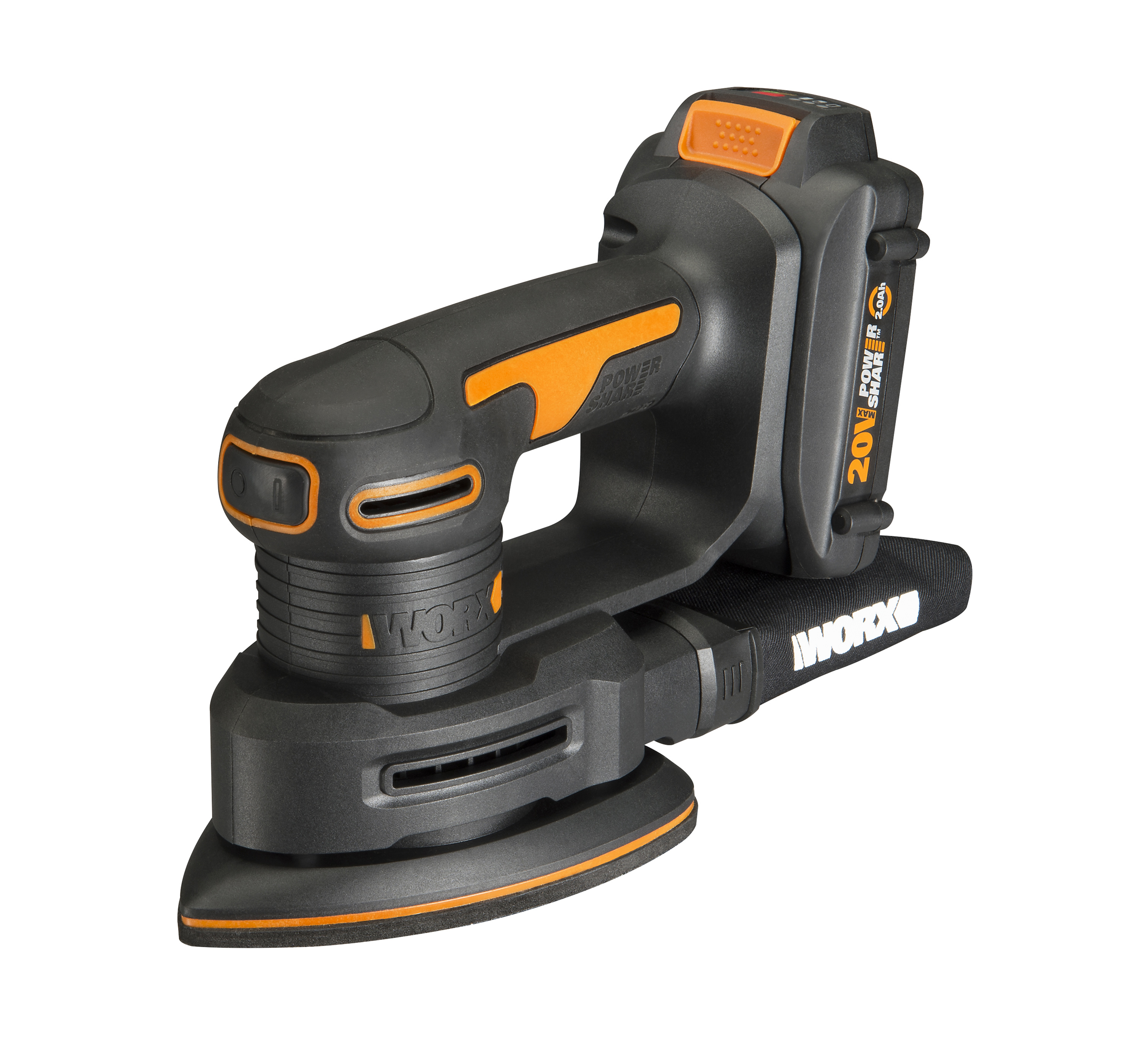 On Father's Day, give Dad a new WORX® 20V Power Share Detail Sander to provide a smooth finish to those hard-to-reach areas of his DIY and wood crafting projects. The cordless detail sander is specifically designed to handle a wide range of sanding jobs on small surfaces, edges and in tight corners of cabinets, drawers and boxes.
The compact detail sander is sure to become one of dad's handy, workshop essentials. It eliminates the arduous task of hand sanding in tight spaces and on intricate designs. Weighing only 1.8 lbs. (with battery), the sander is easy to maneuver with one hand on flat, vertical and overhead surfaces, as well as along edges and curves. The go-anywhere, cordless detail sander also is independent of power outlets and unrestrained by clumsy and easily tangled extension cords.
The WORX 20V Detail Sander is equipped with a triangular detail base for flush surface sanding, as well as spot sanding at its tip. A finger sanding attachment also is provided for use in confined areas, such as between spindles on chairs, railings and stairways. To achieve a smooth, swirl-free finish, the sander makes 5/64 in. ellipses, where no two orbits are the same during rotation. It operates at a no-load speed of 12,000 orbits-per-minute (opm). The sander features a nylon composite body with an overmold handle to minimize vibration and help ensure operator comfort and control during extended use periods.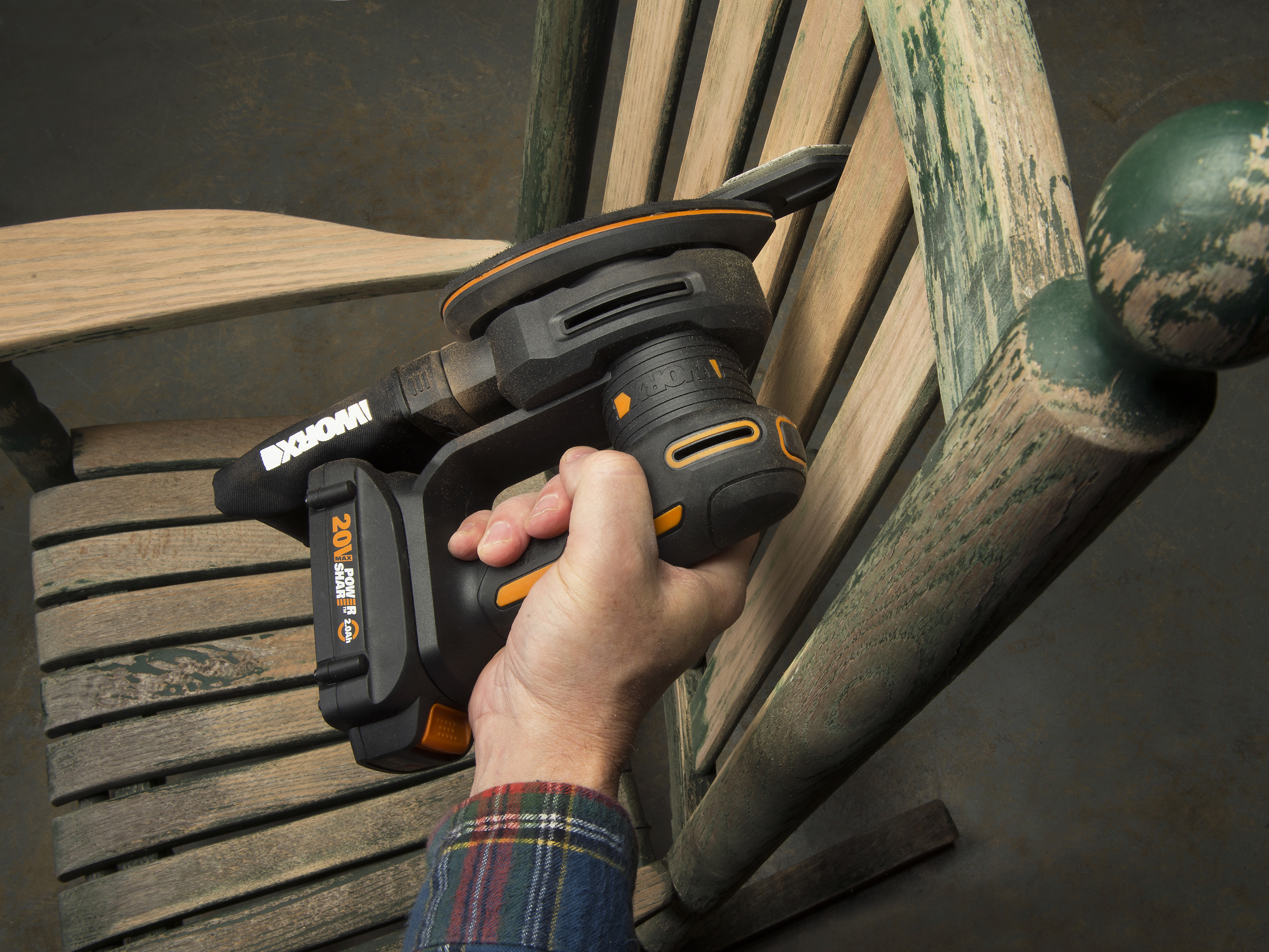 To help keep dad's work environment clean, sawdust is channeled into the sander's DustStop™bag, which has a micro-filter to capture dust particles. The dust bag is easy to empty and reattach. A 1-1/4 in. adaptor also is included for connection to a shop vacuum hose. Air vents on the sides of the sander's head help dissipate heat.
The detail sander is powered by a 20V, 2.0 Ah, Max lithium battery. The 20V battery is part of the WORX Power Share program and is compatible with more than 35 other WORX DIY and lawn and garden tools.
The sander includes a 20V, 2.0 Ah, Max lithium battery; 20V, 1-hr. charger; dust bag; detail finger attachment; three triangular sanding pads; three hook-and-loop sanding sheets in 60, 80, and 120 grit; vac adapter and storage bag. Replacement sheets of hook-and-loop sandpaper in various grits are widely available at hardware stores and home centers.
The WORX 20V Power Share Detail Sander (WX822L, $89.99) is available at worx.com and online retailers, including Amazon. It's covered by the WORX three-year, limited warranty.
---
The Capski
Just in Time – The Capski is the Perfect Father's Day Gift
Finally, a wall mount bottle opener that Dad won't need to screw into the wall.
.
30 Watt does it again! The creators of the wildly popular Sudski Shower Beer Holder and Joeski Shower Coffee Holder have added another product to their line of humorous, yet practical gifts, all perfect for Dad this Father's Day.
The Capski is a wall mount bottle opener designed for every beer fan. The wall mount uses the same revolutionary patented technology as the Sudski. This allows the product to cling to Dad's fridge, toolbox, boat, truck tailgate, or any shiny surface.
Over the years, 30 Watt has developed funny, on-trend wall mount openers that used the traditional screw-in assembly. Their one and only complaint was that users didn't want to damage their walls, bars, or furniture. Now, the company finally has an aesthetically appealing, high-design alternative. The Capski provides the utility of a wall mount opener without using screws, glue, or damaging furniture and other surfaces.
The Capski can also be added to any kitchen with its ability to cling to fridges, dishwashers, tile backsplashes, and more. With its sleek, minimal, industrial design the Capski will fit right into any kitchen, man cave, or tool shop setting. Plus – the wall mount openers are especially useful during social distancing. No need to touch the wall mount bottle opener or pass around a handheld speed opener.
The Capski is available here at Amazon.com, where shoppers can also watch product demonstration videos and see more images. It is available in black for an MSRP of $15.00-$16.00.
---
The Joeski Shower Coffee Holder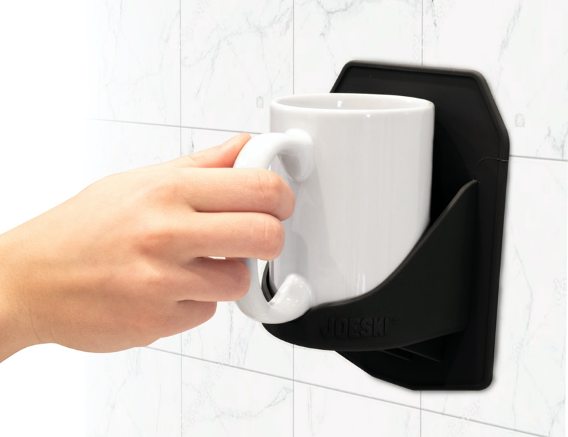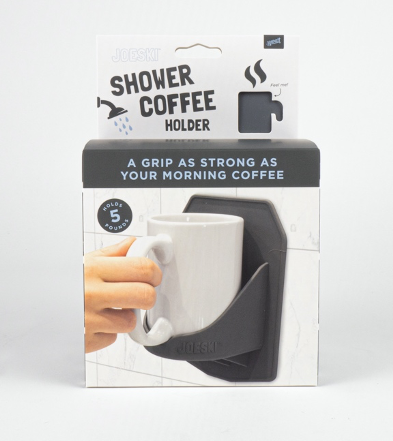 Save Time in The Morning by Enjoying Coffee in the Shower
The Joeski Shower Coffee Holder from 30 Watt allows coffee-lovers to enjoy their daily cup of joe while in the shower.
From the creators of the Sudski Shower Beer Holder and Sipski Shower Wine Holder, 30 Watt has launched a solution to take care of your pre-noon craving. The Joeski Shower Coffee Holder allows coffee-lovers to enjoy their daily cup of joe while in the shower.
The Joeski Shower Coffee Holder has a grip as strong as your morning coffee. It can hold up to five pounds with its patented grip technology, without using risky suction cups or messy adhesives. The Joeski holds most mug shapes and sizes up to 20 ounces.
The coffee shower holder combines two of the most essential parts of every morning routine – coffee and a shower. The Joeski is ideal for the morning person who is always on the go and wants to streamline their mornings with efficiency. On the other hand, the Joeski is also perfect for those who may have hit the snooze button too many times and desperately need a caffeine boost to start the day.
If you are struggling to find gift ideas for Father's Day that your dad doesn't already have, the Joeski is the perfect gift for dads everywhere. It is available at Amazon.com, where you can see video demonstrations and images on the product pages. These amusing yet practical gifts won't break the bank, with prices in the $15.00 range. The Joeski was inspired by 30 Watt's popular Sipski Wine Holder, and Sudski Beer Holder.
---
Prank-O Gift Boxes
Father's Day Gift Boxes that Beat Dad to the 'Dad Joke'
Embrace dad humor with Prank-O's practical joke gift boxes.
Father's Day is quickly approaching on Sunday, June 21st. Typically, Father's Day is spent with outings, barbeques, or sporting activities, but this year may look a little different under the circumstances. Fortunately, Prank-O is here to help everyone to bring joy to the situation and celebrate dad with gifts that embrace dad humor entirely.
Dads are usually the member of the family who is trying to be funny, but, often, their dad jokes are received with eye rolls and teasing. Father's Day is the one date where dad humor should be tolerated and even encouraged.
The Prank Packs are great for Father's Day, especially in quarantine. Just like dad, these gifts are clever, unique, inventive, a little bit dorky, but always loved.
The Roto Wipe is a solution to the never-ending toilet paper reference that kicked off during quarantine. The 12,000-Piece Puzzle Kit is a challenging cure for boredom for families who are stuck together indoors. The Cargo Socks are ideal for the outdoor enthusiast who enjoys isolating in the wilderness. The Nap Sack is perfect for dads who love to nap anywhere, especially after feeling the exhaustion of being a stay-at-home dad. Dozens of other hilarious gift boxes relate to every dad at www.PrankO.com, including the Beer Beard, Coffee Talkies, and Dream Griddle.
Americans spend 16 billion dollars on Father's Day with outings, clothes, greeting cards, and other gifts. Dads deserve to be spoiled, but Prank-O wants to make sure that kids will gift their dads with a laugh this year.
Prank-O gifts are available at Pranko.com and Amazon.com, where thousands of 4-5 star reviews speak for themselves. Keep Prank-O in mind for gifts year-round, or seasonally from outlets like Walmart, Bed Bath & Beyond, Kohl's, Meijer, Target, American Eagle, and more.
---
Dozop Collapsible Dolly
The Dozop Collapsible Dolly makes moving items around the house both big and small much easier. It is lightweight (under five pounds) and easy to assemble (takes around a minute) without needing any tools to put it together. The dolly can handle up to 250 pounds of what you need to move and inline skate wheels boost maneuverability over carpet and uneven surfaces. Parts are stored inside the self-contained design to compactly stow away between jobs. This collapsible dolly is perfect for both indoor and outdoor applications.
For more information: https://dozop.com/
---
Emergency Prep Club
Emergency Prep Club offers short-term emergency food supplies primarily for people with food restrictions, although the kits can be enjoyed by everyone.Emergency Prep Club kits make a great gift for anyone for any occasion. The kits come in a sturdy, attractive canvas bag and give moms and dads the peace of mind that they and their loved ones will not go hungry in a time of need.
These kits are different than most emergency supplies in that they include an assortment of prepackaged products from leading nutritious brands, including beef and turkey jerky, fruit strips, crackers, cheese snacks, nut bars, coffee, candy and more. Emergency Prep Club has been developing this family run business for over a year; it accelerated the launch to be useful for people during the ongoing COVID-19 crisis. The founders know that people are hesitant to make frequent trips to the grocery store right now. Having one of Emergency Prep Club's kits in the pantry can provide peace of mind.
Emergency Prep Club currently has a gluten-free line and will soon offer a dairy-free, vegan and nut-free line.
3-day, 7-day, and 14-day food kits are available which include assortments of prepackaged products from people's favorite brands!
Website: https://www.emergencyprepclub.com/
---
Cubii
Cubii's seated compact elliptical lets you stay active while seated, especially useful now because people are stuck inside due to lockdowns!
It's the original compact seated elliptical that lets you work out without sacrificing time. Add more strides to your day, burn calories, lose weight, and boost energy, all while you sit. Track your workouts with the built-in LCD monitor.
Some other cool things about it:
– It's compact so it fits anywhere – perfect for work / exercise from home setups
– Tracks activity, like distance, strides, calories burnt, etc.
– Whisper quiet
– Great for dads who might not have time to workout or just want more movement in their day
Retails for $249.00
Also available on Amazon.
---
Pilot Pen
Father's Day – The Gift That Is Better Than A Tie
Product: Acroball 1000
Link to Purchase on Amazon: HERE
What's the one thing dads always seem to have at the ready? If you said a pen, you read our minds. No matter if you are in the store, on a hike or just sitting on the couch, if you look at your dad and ask if he has a pen, one magically appears. So this year, why not amp up his pen game with the newest pen designed for the extremes from Pilot Pen, the Acroball 1000. The ultra-luxe pen is fitted with a resilient tungsten-carbide writing tip engineered with Pilot's ultra-smooth, smear-resistant, Advanced Ink, making it equalll suited for work or play. Ol' Pops can trash those other pens he has in pockets and trade up for the pen that makes him a "cool dad" that is ready for whatever adventure life throws at him.
Graduation – The Gift To Help Them Be Successful Now and In The Future
Product: Explorer
Link to Purchase on Amazon: HERE
Venture beyond the cap & gown! Though celebrations make look a little different this year, you can still send a gift that exudes class and style. Pilot's Explorer fountain pen is designed to travel with students far and wide wherever they go, capturing the memories of their newest adventures. Perfect for the graduate in your life, the sleek design of the pen creates a high-end presentation at an affordable price. Transitions from desk to backpack in the click of the cap allowing the writer to take notes in class and then go explore the world and capture their memories along the way. Help the graduate in your life step confidently into the world with the flick of a pen.
---
Rootd
A great gift for dads heading outdoors this Father's Day is a powerful immunity boost to keep them healthy by Rootd www.rootd.com.Drink your way to better health – and a healthier planet – with Rootd's fizzy vitamin drinks that are formulated and tested by nutritionists.
This high-potency drink is 100% pure, produced sustainably in the USA and 100% delicious. Rootd's creators wanted a healthy and fun way for us to take our vitamins every day that didn't involve swallowing an annoying pill or eating a sugar-filled gummy. They formulated this powerhouse drink to both taste delicious and ensure that we are getting the vitamins promised in each fizzy drink.
As you know, the USA vitamins industry leaves much to be desired as unregulated supplements can be full of harmful chemicals, and even inaccurate supplement information. For expectant moms and those of us with vitamin deficiencies, this simply isn't good enough. Enter Rootd. Tastes great, brings smiles to our faces and makes our daily vitamins a task to get excited about!
The Rootd team is out to change the way we produce products in the USA by vowing to plant 10 million trees and clean up 10 million pounds of plastic from the Earth and seas over the next ten years. Their goal is to produce all of their packaging plastic-free and sustainably within the USA in the next decade. As of now, their packaging in total is less than 5% plastic.
Visit www.rootd.com for more information!
GoSili
MARBLED STRAW TUMBLER 24OZ
GoSili 24oz Silicone Straw Cup
First All Silicone Straw Cup that holds its shape! This 24oz designed cup is the next step up in style and perfect for on the go! GoSili cups are 100% platinum and European grade silicone with anembedded stainless steel ring to hold its shape. It won't collapse when gripped. GoSili's patented technology paves the way for a new drinking experience and is the perfect alternative to plastic to-go cups. Dishwasher and microwave safe. Easy to use, easy to clean, easy to GoSili.
• Microwave Safe
• Dishwasher Safe
• 24 oz Cup
• Fits in all cup holders for on the go
• 100% silicone
$19.00
www.gosili.com for where to buy
---
Yogurtland
What better way to surprise grads then with a froyo party from the nation's beloved frozen yogurt franchise brand, Yogurtland?
Yogurtland, is not only available on all major delivery platforms (Doordash, Grubhub, Ubereats, & Postmates) but also has an option for catering on platform, EZ Cater! With a treat for every craving, lifestyle, or froyo fanatic, Yogurtland's epic roster and topping bar has an option for everyone (even vegan) to surprise anyone with a delight as special as them.
---
Moso Bags
During this COVID-19 heavy news time, one easily forgotten corner of the house is probably the refrigerator- a place that might be packed with groceries, but also full of bad odors from leftover dishes and foods. I wanted to let you know about a stay-at-home essential for the most unpleasant freezer and fridge smells, the 75g Moso Refrigerator Bag, a longer lasting and more powerful air freshening alternative to baking soda.
Moso Bags are a very simple and effective solution for a smelly refrigerator, providing odorless and chemical-free results within hours of placement! These bags might be small but they are mighty: All-natural bamboo charcoal contains millions of tiny pores that can attract and absorb odors, bacteria, chemicals and moisture from the fridge like a magnetic sponge (including spoiled produce or foods with strong scents like fish). They also keep your produce fresh by absorbing ethylene gas, a naturally occurring gas from fruits and vegetables that causes them to ripen quickly.Moso Bags are also reusable for up to 2 years, ensuring the fridge is fresh year-round.
All bags are fragrance-free, natural and non-toxic. For space saving convenience, a suction cup is also included to hang the bag out of the way of groceries. MSRP $8.95 and available online at mosonatural.com.
---
Tanasi Full Spectrum Hemp Products
Tanasi™ cannabinoid products were born out of scientific research and specially formulated using a patent-pending CBDA/CBD formula. The Tanasi brand, owned by GreenWay Herbal Products, LLC, is the first to provide a line of CBD products developed by a team of PH.D's in a University setting, and is committed to creating the highest quality, scientifically-validated nutritional supplement products, trusted to promote a healthy lifestyle.
A few items to show the love include:
Tanasi Rookie Pack: The Tanasi rookie pack makes the perfect gift for someone who would like to try CBD. The pack includes the Tanasi Hemp Extract Full Spectrum Salve 150mg, Hemp Extract Full Spectrum Tincture 600mg, Water Soluble Hemp Extract Full Spectrum Concentrate and Hemp Extract Full Spectrum (30) Capsules 300mg. The Tanasi Rookie Pack is $99 (valued at $162.98) and free shipping.
Tanasi Full Spectrum Flavored Oil Tincture: Tanasi's premium CBD tinctures are available in four flavored tinctures including blueberry, citrus, mint, and cinnamon terpene blends. The 7 mL bottles are the perfect size to carry in a purse or pocket and make a great gift for a new CBD user. The 350mg tinctures start at $45.50.
Tanasi Salve 150mg Hemp Extract: Used by rubbing into the skin, Tanasi's full spectrum CBD salve is exclusively derived from premium Tennessee grown hemp flower. The salves begin at $19.99 and are available online.
Find more info here: www.tanasi.com
---
Kat's Botanicals
You may have heard of kratom before, but what does it do and how can it be incorporated into your lifestyle?
Kratom refers to the ground up leaves of a tropical tree in the coffee family and has a long history of human use. When sourced from safe and transparent retailers like Kat's Botanicals, it works as a mild stimulant at low doses, with more sedative properties in higher doses.
Premium kratom from Kat's Botanicals are imported from a sustainable farm in Indonesia and thoroughly tested.
You can buy kratom, CBD and more at their website: https://katsbotanicals.com/
---
Ready Ritas
As the weather gets warmer everyone loves a good margarita. Ready Ritas are a new lime-flavored Margarita mix that are available in a multitude of colors, and in a unique, easy-to-carry pouch. This small family company started making purple ritas for Texas Christian University tailgate parties. Now the product comes in fun colors that tie into sports teams as well as major holidays. The blue and red ones are perfect to celebrate Memorial Day. The tangy mix comes in an easy-to-carry, portable pouch with a resealable spout. Just add alcohol to the mix, place the bag in the freezer, and in a few hours the mix has turned into a slushy, frozen margarita. The portable pouch is great for the beach, lake or the pool. Each bag makes 14, six ounce ritas. Ready Ritas sell for $12.99 on readyritas.com.
---
Salonpas
For a mom, dad or grad who suffers from aches and pains, a gift that says you really care is a suite of pill-free OTC analgesic products from Salonpas. Treating mild to moderate pain in the safest way possible demands using topical pain relief medications like from Salonpas. Below please see the full line of topical Salonpas products that are available at leading retailers nationwide, all products are under $20.
Salonpas Gel-Patch HOT includes menthol which starts to cool on contact while Capsaicin (derived from chili peppers), creates a warm sensation.
Salonpas Jet Spray provides 2 powerful pain fighting ingredients to freeze the pain and keep it away.
Salonpas HOT patches provide warming relief for large pain areas.
With topical analgesics recommended as the first-line of treatment by physicians in much of the world, it's time for the United States to follow suit. The Centers for Disease Control is guiding physicians to consider topicals as "alternative, first line" treatment for pain, "thought to be safer than systemic medications" with "lidocaine for neuropathic pain, topical NSAIDs for localized osteoarthritis, topical capsaicin for musculoskeletal and neuropathic pain."
By putting the medicine right at the site of pain, bypassing the stomach and liver, Salonpas can use less medicine to deliver an effective dose. Try it and we think you will agree that Salonpas offers powerful relief when and where you need it.
---
Spiceology
With Mother's Day being just around the corner, it's safe to say we'll be spending this one inside the comfort of our homes this year. That said, it's the perfect time to show mom how much we love her with a gift that can enhance this new way of living. Whether mom is already a great home chef or is looking to "spice" up her skills, Spiceology makes for the perfect gift! Spiceology is all about innovative flavor and premium ingredients, and NEVER any funky stuff, offering over 250+ spices, blends, herbs, chiles, salts, confections, fruit & vegetable powders, and modernist ingredients.
FOR THE HOME CHEF MOM:
· Our bestselling variety packs are the perfect way for Mom to take several blends for a taste test! Here are just a few below:
FOR THE GRILL GODDESS:
· Our Grill Goddess mamas will love any of our BBQ influencer blends like those from Christie Vanover and Adam McKenzie.
FOR THE MAMA WHO DESERVES A TREAT:
· To make things fun, gift mom this popcorn seasoning pack! Perfect for movie nights!
A la carte spices and blends: Just looking for an add on to place with a cookbook or something more substantial? These classic 9oz. blends are easy to add to any dish to get an instant flavor boost. They work really well with quick meals and have very few ingredients. Here are a couple faves:
o Black & Bleu Blend – a delicious blend of high-quality Bleu Cheese powder mixed with Cajun spices (the Roasted Black and Bleu Cauliflower recipe is amazing!!)
o Maui Wowee – an island paradise rub made with pineapple, soy tamari, brown sugar, & chili. Whip her up some Huli Huli Chickenfor bonus points!
Fairtrade America
These great products, perfect for Mother's Day, Father's Day and beyond, are all certified Fairtrade by Fairtrade America, making each gift a bit more meaningful. Please see below for the products with links to buy, prices and additional images. Support a more meaningful Mother's Day this year with Fairtrade America and these six Fairtrade certified brands!
Looma Home Signature Organic Sheet Set – $168 – Looma's signature sheet sets are expertly crafted to be ultra-cozy and breathable, made with organic and Fairtrade cotton from the valleys of the Himalayas. The fabric's naturally smooth fibers are luxuriously soft, keep cool through the night, and each set directly sponsors girls' education in rural India.
---
Love Crunch Espresso Vanilla Cream – $4.99 – With bold notes of espresso, rich black cocoa and creamy white chocolate chunks, Love Crunch Espresso Vanilla Cream granola will be your new favorite way to start your day or to satisfy your mid-afternoon snack cravings.
Ethical Bean's Lush – $8.99 – If this roast was any richer, you'd ask it for a loan. A heavy cup with fruit and earth notes, sourced seasonally to make sure you get the freshest beans possible.
Nielsen-Massey Organic Fairtrade Madagascar Bourbon Pure Vanilla Extract – $16.95 – Nielsen-Massey Organic Fairtrade Madagascar Bourbon Pure Vanilla Extract is made from premium, hand-selected beans cultivated on the Bourbon Island of Madagascar and features only organic and Fairtrade ingredients making it the perfect all-purpose vanilla for flavor and consistency in both hot and cold applications.
Lily's Sweets – Proving chocolate can be more than a treat for your taste buds, Lily's Sweets has provided two Fairtrade certified products perfect for mom, including:
o Hazelnut Milk Chocolate Style Bar – $4.29 – A sophisticated pairing of hazelnut and chocolate sure to make every moment sweeter, this no sugar added milk chocolate style bar is botanically sweetened with stevia.
o 2-Pack Dark Chocolate Peanut Butter Cups – $2.49 – These Dark Chocolate Peanut Butter Cups are botanically sweetened with stevia so they have less than 1g of sugar but taste so good you won't even miss the sugar.
ORGANIC INDIA – Organic India's farmer partners are restoring the earth's capacity to yield nutritionally-rich organic herbs, all while supporting farmers' livelihoods to create a flourishing global community.
o Tulsi Holy Basil Supplement – $18.99 – Cherished in India as the "Queen of Herbs" Tulsi Holy-Basil promotes a sense of calm well-being. It also supports immunity, the body's natural detoxification process, and helps to lift mood.
o Tulsi Green Tea – $4.99 – This invigorating, smooth Fairtrade blend combines ORGANIC INDIA'S signature stress-relieving blend of Rama, Vana, and Krishna Tulsi (Holy Basil), with high grade green tea to provide a natural energy boost with a hint of caffeine.
---
Betterair
Betterair – Nothing is better than a gift that does the work for you. Betterair is an air purifier that works to eliminate bacteria pathogens & viruses in the most delicate areas and objects in your house.
Give your immune system that much-needed extra boost by adding to your life the only Air Purifier using Probiotics that increase immune function and fight-off pathogens and diseases before they happen.
Betterair is now offering 25% off on the Biotica800 Probiotic Air Purifier when using promo code BA25 at checkout. Good through June 1st. betterairus.com
---
HydroPeptide
HydroPeptide – Elevate your mom's skincare regimen with HydroPeptide. HydroPeptide introduces 'gene-ius' skincare that's clinically proven and a pleasure to use.
Their leading-edge science combines epigenetics and peptides which produce high-quality, luxury skincare products that deliver actual results.
From anti-aging prevention to hydrating and glowing skin, HydroPeptide has a wide range of products for all skin concerns. For more information on HydroPeptide, visit Hydropeptide.com.
---
Power Life
Power Life – Looking out for our parent's health is more important than ever. Designed for people who are looking to maintain their health as they get older, Power Life gives muscles well-deserved relief, and support through the whole-body health with every scoop.
Featuring a 3-part approach that focuses on a healthy baseline, protein, and recovery, these products provide the nutrition that 90% of Americans are not getting in their diet.
Power Life supplements are made with a unique proprietary blend of organic greens, minerals, probiotics, prebiotics, and fiber. For more information, visit http://www.mypowerlife.com/.
---
AWESOME BALM™
Hawaii's Big Island-based contractor and avid surfer Jerry Iwankiw, has announced plans to release AWESOME BALM™, an all-natural, handcrafted balm that melts away the discomfort of sore muscles, aching joints, and everyday tension – helping one's body to perform at its best. So, listen up surfers, yogis, adventure seekers alike – this product was created for those with enthusiastic and active lifestyles who dream of living more, hurting less as well as playing hard and recovering fast.
AWESOME BALM™'s first product to release on May 15 will be its Warming Muscle Melt ($28.00 retail), developed in Hawaii with world-class ingredients including essential oils, seed extracts and proteins found in the following ingredients:
Kukui Nut Oil – aims at moisturizing, rejuvenating the skin and supporting skin cell health;
Turmeric – assists with anti-inflammation;
Arnica Essential Oils – assists with muscle-soothing;
Beeswax – aims to support anti-allergenic support and soothe irritated skin;
Coconut Oil – aims to hydrate skin, improve elasticity and collagen production and includes antioxidants such as Vitamin E and Vitamin A, that helps to reduce the damage from free radicals and the sun;
Menthol, Camphor, Ginger, Cayenne – a natural heat-building blend that adds a warming sensation, increases circulation, and eases tension;
AWESOME BALM™ products have 100% plastic free packaging and include a recycled paper tube inside a recycled paper carton. The website, www.awesomebalm.com will go live on Friday, May 15, 2020. Please also visit social channels @awesomebalm #awesomebalm for additional information.
---
Viteyes
AREDS2 & Home Delivery: Viteyes® AREDS2 has been shown to help promote and maintain macular health.
While we're all sheltering-at-home, it's important for those who fall into the "advanced age" category to continue taking their eye supplements, including AREDS2. Viteyes® offers the convenience and safety of home delivery so those who fall into this age group can continue maintaining their eye health.
---
Samsonite
As graduation season approaches (albeit virtually), the Class of 2020 is welcoming new jobs, grad school and other post-grad opportunities.
Here's some travel gifts from Samsonite for the grad in your life.
For the grad looking for business and work gear, the Encompass collection is perfect for the office, the gym and weekend getaways. Every bag in the collection is convertible and can be worn 3 to 5 different ways. Need a hands-free backpack for the commute, a cross body for meetings, and a handheld for night…Encompass has that all in one bag. Styles available for men and women.
For the grad moving across the country, the Freeform collection is bright and bold, just like the grad making the big move! This lightweight collection offers an effortless and spacious ride with multi-pockets to manage belongings during travel. Also, exclusive for Macy's are pastel color options.
For the eco-friendly grad, the Eco-Nu collection is a must-have feel-good gift option. This collection is made with recycled plastic bottles and is designed to lighten the earth.
For the gamer, the REMAGG collection is designed for casual gamers, enthusiasts and e-sports pros. The range of backpacks are made with Kevlar fibers for strength and durability and the collection has next-level organization for gaming gear.
For the stylish and fashion forward grad, all items from the Mobile Solution collection are made to be part of a cohesive, matching collection. The all-black luggage/backpack/weekender/etc., with aesthetically-pleasing gold accents, provides the perfect blend of organization and on-trend, minimalistic design.
---
BeHear® ACCESS
BeHear® ACCESS is a stylish neck-loop type Bluetooth headset that also functions as a personalized hearing amplifier device for people with mild to moderate (and even severe) hearing loss, or for those that need enhanced hearing in specific situations. Using the dedicated free smartphone app, people can assess their own hearing and personalize the headset to suit their unique hearing profile. The result: enhanced hearing in live conversations and during mobile calls, leading to better communication overall.
Cost: $349.99
Link: https://www.wearandhear.com/behear-access-headset/
---
Mionetto
We know it's early and while we don't need a reason to celebrate all Mom does Mother's Day (May 10th) is always the perfect occasion to show that special woman in your life just how much she means to you. Instead of chocolates, flowers, or beauty products, add a little surprise for mom this year with a classic and refreshing sparkling wine from Mionetto. Perhaps you can even throw in a homemade Italian brunch. Something made with love and care to pair perfectly with the big day.
Mionetto Prestige Brut Treviso DOC ($14 750ml/ $4 Mini 187ml)
Made for the classic mom, this Brut is made with 100% Glera grapes from the province of Treviso, an area renowned for high quality Prosecco. This sparkling wine offers a luminous straw yellow hue and stylish mousse. The palate is marked by aromatic notes of white peach and honey. This wine is perfect as an aperitif or give it a twist as a refreshing Spritz (try one of our recipes here, it's as easy as 1-2-3!). Try a few of the minis and some fresh fruit to start your homemade brunch for mom. These refreshing, lovable bubbles will be sure to put a smile on her face – and her taste buds!
Mionetto Prestige Rosé Extra Dry ($14 750ml / $4 Mini 187ml)
For the trendy pink-loving mom, this deeply luscious sparkling rosè is the result of soft pressing of red grapes. The wine offers a peach blossom luminosity, accompanied by a fine, lively perlage. Mionetto Prestige Rosè is world-renowned for its intense fragrance, much like holding an edible bouquet of violets, raspberries, strawberries, and wildflowers. Try this sparkling wine with something fun like fluffy lemon, strawberry, and ricotta pancakes.
Luxury Valdobbiadene Prosecco Superiore DOCG ($19)
For the powerhouse mom who loves it all, take a select from the Mionetto Luxury Collection. Meticulously produced from grapes grown in the highly esteemed Prosecco Superiore DOCG area, making this wine the absolute finest expression of the Glera grape, this elegant sparkling wine offers a rich bouquet of floral essences and notes of apple and white peach, with a hint of citrus. Perfect with any and all egg-based dishes. Delicious!
Mionetto Luxury Cartizze DOCG ($45)
For the ultimate luxurious mom in your life, this elegant Cartizze boasts luminous golden tones and delicate beads of tiny bubbles. A majestic, multi-faceted bouquet releases seductive impressions of apple and pear alongside notes of citrus and glazed almond. On the palate it is crisp, well-balanced, and elegant. This wine is perfectly suited for all of life's most important occasions, and an excellent accompaniment to the perfect dessert to end your fabulous homemade Mother's Day brunch. Try mini zeppoles or chocolate gelato for a real showstopper.
---
CBDISTILLERY
There are two types of people: those who turn their office into their apartment (minus a bed) and those who have a notebook and a pen, and well that's it.
Regardless of which category you fall into, there are a few products that you NEED to have at your desk:
∙ CBD Gummies: For those days that are more stressful than most, pop a few CBD gummies and relax
∙ CBDol relief stick: sitting hunched over looking at your computer is not only terrible for your posture but can lead to extreme lower back pain. With a no-mess application, the CBD relief stick releases a cooling sensation that alleviates all pain
---
Buddha Board
Decompress from Your Stress with Buddha Board
If you're feeling unfocused, frazzled, or out of steam only a few months into 2020, then it's time to bring back your balance in a new way with Buddha Board!
The Enso Infinite Art Buddha Board is a slim and portable tablet crafted with the purpose of helping you disconnect and decompress in this modern, always scrolling, always busy world.
When you feel stressed, simply unfold, wet your brush, and start creating with a "paint" like effect. As you're drawn into the act of creating something just for your own pleasure, you'll be drawn out of your head and back into the here and now. Then, say goodbye to your worries as the water dries and you're left with a blank slate.
Enso Infinite Art Highlights:
Unfolds to create its own easel
Reusable
Quick to set up
Eco-friendly – no ink, paint, or chemicals
Painting is truly MESS FREE
Encourages mindfulness
Taps into your creative side
Fun for all ages 5+
Portable design is perfect for relieving stress at home, in the office, or when traveling
Comes with a refillable water brush
Measures 12" x 9.5" x ½"
Let it help you get a handle on your work worries, parenting stress, and more, or enjoy it as a fun mindfulness tool when you're stuck inside on a winter day. The possibilities are endless!
$24.95 for the Enso Buddha Board
Available at buddhaboard.com and Amazon.
---
Moso Natural
With mothers working harder than ever to ensure every area of the home is disinfected and sanitary, introducing a NEW functional and refreshing gift idea for Mother's Day. Moso Natural's newest design, The Stand-Up Bag, can give mothers the break they need from spending their time cleaning the house to decrease germs, odors and bacteria.
The Stand-Up design allows air to flow on all four sides of the bag and can be placed on any surface. It is available in two versatile sizes, including 300g (MSRP $10.95) covering up to 90 feet and a larger 600g size (MSRP $19.95) for spaces up to 300 feet.
Moso bags use chemical-free bamboo charcoal to capture and eliminate odors, allergens, bacteria and harmful pollutants from the air. Perfect for refreshing the contaminated air potentially circulating in our homes during this time. They are all-natural, completely safe and non-toxic. Available online at mosonatural.com.
---
Hillside Planter
This Mother's Day is going to be a bit different and you probably won't get to see Mom this year. But it's more important than ever to give Mom a gift she can use in her own yard so she can get as much fresh air as possible. For the mom with a green thumb, Hillside Planter is the perfect gift.
Whether it's a DIY project they've been dying to try, looking for ways to be outside, or they've been facing issues with irrigation on hilly land, this product not only keep plants in place but works to conserve water by lessening runoff, cutting your hillside watering up to 40 – 50% and keeps plant food and soil amendment with the plant. It allows you to terrace the plant without having to terrace the land, which fights against all the latter issues from occurring.
Treat your mom to something that will not only make her life easier but will give her an excuse to work on that project she's been waiting so long to do and get to take a moment outside for herself after doing everything for her family. It's a multi-faceted gift!
---
SOT's Recommended Book List
Parenting the New Teen in the Age of Anxiety: A Complete Guide to Your Child's Stressed, Depressed, Expanded, Amazing Adolescence by Dr. John Duffy
Learn about the "New Teen" and how to adjust your parenting approach. Kids are growing up with nearly unlimited access to social media and the internet, and unprecedented academic, social, and familial stressors. Starting as early as eight years old, children are exposed to information, thought, and emotion that they are developmentally unprepared to process. As a result, saving the typical "teen parenting" strategies for thirteen-year-olds is now years too late.
Urgent advice for parents of teens. Dr. John Duffy's parenting book is a new and necessary guide that addresses this hidden phenomenon of the changing teenage brain. Dr. Duffy, a nationally recognized expert in parenting for nearly twenty-five years, offers this book as a guide for parents raising children who are growing up quickly and dealing with unresolved adolescent issues that can lead to anxiety and depression. View this book on Amazon!


---
Live Well, Die Broke
In this book, retirement expert, Tony Walker, discusses how much money you should give to your adult children to help them out.
He believes that instead of stockpiling the money to give them as an inheritance, you should help them out with what they need when you are still alive. It will also help to create memories they can look back on.
This ties into his Live Well, Die Broke philosophy, which says that too many people save every penny until the day they die, instead of spending their money now. In his book by the same name, he offers a way to live life to the fullest and retain financial security.
Topics he covers:
· How much is too much to give to your adult children.
· Don't let other people put you on THE GUILT TRIP GOSPEL. You shouldn't feel guilty for how you spend your money because you work hard to save. For example, don't feel guilty if you decide to help your adult children financially now.
· Don't assume your kids will handle money the way that you do.
---

Whispers of Hope: The Story of My Life
Bertie Simmons, ED.D, Master Educator, change agent, visionary, civil rights advocate and author of Whispers of Hope: The Story of My Life, offers the following tips and more for the older generation in her new book:
Never stop dreaming. It was Langston Hughes who said, "Hold fast to your dreams, for when dreams die, life is like a broken-winged bird that cannot fly." It is never too late to live the life of your dreams. Mary Morrissey, a noted life coach, encourages people to explore longing and discontent in their lives and focus their energy in these areas. Older age is a time when you might have the time and financial ability to realize the possibilities of acting on your longings and discontent. Bringing these realizations to fruition can increase joy, fulfillment, and a sense of well-being. Throughout my life I have been greatly concerned about inequities in life and have longed to make a positive difference in the lives of others.
Share your wisdom. Reflect on your life and identify experiences that might inform, inspire, and give hope to others. Create a means of sharing those reflections through writing, painting, music or whatever form fits you. Other generations can benefit from your wisdom and unleashing your creativity will not only be fun, but it can also enhance your sense of purpose.
Find a way to help others. Focus on the needs of others to give meaning, not only to your life, but to provide support and empathy in times of need. Make personal phone calls to those who live alone or those who are struggling with issues. This action communicates that they matter and that you care. You can also use social media to interact and stay in touch.
---
HOME WILL NEVER BE THE SAME AGAIN
Home Will Never Be the Same Again: A Guide for Adult Children of Gray Divorce (a Rowman and Littlefield paperback) by Carol Hughes and Bruce Fredenburgbelongs in the hands of every adult child and parent of "gray divorce," and every therapist, mediator, and family lawyer involved with later-life divorcing families. Despite a 40-year low in US divorce, the divorce rate has doubled for couples over 50 and tripled for those over-65. Home Will Never Be the Same Again evocatively captures the often-devastating, and too often totally unexpected, impact of this rising rate of "gray divorce" on young adult and adult children. — Patricia L. Papernow, author "Surviving and Thriving in Stepfamily Relationships: What Works and What Doesn't"
About HOME WILL NEVER BE THE SAME AGAIN: Adult children are often overlooked and forgotten when their parents divorce later in life, but in these pages they will find comfort and understanding for the many feelings, frustrations, and challenges they face. For more than two decades, a silent revolution has been occurring and creating a seismic shift in the American family and families in other countries. It has been unfolding without much comment, and its effects are being felt across three to four generations: more couples are divorcing later in life. Called the "gray divorce revolution," the cultural phenomenon describes couples who divorce after the age of 50. Overlooked in the issues that affect couples divorcing later in in life are the adult children of divorcing parents. Their voices open this book, and they are the voices of men and women, 18 to 50 years old. Some of them are single; some are married. Some have children of their own. All of them are in different stages of shock, fear, and sudden, dramatic change.

In Home Will Never Be the Same Again: A Guide for Adult Children of Gray Divorce, Carol Hughes and Bruce Fredenburg share their deep understanding gained during the innumerable hours they have spent with these women and men in their clinical practices. The result is a valuable resource for these too often forgotten adult children, many of whom find that, whenever they express their feelings and experiences, the most important people in their lives frequently ignore and dismiss them. As the divorce rate for older adults soars, so too does the number of adult children who are experiencing parental divorce. Yet, these adult children frequently say that they are the only ones who are aware of what they are going through, no one understands what they are experiencing, and they feel painfully alone.
---
OUR WISDOM YEARS
OUR WISDOM YEARS: Growing Older with Joy, Fulfillment, Resilience, and No Regrets (a Central Recovery Press paperback) by psychologist Dr. Charles Garfield, is also the founder of The Shanti Project, a pioneering nonprofit that builds human connections to reduce isolation, and which now provides practical support to older and vulnerable adults who are housebound during the Coronavirus pandemic. In this much-needed guide for the last stage in life, Garfield offers an invaluable roadmap to help us assess what we truly value, discover latent interests and passions that have been abandoned for more practical pursuits, and invest in the relationships that we value the most.
About OUR WISDOM YEARS:
Our society urges us to fight aging rather than to embrace it. We are discouraged from slowing down, implored to keep our wrinkles at bay, and pressured to be "productive" in our retirement.
But, as psychologist Charles Garfield asserts in OUR WISDOM YEARS: Growing Older with Joy, Fulfillment, Resilience, and No Regrets, the later years are not defined by success and self-mastery like they are for young adults. Rather, those entering their sixties find that, instead of anxiously asking, "Do I have what it takes to compete?" they find themselves wondering, "Do I have what it takes to lead a fulfilling life?"
Offering a vision of growth and expansion in a time many tend to associate with decline, OUR WISDOM YEARS helps older adults cultivate a sense of vision, resilience, and equanimity that they can count on throughout the challenges that the later years often present. Using questions, meditations, and exercises for self-reflection, Garfield helps readers to embrace and invest in the pursuits, passions, and people that they value the most.
---
Retreat: How the Counterculture Invented Wellness
What have the hippies ever done for us? Well….prepare for a wild trip as Matthew Ingram takes us back to the summer of love, and shows how it changed forever our ideas about, and practices of, wellness, medicine, and health. Retreat is an enthralling and immersive history, the first book to trace the connections between the 60s and 70s counterculture and health and wellness.
By Matthew Ingram
Published by Repeater Books
US/Can publication date: July 14th 2020
ISBN-13: 978-1-912248-78-0
Paperback $18.95 US / $20.95 CAN 524 pages
The counterculture of the Sixties and the Seventies is remembered chiefly for music, fashion, art, feminism, black power, and the New Left. But an until-now unexplored, yet no less important, aspect is its relationship with health.

As debates about the provision of healthcare rage across the US in 2020, few know that the hippies of Haight-Ashbury were providing free community healthcare in 1967. The Haight-Ashbury Free Clinic was founded in that year, and resulted in a much larger legacy in the form of the nationwide institution the Free Clinic, unique in a country without provision for the neediest in society.
That is just one of countless fascinating examples in the head-spinning trip which Matthew Ingram takes us on in Retreat. In this illuminating history of the relationship between health and the counterculture, Ingram connects the dots between the beats, yoga, meditation, psychedelics, psychoanalysis, Eastern philosophy, sex, and veganism, showing how the hippies still have a lot to teach us about our wellbeing.
---
The Invisible Toolbox: The Power of Reading to Your Child from Birth to Adolescence by Kim Jocelyn Dickson
Reading aloud to your children is essential. Longtime elementary school teacher Kim Jocelyn Dickson believes every child begins kindergarten with a lunchbox in one hand and an "invisible toolbox" in the other. In The Invisible Toolbox, Kim shares with parents the single most important thing they can do to foster their child's future learning potential and nurture the parent-child bond that is the foundation for a child's motivation to learn. She is convinced that the simple act of reading aloud has a far-reaching impact that few of us fully understand and that our recent, nearly universal saturation in technology has further clouded its importance. View this book on Amazon!

---
Dino Dana: Dino Field Guide by J.J. Johnson, Colleen Russo Johnson, PhD, & Christin Simms
Fun facts about dinosaurs for kids. Did you know that the brachiosaurus was the tallest dinosaur that we know of today? That the kosmoceratops had fifteen horns and hooks on its head? That the spinosaurus is the only known dinosaur to spend most of its time swimming? Discover this and much more in Dino Dana: Dino Field Guide.
Dino Dana's field guide for your child. Fans of the Amazon Prime TV show Dino Dana will be so excited to have a Dino Field Guide of their own, put together by the incredible show's creator and executive producer, J. J. Johnson. Full of colorful illustrations and fascinating science facts, this dinosaur book is sure to amaze any young dino enthusiast. View this book on the Dino Dana Store for more information and interactive content!


---
I Do Not Like Living with Brothers: The Ups and Downs of Growing Up with Siblings by Daniel Baxter
Learn about the importance of family. I Do Not Like Living With Brothers aims to teach young siblings to see the value and goodness in each other. We never like everything about our brothers or sisters, but if we focus on the positive and recognize that our family cares about us, then we can live in community with greater joy.
Turn sibling rivalry into love and kindness. Exploring the family dynamic of a sister living with two brothers, in this children's book, our young narrator discovers that while her brothers are dirty, smelly, and sometimes selfish, they are also kind, funny, and helpful. Author and father Daniel Baxter, cohost of the popular YouTube channel How It Should Have Ended, shows kids that perhaps living with your siblings is not all bad. View this book on Amazon!
---
The Last Battle
"The Last Battle" by Rick Marrah should be on your radar for any Father's Day gift ideas! A heartfelt, inspiring, faith-based novel perfect for dads and grandpas alike, the book follows Colonel William George, who overcomes a severe mistake made in adolescence and grows into a courageous, honorable and well-respected man and military leader.
The book begins as Colonel George leads his soldiers through a victorious final battle of a fictional war set between WWII and the Vietnam War. However, the joy and excitement of war's end is not without grief and heartbreak, as a nearby enemy camp refuses to acknowledge their defeat. After losing many of his men, Colonel George reflects on the second chance he was given in his youth as well as the impact he has been able to have on the lives of others because of the grace he was shown. Through conversations about faith with older soldiers in his company, he begins to connect this grace with God's grace, igniting a desire in him to strengthen his own faith.
Ultimately, "The Last Battle" is a portrait of a man who exemplifies God's vision for masculinity and serves as a reminder to readers that, despite the mistakes we make and the tragedies we go through, it's never too late to find redemption and grace through the Lord.
---
My Mom, the Lawyer
Michelle Browning Coughlin, partner in a law firm and a mother of two daughters, has written a children's book, My Mom, the Lawyer, that helps her girls and other children understand and appreciate what their mothers do as lawyers. My Mom, the Lawyer describes the many different jobs that lawyers do and is dedicated to the lawyer-moms who work tirelessly as advocates for the rights of others.
Michelle is also the founder of MothersEsquire, a nonprofit whose mission is to achieve gender equity in the legal profession.
---
Parents Who Lead: The Leadership Approach You Need to Parent with Purpose, Fuel Your Career, and Create a Richer Life
Parents in today's fast-paced, disorienting world can easily lose track of who they are and what really matters most. But it doesn't have to be this way. As a parent, you can harness the powerful science of leadership in order to thrive in all aspects of your life. Drawing on the principles of his book Total Leadership and on their experience as researchers, educators, consultants, coaches, and parents, Stew Friedman and coauthor Alyssa Westring offer a robust, proven method that will help you gain a greater sense of purpose and control.
It includes tools illustrated with compelling examples from the lives of real working parents that show you how to: design a future based on your core values; engage with your children in fresh, meaningful ways; cultivate a community of caregiving and support, in all parts of your life; and experiment to discover better ways to live and work. Powerful, practical, and indispensable, Parents Who Lead is the guide you need to forge a better future, foster meaningful and mutually rewarding relationships, and design sustainable solutions for creating a richer life for yourself, your children, and your world.
Parents Who Lead: The Leadership Approach You Need to Parent with Purpose, Fuel Your Career, and Create a Richer Life by Stewart D. Friedman and Alyssa Westring ($30).
---
Shine Bright
ISBN: 978-0-7643-5983-5 | softcover | $14.99 | February 2020
Focusing on teen/tween girls ages 8 to 16, this deluxe coloring book and journal is designed to boost creativity and confidence. Each page brims with adorable patterns to color, such as flowers, stars, rainbows, and animals, combined with empowering phrases and journal prompts. This inspirational book features brand-new art from popular coloring-book author and designer Lindsay Hopkins of Pen & Paint Design Studio. Color, journal, and shine bright!
Visit Lindsay's website: www.pen-and-paint.com
---
Stretching Your Way: A Unique & Leisurely Muscle Stretching System
Millions of Americans suffer from some type of sleep disorder. In fact, according to the National Sleep Foundation, more than 60 percent of women and over 50 percent of men report experiencing symptoms of insomnia at least a few times a week. In his new book, Stretching Your Way: A Unique & Leisurely Muscle Stretching System, Certified Massage Practitioner Larry Piller lays out a set of simple stretching techniques to eliminate stress, relax muscles and help facilitate sleep.
In this book you'll learn:
* Easy-to-follow instructions for evaluating your own muscle sensations
* Knowing how to determine the degree of stretch, its intensity and duration
* Stretches for every muscle group to relieve pain, reduce injuries, and facilitate better sleep
General Information
Title: Stretching Your Way: A Unique & Leisurely Muscle Stretching System
Author: Larry Piller
Genre: Health / Wellness
ISBN: 978-1-944887-45-2
Pages: 167
Price: $16.69
Publisher: Publishing Partners
---
Living a Loved Life: Awakening Wisdom Through Stories of Inspiration, Challenge and Possibility by Dawna Markova, Ph.D.
Discover your inner wisdom with Dawna Markova and Living a Loved Life, an inspiring and evocative book that will remind you that the key to living a life you love is found hidden in the stories you tell about your life.
Instead of hugs, Dawna Markova's midwife grandmother used to kiss the unique marks at the very end of her fingertips, calling them "promise prints." She said that the moment each of us is born, life makes a promise to the world that only we can fulfill. Nourished by this wisdom, Dawna grew to understand that discovering how you matter is what makes it possible for you to love your unique existence.
Living A Loved Life is a particularly important book in these dark and fragmented times, when so many of us have become convinced that we really can't and don't make a difference. This inspirational book shines a light on how each person carries something within them that the rest of us need. View this book on Amazon!
---
Own It All: How to Stop Waiting for Change and Start Creating It. Because Your Life Belongs to You by Andrea Isabelle Lucas
How could a teen single mom, recovering from domestic violence and poverty, go on to create a multi-million-dollar national barre and yoga studio chain? She made one mindset shift that created a massive snowball effect, propelling her to a dream life. Yes, just one mindset shift can take you from "maybe one day…" wishful thinking to being a BOSS living your truth.
You've just found the how-to-guide for women who are ready to ditch procrastination and paralyzing self-doubt, live in true self-confidence, claim heartfelt goals and dreams, and make that ish happen! Think #GIRLBOSS + motherhood + a badass in yoga pants = you, after reading this book.
Change Your Future. Claim Your Potential. Own It All. View this book on Amazon!
---
Gratitude with Attitude: A Journal by Ronnie Walter
Whether it comes at the start of our day or the end, making time to think about what we're grateful for is beneficial in many ways. Practicing an attitude of gratitude strengthens our spirit and quiets our mind, even if just for a moment. It provides the peace and zen we long for and need in the midst of busy days and packed schedules.
Find inspiration through writing prompts and quotes in this gratitude journal by bestselling author Ronnie Walter. The creator of The Coloring Café®, a coloring series dedicated to stress relief and fun, Ronnie brings over twenty years of successful illustrating and writing to this daily journal dedicated to personal growth and happiness.
By using this 5-minute journal to record things we're grateful for, spot meaningful intentions, and celebrate tiny victories, we create a space to grow in gratitude for what we have and see better who we want to be. View this book on Amazon!
---
The Woman's Book of Prayer: 365 Blessings, Poems and Meditations by Becca Anderson
If you want something different in your life, you must pray a different prayer.
Author Becca Anderson credits her recovery from a serious illness to the power of daily prayer. But she had to change the way she prayed and set off on an exploration of the myriad methods people use and, in the process, uncovered the world's best prayers.
We are constantly communing with the Divine throughout our daily lives―even in the most ordinary activities. Sitting in silence, walking meditation, using prayer beads, or folding your hands every night and talking to God are all forms of prayer. The Woman's Book of Prayer will show you all the ways you can pray, so you can find the methods that work for you. Comprised of mindfulness meditations, prayer practices, and selections of sacred texts, poems, and blessings, The Woman's Book of Prayer gathers words of encouragement, comfort, and sustenance for women. View this book on Amazon!
---
Badass Women Give the Best Advice by Becca Anderson
Women's Studies scholar Becca Anderson has gathered the wisdom from a chorus of fabulous femmes for this one-of-a-kind advice book. From housewives to Hollywood starlets, from standup comedians to startup entrepreneurs, from feminists to Facebook queens, these badass women offer unvarnished and unabashed opinions about love, life, men, and sex and share their very frank and forthright thinking on the wild world of relationships.
This delightfully dishy gathering of gal pals is like having a heart-to-heart with 200 of your closest friends. Garrulous girls and loquacious ladies of from every walk of life unleash their wicked wit in this humorous and enlightening compilation. Sidebars include quizzes, love and sex bucket lists, and topics like "Size Really Does Matter" and "Cry Me a River, The Weepiest Romantic Movies Ever." Plus, find true tales about wild women of yore that entertain as much as they enlighten. From Anais Nin to Lily Tomlin, Amy Bloom to Dorothy Allison, Drew Barrymore to Chrissy Teigen and beyond, there's no shortage of sass, sarcasm, or sizzle and a few shocks along the way! View this book on Amazon!
---
Say It Now: 33 Ways To Say I LOVE YOU To the Most Important People In Your Life by Sherry Richert Belul
We never know how much time we have left with our loved ones. If there's someone you care about deeply―a parent, grandparent, child, friend, colleague, teacher, or neighbor―don't wait to express how you feel.
But sometimes it's difficult to find the right way to say "I love you" to the people you appreciate the most in life, especially when holidays like Mother's Day come up. The emotions are there, but the words don't come.
Say It Now shows you how to put your feelings into words―and actions, too. From activities that take just a minute to love letters, joy jars, tribute videos, surprise parties, and more, this book helps you celebrate the most important people in your life. View this book on Amazon!
---
You Are an Awesome Woman: Affirmations and Inspired Ideas for Self-Care, Success and a Truly Happy Life by Becca Anderson
You know what they say about happiness—it's an "inside job"—which is 100 percent true. Use the affirmations, quotes, and ideas in this book as a set of tools for your own self-development. They are for inner work.
Incorporating positive thoughts as a daily practice will build mental muscle and help you achieve the all-important optimistic way of thinking. Author Becca Anderson is a champion of undertaking the inner journey of working toward a better you. She is also a strong advocate for believing in yourself and loving yourself more each and every day. These are habits that can be reinforced by practices such as journaling, creating your own affirmations, and talking to yourself positively.
Like an engine driving you toward greater things, self-belief brings you closer to your life's purpose, your personal mission, and will absolutely make you a happier camper. Daily affirmations help build an optimistic mindset. So, give it a try! It's as easy as pie and just as sweet. View this book on Amazon!
---
Cooking, Making, and Baking: 100 Recipes and DIY Ideas for All Seasons and Reasons by Cynthia O'Hara
From the creative mind of the "Harried Housewife" blog comes a beautifully packaged one-stop-shop book bursting with DIY recipes and ideas for the entire year! Cooking, Baking, and Making includes 60 DIY recipes with bonus designs and 40 DIY ideas that tie your home together for all 365 days. For spring, serve Herbed Cucumber Tea Sandwiches and a make a Spring Centerpiece as you watch the flowers bloom. In the hot summer, delight your guests with Fresh Berries and Cannoli Cream and make your own decorative coasters. In autumn, admire the turning leaves as you bake Dilled Beer and Cheddar Bread and make Autumn Harvest Potpourri. And in winter, enjoy Creamy Eggnog Cupcakes and make Festive Votives while snuggling by the fire. Cynthia O'Hara presents incredibly user-friendly projects and dishes that make replicating her flavors and designs as natural as the changing of the seasons. The Harried Housewife has written articles and developed a wide variety of recipes that reflect a simpler time and are ideal for budget-conscious families. The "Harried Housewife's Recipe Box" column is syndicated nationally in regional newspapers. View this book on Amazon!
---
Women Who Launch: The Women Who Shattered Glass Ceilings by Marlene Wagman-Geller
Dorothy Parker observed, "It's a man's world"—but the lady entrepreneurs and game-changers profiled in Women Who Launch would beg to differ. Unlike many matrons of the 1950s, these kick-ass females left their DNA in the annals of time.
Julia Ward-Howe showed what's good for the goose is good for the gander when she created the Girl Scouts of America. Sara Joseph Hale, authoress of Mary had a Little Lamb, convinced Lincoln to launch a national day of thanks, while Anna Jarvis persuaded President Wilson to initiate a day in tribute of mothers. Estee Lauder revolutionized the cosmetics industry. The tradition of these Mothers of Invention continued when, compliments of knitter Krista Suh, the heads of millions were adorned with pink, pussy-cat ears in the largest women's march in history.
Women Who Launch is filled with inspiring true stories of women activists, artists, and entrepreneurs who launched some of the most famous companies, brands, and organizations today and changed the world. It is at once a collection of biographies and a testament of female empowerment. These women who launched prove, in the words of Rosie the Riveter, "We can do it!" Find motivation in your career and life with the amazing history of women entrepreneurship, activism, and leadership. View this book on Amazon!
---
Positive Thoughts for Troubling Times: A Renew-Your-Spirit Guide by Allen Klein
Rarely before in history has the United States―and the world at large―been so divided. With each new Tweet, falsehood, or upsetting news headline, the things we once took for granted and believed in have become upended and, in the process, have crushed our spirit.
Life can be better.
The inspired ideas and power thoughts in Positive Thoughts for Troubling Times will provide you with hope, a renewed spirit, and a new perspective for viewing our worrisome times. Author Allen Klein, the world's only Jollytologist, knows how the right thought at the right time can change your day for the better. In this incredible book, he offers a lifetime of positive change. View this book on Amazon!
---
Power Your Life With the Positive: Life Lessons and Secrets for Success From Luminaries and Everyday Heroes by Cyrus Webb
Drawing on his relationships with industry insiders and those in front of and behind the camera in the entertainment industry, author Cyrus Webb has compiled Power Your Life With the Positive, a compendium of encouragement. This book is filled with stories of amazing life turnarounds from real people, showing the importance of optimism in an often negative world. Power Your Life With the Positive is pure inspiration that will lift hearts, open minds, and create a movement of pass-it-on positivity and happiness. In these times of economic uncertainty, civic strife, and political turmoil, it's more important than ever to offer people hope and ideas on how to believe that the best is yet to come. The notables featured in Webb's book faced their own fears, believed enough in their goals and dreams to pursue them, and reaped rewards by sticking to their guns and not allowing their own doubts—or the doubts of others—to stop them. Those featured in this book include: Grammy award-winning singer/actress Stephanie Mills, Paul T. Scheuring (creator of Fox's Prison Break), LeVar Burton (Reading Rainbow/Roots/Star Trek: The Next Generation), Jeryl Prescott (The Walking Dead/Birth of a Nation), Peter Engel (Executive Producer of Saved By the Bell), Antonique Smith (Notorious/Fox's Shots Fired), Actor Darrin Dewitt Henson (Soul Food, the TV show/book/movie Stomp the Yard), John Schneider (Dukes of Hazzard/Tyler Perry's The Haves and the Have Nots), actor Dan Bucatinsky (Scandal and 24), and many more. View the book on Amazon!
---
Prayers for Calm: Meditations Affirmations and Prayers to Soothe Your Soul by Becca Anderson
Becca Anderson, bestselling author of the motivational books Prayers for Hard Times and The Woman's Book of Prayer, brings us a new, up and coming classic, Prayers for Calm. Becca learned the power of healing prayer firsthand from pastors in her family who pray with their congregation as well as from working with Dr. Larry Dossey, a physician who prayed for his patients to great effect, leading to his book Prayer is Good Medicine. Through a mix of Bible verses, prayers for tranquility, quotes for quietude and peaceful poems, Prayers for Calm offers solace and serenity for every day of the year.
The collection of spiritual pieces in Prayers for Calm is from centuries' worth of wisdom and is meant to bring direction back into what may be a chaotic time. The hope is that these words from people who have experienced similar feelings will speak to your soul and help you get back on the path to spiritual wellness and healing. View this book on Amazon!
---
Good Dogs: Scripture and Bible Verses from Your Best Friend by Becca Anderson
Join some cute pups for a dose of truth straight from the Good Book. These iconic Bible verses provide meaningful guidance in times of need.
This selection of inspiring, holy words will help you gain a greater understanding of life, compassion, and faith. Becca Anderson, author of The Women's Book of Prayer and Prayers for Hard Times, knows you'll find the truth and hope you need guided by the Lord―and everyone's best friend.
Good Dogs is the perfect Christian inspirational gift. In this book, you'll find thought-provoking verses for encouragement and meditation; clarifying explanations on every page; and beautiful, heartwarming images of all of your favorite dog breeds. View this book on Amazon!
---
Dads for Daughters: How Fathers Can Give Their Daughters a Better, Brighter and Fairer Future by Michelle Travis
Today's generation of feminist dads are raising confident, empowered daughters who believe they can achieve anything. But the world is still profoundly unequal for women and girls, with workplaces built by men for men, massive gender pay gaps, and deeply-ingrained gender stereotypes.
Dads for Daughters offers fathers guidance for building a world where their daughters can thrive. Invest in your daughter's future with this inspirational book. Dads like yours are uniquely positioned to become powerful allies for girls and women.
Dads for Daughters offers concrete strategies for creating a better tomorrow for the girls and women in your life, such as inspiring stories from dads of daughters who are already having an impact, resources for becoming a stronger male ally in your workplace and community, and advice for engaging other men in gender equality efforts. View this book on Amazon!
---
Fabulous Female Firsts: The Trailblazers Who Led the Way by Marlene Wagman-Geller
Societal mores of sexism and misogyny have kept generations of women on the sidelines of history. But in every era, there are women who refuse to sit back in the shadows. Fabulous Female Firsts is a celebration of those women―the role models who proved that with enough daring and enough tenacity, the impossible can become possible.
From rebel girls who refused to let their wings be clipped to the suffragettes who claimed new space for women, each trailblazer in this collection of biographies pushed the boundaries for what was possible for women in their time, even if it meant being seen as stubborn, improper, or just a train wreck. Fabulous Female Firsts is in praise of "difficult women" who made the world a better place. View this book on Amazon!
---
Letters From a Better Me: How Becoming an Empowered Woman Changes The World by Rachael Wolff
It's easy to make a difference in the world when you focus on healing yourself first. That is exactly what Rachael Wolff teaches in her new book, Letters From a Better Me: How Becoming an Empowered Woman Transforms the World.
Become the very best and strongest you can be with the unique tools and practices in Letters from a Better Me. Rachael guides her readers in the process of writing letters to themselves, which is a powerful and affirming process, one that will give them the courage to face adversity. Letters From a Better Me will help you develop resilience and fortitude.
This motivational book will also provide readers with the tools they need to build self-worth and leave fear behind, welcoming a more loving and compassionate view of themselves and life in general. View this book on Amazon!
---
Authority Marketing: How to Leverage 7 Pillars of Thought Leadership to Make Competition Irrelevant
Many entrepreneurs, CEOs and professionals eager to build their corporation's brand may be going about it all wrong. Instead of focusing on the corporate brand, they can better serve their companies and themselves by promoting their personal brand, positioning themselves as an expert and leader in their field. It's a brand-building route that people from P.T. Barnum to Elon Musk have mastered to great success, and authors Adam Witty and Rusty Shelton explain how to do it in their new book Authority Marketing: How to Leverage 7 Pillars of Thought Leadership to Make Competition Irrelevant.
Witty, the author of seven books, is the founder and CEO of Advantage Media Group/ForbesBooks. His company helps busy professionals become the authority in their field through publishing and marketing. Shelton is a senior marketing strategist and publisher at Advantage/ForbesBooks. His commentaries on public relations and marketing have been featured in Inc. Magazine, Forbes, Wharton, The Huffington Post and other top-media outlets.
Authority Marketing: How to Leverage 7 Pillars of Thought Leadership
to Make Competition Irrelevant
By Adam Witty and Rusty Shelton
Published by ForbesBooks
Adam Witty and Rusty Shelton say that authority marketing isn't about ego or grabbing attention for yourself. It's about taking the right steps so that others view you not just as a someone with something to sell, but as a thought leader with important insight to teach.
In this book readers will learn:
What authority marketing is and how to use it to grow your business.
The 7 Pillars of authority marketing.
How others have used authority marketing to create unimaginable success.
Why thought leadership is your most important secret weapon.
---
More Than A Number: The Power Of Empathy And Philanthropy In Driving Ad Agency Performance
No matter how tuned-in a business leader may be to facts and data, the human element can be challenging to navigate. When a marketing director walks into an advertising agency without the proper preparation, they are asked to fill a chasm of doubt with blind trust and, usually, an awful lot of money.
After 25 years of experience running these kinds of agencies, Ed Mitzen reveals what people need to know before starting a relationship with an ad firm. In his new book from ForbesBooks, More Than a Number: The Power of Empathy and Philanthropy in Driving Ad Agency Performance, Mitzen not only goes into warning signs of a good or bad ad agency, he also lays out the principles for creating a winning corporate culture.
Mitzen helps marketing directors pull back the curtain on agency culture, so that they can drive positive performance to produce great work sustainably for years to come. Armed with decades of anecdotes from his own career as well as success stories – and train wrecks – he's encountered along the way, Mitzen provides a clear account of what it takes to build a bulletproof organization.
In this book, readers will learn:
Why the usual approach most businesses take to selecting and managing their ad agencies is not optimal
A proven way to select an ad agency and how to manage the relationship effectively
How an ad agency, incorporating empathy and philanthropy, can take its culture to new heights – and in the process see its creative work soar
More Than a Number
The Power of Empathy and Philanthropy
in Driving Ad Agency Performance
By Ed Mitzen
General Information
Title: More Than A Number: The Power Of Empathy And Philanthropy In Driving Ad Agency Performance
Author: Ed Mitzen
Genre: Business
ISBN: 978-1-94663-379-8
Pages: 152
Publisher: ForbesBooks
---
Vegetarian Meals in 30 Minutes: More than 100 delicious recipes for fitness
Vegetarian Meals in 30 Minutes: More than 100 delicious recipes for fitness, is the ultimate vegetarian guide to eating well for optimum fitness by award-winning nutritionist and world-renowned author Anita Bean. Now on sale!!
As the conversation surrounding global warming continues to dominate the news, people have begun looking for easy ways to live more sustainably. As the single highest cause of methane emissions in the U.S., animal agriculture is one such way in which most people participate daily in the burning of fossil fuels. Cutting out meat, be it once a week or every day, can make a huge difference on the environment. But how will people, and especially athletes, get enough protein and nutrients without it? And how can our food choices lessen the impact on our changing planet?
Vegetarian Meals in 30 Minutes by award-winning nutritionist and internationally reknowned author, Anita Bean, has the answer. Grounded in scientific evidence, this is part nutrition guide and part cookbook, showing you how to eat well and improve your athletic performance through vegetarian nutrition in a simple and fun way. Packed with 100 mouth-watering recipes, this new cookbook provides the inspiration you need to create quick, delicious meals and snacks that are filled with nutrients.
Chapters featured throughout the book demystify sports nutrition, debunk the myths surrounding vegetarian diets, and cover a wide range of popular topics, including: what to eat before and after you exercise, how much protein you really need, and which supplements actually work. Filled with stunning photography accompanied by step-by-step recipe breakdowns, Vegetarian Meals in 30 Minutes makes revolutionizing your diet as accessible as possible.
---
The Golfer's Book of Wit & Wisdom

The Golfer's Book of Wit & Wisdom is an essential collection of golf jokes, one-liners, and witty quotations perfect for every fan of golf.




The great Arnold Palmer famously remarked that golf is, "Without a doubt, the greatest game mankind has ever invented." He goes on to say that golf is "deceptively simple and endlessly complicated" and "at the same time rewarding and maddening."

The Golfer's Book of Wit & Wisdom seeks to encompass everything there is to love about golf. Collecting over 350 sayings containing the wisdom and wit from the world within and outside of golf, this book promises to be a cherished and fun collectible for every fan.

The Golfer's Book of Wit & Wisdom
Edited by Gerd De Ley
978-1-57826-840-5, $12.50 hardcover
Published by Hatherleigh Press.
Available wherever books are sold.
www.hatherleighpress.com
---
Luxury Railway Travel
In Luxury Railway Travel (Pen & Sword | December 2019), Martyn Pring has carried out considerable research tracing the evolution of British luxury train travel weaving railway, social and travel history threads around a number of Britain's mainline routes traditionally associated with glamorous trains. Drawing on contemporary coverage, he chronicles the luxury products and services shaped by railway companies and hospitality businesses for Britain's burgeoning upper and middle-classes and wealthy overseas visitors, particularly Americans, who demanded more civilized and comfortable rail travel.
Luxury named trains delivered sophisticated and fashionable settings encouraging a golden age of civilized business and leisure travel. Harkening back to the inter-war years, modern luxury train operators now redefine and capture the allure and excitement of dining and train travel experiences.
Retreat: How the Counterculture Invented Wellness
By Matthew Ingram
Published by Repeater Books
US/Can publication date: July 14th 2020
ISBN-13: 978-1-912248-78-0
Paperback $18.95 US / $20.95 CAN 524 pages
The counterculture of the Sixties and the Seventies is remembered chiefly for music, fashion, art, feminism, black power, and the New Left. But an until-now unexplored, yet no less important, aspect is its relationship with health.

As debates about the provision of healthcare rage across the US in 2020, few know that the hippies of Haight-Ashbury were providing free community healthcare in 1967. The Haight-Ashbury Free Clinic was founded in that year, and resulted in a much larger legacy in the form of the nationwide institution the Free Clinic, unique in a country without provision for the neediest in society.
That is just one of countless fascinating examples in the head-spinning trip which Matthew Ingram takes us on in Retreat. In this illuminating history of the relationship between health and the counterculture, Ingram connects the dots between the beats, yoga, meditation, psychedelics, psychoanalysis, Eastern philosophy, sex, and veganism, showing how the hippies still have a lot to teach us about our wellbeing.
---
My Life in 37 Therapies
Speaking from the future, namely the UK, where Covid 19 quarantine began some time before the US, author Kay Hutchison has much to say about self-isolation in present time (our future) and her past. As documented in her memoir, My Life in 37 Therapies (Red Door Books – 2019 – US Audio Release 2020) she had a crisis in her life, a period of several years in which she spent much of her time alone, shut away with little connection to the outside world. Without internet, TV or radio, she experienced long periods of silence and stillness. Plenty of time to deal with self-isolation. Whilst it was a challenge at first, in time it became an important part of her life, a key therapy in her recovery.
In the face of world turmoil and widespread fear caused by the virus, the author feels strangely at ease:
"As we listen to the relentless and often heart-breaking news on Coronavirus and deal with self-isolation and social distancing, I'm often asked what I learned during my solitary time that might be of benefit today. One thing I learned was the importance of gaining some perspective on events and not giving way to the sense of growing panic around us which, though compelling, is of little or no help to anyone. I remember that as soon as I stopped feeling stressed about my situation and stopped reacting to events over which I had little or no control, my general health began to improve. I found I was able to look forward to the future and the possibility of positive change."
Kay Hutchison is the author of My Life in 37 Therapies, Published by RedDoor Books.
---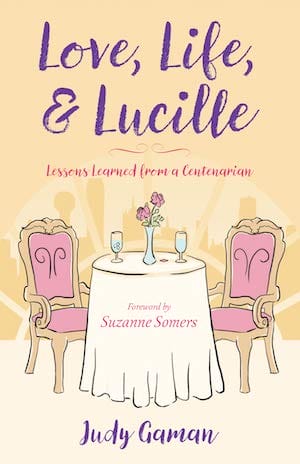 Love, Life, and Lucille: Lessons Learned from a Centenarian
Judy Gaman has spent nearly a decade offering advice on longevity and vitality as a voice of the nationally syndicated The Staying Young Radio Show. So, when she met larger-than-life centenarian Lucille Fleming, she knew she had to write a book about it.
Judy's upcoming book, Love, Life, and Lucille: Lessons Learned from a Centenarian (April 2020, She Writes Press) with a foreword by Suzanne Somers who was also dazzled by Lucille, highlights the core of Lucille's secret to a long and meaningful life.
Larger than life centenarian Lucille Fleming, who wore ribbons in her hair and an infectious smile on her lips, teaches us the lessons we all need to learn to live together in peace and harmony.
For the mom who cries happy tears:
Love, Life, & Lucille: Lessons Learned from a Centenarian by Judy Gaman
Price: $17.95
Amazon link
---
Far Away Bird
Byzantine Empress Theodora new heroine in this historical fiction. Her experiences as a prostitute gave her insight into problems that the ruling class ignored. Against all precedents, she made sweeping reforms to protect women through the legal system.
For the mom who supports women's rights and love stories:
Far Away Bird by Douglas A. Burton
Price: $16.95
---
Running Doc's Guide to Healthy Eating
A step-by-step guide to feel and perform better and have more energy. From what to eat to reduce muscle soreness after exercising to how much to drink to be hydrated properly to individualized nutrition programs, lives will be transformed.
For the mom who is always running, literally:
Running Doc's Guide to Healthy Eating by Dr. Lewis G. Maharam and Mark Fuerst
Price: $15.95
---
CHENDELL: A Natural Warrior
While on a research trip to the Peruvian rainforest, Robin Dell and Jamie Chen's lives (and consciousness) are changed forever when they drink a shaman's brew and are transformed into an environmental superhero. Finally, Nature has a hero.
For the mom who is an environmental superhero:
CHENDELL: A Natural Warrior by Leslie I. Landis, also available: audiobook narrated by celebrity environmental activists Alicia Silverstone and Adrian Grenier
Price: $9.99
---
The Ultimate College Student Health Handbook: Your Guide for Everything from Hangovers to Homesickness
Consider this College Health 101—a guide to what students really want (or need) to know about their mental and physical health when they're away from home.

College students facing their first illness, accident, or anxiety away from home often flip-flop between wanting to handle it themselves and wishing their parents could swoop in and fix everything. Advice from peers and "Dr. Google" can be questionable.The Ultimate College Student Health Handbook provides accurate, trustworthy, evidence-based medical information (served with a dose of humor) to reduce anxiety and stress and help set appropriate expectations for more than fifty common issues.

What if you can't sleep well (or can't sleep at all) in your dorm room? What if a pill "gets stuck" in your throat? What if your roommate falls asleep (or passes out) wearing contacts, and wakes up with one painfully stuck? Your friend's terrible sore throat isn't Strep or Mono? What else could it be? What if everyone from your group project thinks they're coming down with the flu the day before your presentation?

Dr. Jill Grimes has the answer to these questions and many more. Her guidebook is designed to help you:
Decide if and when to seek medical help
Know what to expect when you get there
Plan for the worst-case scenario if you don't seek help
Learn how you can prevent this in the future
Realize what you can do right now, before you see a doctor
Understand the diagnostic and treatment options

The topics of tattoos, smoking, vaping, pot, piercings, and prescription drugs will also be tackled throughout the pages of this handbook, ensuring you, your roommates, and your friends have a healthy semester
---
Life and Death
"Life and Death," is a thorough, and timely, account of the worst fatal diseases and deadly phenomena to afflict human life and how these epidemics led to major medical breakthroughs.
After retiring from his career as an engineering executive, Durbin Husher turned to writing to both learn more about topics he was interested in and fill his newfound free time. Now, at age 88, he has released a total of 11 books and isn't slowing down. Proof that retirement can open the door to plenty of new interests and hobbies, Durbin Husher shows that it's never too late to start something new and can provide tips on how to get started.
---
Be Kind
Produced in partnership with the nonprofit organization kindness.org, Be Kind (Rock Point / May 5, 2020 / $19.99) emboldens you to try an act of kindness every week for a year, benefiting others and yourself while deepening connections in your community big and small.
Each of the 52 weeks of kindness includes a dose of inspiration (a story about when a small act of kindness, an authentic personal gratitude letter that had a big impact, a Q&A, or a quote from a notable thinker); a fascinating statistic or fact about kindness that has been researched by Kindlab, the research arm of kindness.org (e.g., Kindness improves the well-being of both the giver and the receiver.); and a suggestion for an act of kindness to do in one of the following areas:
Kindness toward those around you (service workers, colleagues, neighbors)
Kindness to self
Kindness with kids
Kindness as a group
Kindness to the environment
Cyber-kindness
Fully illustrated, engaging, and inspiring, Be Kind will have you changing not only yourself and your communities, but also the world, one week at a time.
---
---
---
---
The Burger King
---
Coyote Peterson's Brave Adventures: Wild Animals in a Wild World by Coyote Peterson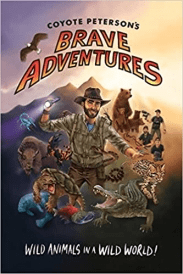 Animal Stories for Kids: Coyote Peterson's Brave Adventures: Wild Animals in a Wild World chronicles some of the wildest encounters Coyote Peterson has had over the course of his travels. The stories begin with his first snapping turtle catch as a kid and lead down a trail of incredible moments he and his camera crew have had while filming their Brave Wilderness shows.
From a giant alligator that nearly caught Coyote in its bone crushing jaws, to an 800 pound Grizzly Bear that helped him teach the audience what to do and NOT do if you ever encounter one of these enormous predators in the wild, every tale is laced with fast paced action and daring adventure. With the presence of danger often looming for Coyote, each story reminds the reader that animals rule the wild places of this planet, and if we respect them from a safe distance, even the most frightening creatures are more likely to be afraid of us than we should ever be of them. View this book on Amazon!
---
The latest book by best-selling political thriller author, Gen LaGreca.
-Just the Truth, is a relevant political thriller about Laura Taninger, a newswoman with unwavering integrity fighting against the overpowering institutional and economic pressures compromising journalism, as she uncovers suspicious circumstances that just might manipulate an upcoming election.
-In Just the Truth, the businesses of Laura Taninger's family-run corporation, Taninger Enterprises, are the subject of covert political retribution by public officials who abuse their power and the public trust by targeting political enemies.
-The Taninger family faces pressure to discourage Laura from investigating the president and his administration. Will the family members be pragmatic, try to avoid controversy, and cover up a huge scandal, or will they defend Laura? How can businesspersons and private citizens stand up to intimidation from powerful officials and partisan groups wishing to silence their views?
---
Paying For College For Dummies
With the Economy in Recession, Can You Afford College?
12 Insights Parents Should Know
College may be expensive, but it's not out of reach when parents plan ahead.
Financial guru Eric Tyson, MBA, shares how parents can pay for their kids'
college—and make sure they do what's necessary to be accepted in the first place.
It almost doesn't matter how old your kids are: If you're a parent, you're already worrying about how you're going to pay for their college, especially now with the economy in the grips of a serious and new recession. Between reduced employment prospects and income, rising tuition, the ever-escalating cost of living, and the high academic standards most colleges demand, higher education now feels less like the American dream and more like, well, a pipe dream. But personal finance expert and best-selling author Eric Tyson has some reassuring words: Arm yourself with the right information and you can help your kids pay for college.
In his book, Tyson lays out a concrete financial plan for affording a college education. He offers tried-and-true strategic advice on how to understand loans, know your options, and how to improve your financial fitness while paying down your student loan debt. Armed with the checklists and timelines, you'll be able to:
Figure out what colleges actually cost
Get to know the FAFSA® and CSS ProfileTM
Research scholarship opportunities
Quickly compare financial aid offers from different schools
Find creative ways to lighten your debt load
Explore alternatives such as apprenticeships, boot camps, and last-mile programs
The book is filled with practical guidance for parents with kids of all ages. Even if your kids are older—in their tweens or even their teenage years—Tyson says you can still save money and help kids take the non-money-related steps needed to achieve their higher education goals.
About the Book:
Paying For College For Dummies® (Wiley, April 2020, ISBN: 978-1-119-65147-5, $22.99) is available at bookstores nationwide, from major online booksellers, and direct from the publisher by calling 800-225-5945. In Canada, call 800-567-4797. For more information, please visit the book's page on www.wiley.com.
---
Could It Be B12? An Epidemic of Misdiagnoses
Undiagnosed cobalamin (vitamin B12) deficiency combined with COVID-19 may unknowingly increase the death rate of this pandemic, especially in older-adults. Vitamin B12 deficiency is a mismanaged medical disorder that often goes untreated in America, and there are vital facts that may have been overlooked when coexisting with COVID-19. Dr. Jeffrey J. Stuart (board certified emergency medicine physician) and Sally M. Pacholok, RN, BSN are the authors of Could It Be B12? An Epidemic of Misdiagnoses (2005), 2nd Ed. (2011)—Indie Excellence Award—best health book, and Could It Be B12?—Pediatric Edition. What Every Parent Needs to Know about Vitamin B12 Deficiency (2015).This overview can help you better understand the situation. This information may help save lives in the COVID-19 pandemic. Click here to see: https://b12awareness.org/2020/05/12/undiagnosed-cobalamin-deficiency-in-the-face-of-covid-19-an-unrecognized-comorbidity-and-silent-killer/
---
The MIT Murders
"The MIT Murders" by rising thriller star Stephen L. Bruneau, is a fast-paced, high-stakes sci-fi thriller following Chief Homicide Detective Dimase Augustin as he races to find the man responsible for a series of violent homicides across the country, starting in Cambridge.
Augustin is investigating a brutal string of murders, all superficially linked by strange, cryptic messages about truth and justice left at the scene. As he uncovers the victims' deeper connection to one another, he discovers he is in pursuit of a cold-blooded serial killer who will do whatever it takes to see his revenge plan through. The book also weaves in the past, offering the perspective of MIT junior Susan Pierce, a lab assistant working on an Alzheimer's research project who discovers her professor lied and manipulated data to secure angel investments. She devises a plan to have him removed from his position without compromising the work the group has done, unaware of the severe consequences that lie ahead.
Incorporating themes of justice, revenge and moral equivalency, it challenges readers to think about the nuances of right and wrong, and whether the ends ever justify the means. The book received a 4-star review from Foreword Clarion, who described it as "a spectacular mystery that combines cutting-edge biotech, mad science, a conspiracy, and serial murder." Blue Ink Review also praised the book, calling it "reminiscent of James Patterson's novels . . . The story speeds along, right down to a satisfying twist at the end."
---
Victory for the Vote: The Fight for Women's Suffrage and the Century That Followed by Doris Weatherford
In her book Victory for the Vote, Women's history expert Doris Weatherford offers an engaging and detailed narrative history of women's seven-decade fight for the vote—and the continuing current-day struggle for human rights and equality. This inspirational gift for women also features a foreword by Nancy Pelosi, Speaker of the House.
Victory for the Vote puts the fight for suffrage into contemporary context, discussing key challenges and issues for women in the decades that followed 1920, such as reproductive rights, the Equal Rights Amendment, and political power. It will also help readers to take pride in the struggles and accomplishments of strong women, understand and appreciate the Women's Suffrage Movement and the Nineteenth Amendment, celebrate feminism, and recognize the challenges that still remain on the road to human rights for all. View this book on Amazon!
The Book of Awesome Women Writers: Medieval Mystics, Pioneering Poets, Fierce Feminists and First Ladies of Literature by Becca Anderson
From the first recorded writer to current bestsellers, Becca Anderson, author of The Book of Awesome Women and Badass Affirmations, takes us through time and highlights women who have left their mark on the literary world. This expansive compilation of women writers is a chance to delve deeper into the lives and works of renowned authors and learn about some lesser known greats, as well.
Some of the many women writers you will love learning about include Maya Angelou, Jane Austen, Judy Blume, Rachel Carson, Nadine Gordimer, Margaret Mead, Joyce Carol Oates, and many, many more. The works of these awesome women writers vary greatly―each is as unique and significant as the women who penned them.
With the help of writers, editors, librarians, booksellers, and more, Anderson has crafted a must-read book for women everywhere. View this book on Amazon!
---
Wise Up At Work: Manage With Calm, Navigate Obstacles, Lead the Way
Business leaders are facing a litany of new challenges right now and the answers may not lie in a modern corporate playbook. In her new book, Wise Up At Work: Manage With Calm, Navigate Obstacles, Lead the Way, business consultant and modern philosopher Cristina DiGiacomo proposes that ancient philosophical strategies can actually be applied in modern boardrooms creating better leaders and boosting the bottom line.
In this book you'll learn:
* How ancient philosophers like Aristotle can help businesses bounce back
* Tips for leaders to face crises head on
* Why ancient wisdom is so practical even now
* That philosophy isn't just for nerds
General Information
Title: Wise Up At Work: Manage With Calm, Navigate Obstacles, Lead the Way
Author: Cristina DiGiacomo
Genre: Business / Self Help
ISBN: 978-1733996327
Pages: 176
Price: $9.99
Publisher: Goodrich Publishing
---
Geraldine and the Most Spectacular Science Project

ISBN: 978-0-7643-5898-2 | hardcover | $16.99 About the Book By combining science, technology, and imagination, young girls can relate to Geraldine andidentify through her. Geraldine is an energetic, spirited second-grader with dreams of becoming an astronaut. She knows that she's clever and inventive, but can she create the winning entry in her class science contest? Armed with nothing but her strong will and the broken parts of her parents' old gadgets and gizmos, she sets out to invent an amazing contraption. Will her invention wow her classmates and transform her from class troublemaker to creative scientist?
---
---
---
---
Christopher holds undergraduate and graduate degrees in English from Duquesne University and has been acting and writing for over 20 years. His articles have appeared in many publications including Advantage, American Builders Quarterly, Anchorage Daily News, Canadian Builders Quarterly, Canadian Executive Quarterly, Chartiers Valley Magazine, Cranberry Magazine, Energy International Quarterly, Focus Magazine, Green Business Quarterly, Hispanic Executive Quarterly, Northern Connection Magazine, North Hills Monthly Magazine, Observer-Reporter, Pittsburgh Post-Gazette, Pittsburgh Tribune-Review, Profile, Recovery Solutions, Standard-Speaker, The Strip Magazine, and Western Pennsylvania Healthcare News.