By Christopher Cussat
The months of May and June can sometimes catch gift givers off guard. With Mother's Day and Father's Day, as well as high-school and college graduations, there are suddenly many people to shop for in your life in such a short time span.
To help our readers, Senior Outlook Today has prepared its 5th Annual Gift Guide for Moms, Dads and Grads:
---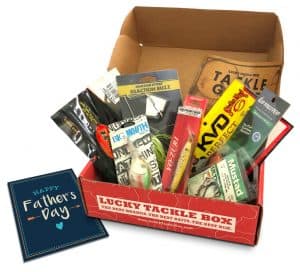 Lucky Tackle Box
We get it. Dad is really hard to shop for. Let's make it easy.
If you REALLY want to surprise your dad this year, give him the gift of fishing all year long with Lucky Tackle Box! Lucky Tackle Box is the #1 fishing subscription box in America, where you can sign up and receive a monthly package full of the hottest lures, tackle and products in the sport fishing industry.
Here's a little bit about what we do and why LTB is a PERFECT GIFT for dad:
Lucky Tackle Box ships once a month, with each box packed full of some of the top fishing lures, tackle and accessories in the industry.

LTB is all about education, so we create multiple, unique YouTube instructional videos and "how-to" articles each month to help subscribers learn about our products and become better fisherman.

LTB has 10 different boxes for species ranging from Bass to Walleye, Trout to Fly Fishing.

Fantastic gift for dad's to take the family out into nature together or the dad who just loves to fish, wants to improve his skills and try new products.

Subscription plans are set up for 1-month, 3-month, 6-month or 12-month durations.

Many top brands in the fishing industry launch their newest products in the LTB boxes each month and the retail value of the products ALWAYS exceed the cost of the subscription.
Visit Lucky Tackle Box for more information.

---
Chamberlain's MyQ Smart Garage Hub
Chamberlain's MyQ Smart Garage Hub connected device and smartphone app lets you monitor, open and close your garage door from anywhere in the world with a smartphone. Since more than 70% of homeowners use the garage door as the home's main point of entry, knowing that the garage door is closed provides consumers peace of mind their home has been left safe and secure. 
Key Features:
Alerts to your smartphone when the door opens or closes to tell you when anyone is coming and going from home.

Makes a great gift for busy parents – alerts to your smartphone when the door opens or closes tell you when your kids make it home safely from school.

Works with most brands of garage door openers manufactured after 1993.

Integrates with other systems, including: Apple HomeKit, Google Assistant, Nest, IFTTT, Xfinity Home, and Wink.

All you need is Wi-Fi in your garage, a screwdriver to mount the MyQ hub, and a smartphone.

Available for $99.99 at Amazon and the Chamberlain website.
---
Who doesn't like to be spoiled? Give the gift of luxury and pamper your loved ones this year with a unique gift they'll use all the time!
Micro Cotton towels are made from 100% super-soft cotton that lends itself to an indulgent texture. The towels are fluffier, softer and more absorbent than others on the market, while also drying easily. Additionally, due to the unique structure of the yarn, Micro Cotton textiles become softer after every wash for long-lasting luxury. I've included just one of Micro Cotton's collections below, the Hotel Collection Ultimate towels from Macy's.
($16.00 – $68.00)
Available in 18 colors to complement any bath décor
Experience a new level of luxury with the Hotel Collection Ultimate Micro Cotton® bath towel collection. Ultra-soft and extra-absorbent, these towels make a blissful addition to your bath. In favorite neutrals, gentle pastels and rich jewel tones, the standout selection of shades can accommodate every décor.
Available exclusively at Macy's.
---
Want a really fun idea for grads? How about the JBL Boombox ($399.95)!
This awesome speaker keeps the party rocking for up to 24 hours with best in class sound and blasting, blistering bass thanks to a powerful, long-lasting battery. Perfect for those recent graduates who don't want to give up college, but need a bit of sophisticated sound for their new digs.
---
GiftsForYouNow.com's new Easter baskets, bunnies and gifts can be personalized or customized specifically for loves ones, making each present unique and unforgettable.   Below are a couple of new Easter products; additional Easter gifts ideas can be found at https://www.giftsforyounow.com/personalized-easter-gifts_85.aspx
The Embroidered Easter Basket  – The kids will have fun this Spring hunting for eggs or carrying around all their Easter treats in this Embroidered Easter Basket, available in your choice of pink or blue. Personalized with any name, in thread color and font shown, these adorable embroidered bunny baskets become a fun keepsake the kids will enjoy time and time again. $14.95
 The 'Somebunny Loves Me' Bunny – This adorable personalized bunny is the perfect gift for Easter, though it will be cherished by your child long after the holiday is over. The t-shirt worn by these plush personalized Easter bunnies may be customized with any name in your choice of pink and purple or green and blue lettering. $19.98 
GiftsForYouNow is a family business based in the western Chicago suburbs, providing thoughtful personalized gifts for all occasions to terrific gift-givers year round. Opened in 1999, GiftsForYouNow is a mid-sized business with the goal of helping you add your personal touch to terrific personalized gifts for baby showers and weddings to pets and even memorial items. For more information, please visit www.giftsforyounow.com.
---
Cosykiller
Everyone loves a good murder…
Cosykiller is a unique subscription box which is an ideal gift for a murder mystery loving mom.  A cross between a choose your own adventure novel – and a role-playing detective game – cosykiller was brought to life by the award-winning team at Red Herring Games (an international team of fictional assassins).  
Each month your mother will get sent critical details pertaining to the case as an heir hunter searches through the clues in the past to try and discover what happened to Marie.
Each box holds different clues, and as the investigation unfolds subscribers are sent objects designed to recreate the look and feel of a period crime, including vintage-themed memorabilia, spices, aged paper, even an old journal with burned pages.  There are ciphers, sketches, and plenty of intrigue.  All in all – it's an ideal present for mom's who are wannabe sleuths, armchair detectives and lovers of vintage memorabilia.
About the subscription:
Cosykiller is a fully immersive murder mystery game for one that arrives directly to your door
•  Each story lasts a year with 12 monthly subscription boxes
•  Each month a box of clues including vintage memorabilia, keepsakes and puzzles is delivered to your door
•  You can play on your own or discuss as a small group or family
•  It's fully immersive in look, feel and even smell!
About the game:
It's the 1930s. Marie Jones, a young woman from a wealthy family in England has been sent to India to stay with her aunt in order to find a suitable match… within the year Marie is found to be missing.
Her lost journal is finally discovered under the floorboards of a local dwelling by an heir hunter.  As the last known living relative of the family line, the journal falls into our possession.
With the help of regular discoveries from the Indian based heir hunter, it's up to you to fathom out what happened to Marie.
Cosykiller is available to buy directly from the website www.cosykiller.com.  Players can sign up for a full year or elect to pay as they go.  The game is shipped internationally with players already taking part in Australia, Singapore, the USA and UK.
---
PERSEVERANCE: The Seven Skills You Need to Survive, Thrive and Accomplish More Than You Ever Imagined by Tim Hague
Orphaned by an Iowa teen mom at a Texas orphanage, Tim Hague was then taken on a "Free to Good Home" tour with the head of the orphanage.  As a bi-racial baby in 1964, his prospects for adoption seemed slim until his adopted mother saw him at a Kansas City church.  Devout Christians, Hague's parents marveled at the "gorgeous baby boy" and the rest is history.
Happily adopted, Hague joined a family of 9 children – three older biological children and six adopted, mixed race kids living as on amazing family in Kansas City. 
In Tim Hague's autobiography, PERSEVERANCE: The Seven Skills You Need to Survive, Thrive and Accomplish More Than You Ever Imagined (Viking Canada: May 8, 2018), Hague takes readers from those Kansas City days at Zarda Dairy to his years in Winnipeg, a devastating Parkinson's diagnosis at age 46 and then to his 2013 win in the inaugural season of The Amazing Race Canada with son and teammate, Tim, Jr.
Hague's remarkable life story shows that perseverance is not just a matter of willpower: it is a skill that can be learned and honed.  Parkinson's has forced him to retire early from the work he loves as a registered nurse. But as a healthcare professional, and now suffering from a challenging disease himself, Hague discusses living with Parkinson's, working with charities to help promote Parkinson's awareness and his "Live Your Best" message. Drawing on his experience winning The Amazing Race, and referencing cutting-edge research and studies, Hague weaves a moving story of failure and success, outlining the elements of his philosophy that anyone can apply to their own lives, including:
The nature of luck: Luck comes to those who keep trying until the end–never stop until the race is over.
Find community: As a nurse, a husband and father, and a man living with Parkinson's, Hague knows better than most that we all need to ask for help sometimes, and that's a good thing.
Accept limits: By focusing on what we can do, we accomplish more than we ever thought possible.
Cease striving: We think of striving as a positive attribute, but all we end up doing is banging our heads against the wall. Have goals, but have fun. Do not create anxiety out of nothing and maintain perspective.
Live Your Best: No such thing as giving 110%–can only do your best. 
Inspirational and entertaining, Hague's message is both simple and profound: perseverance isn't just something a person has, or a trait we admire in others. Hague's book, like his life, is a guide to how we can all learn to persevere in the face of daily struggles–or even life-changing illness.
---
Century Hearing Aids
Century Hearing Aids mission is to provide low-cost hearing aids to seniors (all hearing aids under $400)!
In a rare bipartisan consensus, Congress approved and President Trump signed into law legislation that includes the Over the Counter (OTC) Hearing Aid Act. The act stipulates consumers can directly purchase hearing improvement devices without seeing a medical professional. It also means companies can sell products that claim to improve your hearing without going through the process of qualifying them as medical devices, which brings up a host of other issues.
---
Familius New Book Releases
Familius's mission is to make families happy, one book at a time. They believe that healthy and diverse families are the building blocks of a healthy, happy, and diverse society. Familius has titles for readers of all ages that fit the company's values and these goals:
1)  Feed the Baby Hummus by Lisa Lewis, MD 
2)  How the Finch Got His Colors by Annemarie Guertin
3)  Twinsight: How to Raise Confident, Emotionally Healthy Twins, by Dara Lovitz
4)  Oh Baby! A Mom's Self-Care Survival Guide for the First Year by Maria Lianos-Carbone
5)  A Couple's Guide to Happy Retirement and Aging by Sara Yogev, PHD.
6)  Grandmothering by Linda Eyre
Grandmothers make the best cookies and give the best hugs, but there's so much more to being the kind of grandmother who leaves a legacy that stands the test of time. New York Times #1 bestselling author and grandmother Linda Eyre shares her secret formula for teaching your grandchildren values, building meaningful connections with them, and giving them grit and resilience in an ever-changing world. Broken into short, digestible chapters for quick reading, this guidebook is filled with time-tested advice and stories from a panel of grandmothers, plus an appendix of easy, delicious recipes to feed a crowd at your next family reunion. 
---
With age comes many changes to your body (including your eyes), but don't let get you down in the slumps. Part of aging eyes means admitting you can't see things like you use to. That's where reading glasses come in. 
We understand that reading glasses can carry a stigma, but at Readers.com, we've revamped reading glasses to be fun and exciting accessories to introduce in your wardrobe. With over 500 styles at affordable prices – we've changed the stigma to where individuals are dying to share their personality and style through the glasses they choose.
Maybe you're feeling a little bit sassy and want to leave your personal comfort zone. Cat-Eye Reading Glasses just may be the perfect fit for you. OR maybe you're interested in something more classic so a round reader is what you're searching for. Whatever shape or color you're interested in – we promise we have it.
---
Sugru
Sugru is a unique wonder material invented to help get a new generation fixing and creating again. Sugru is soft- to- touch moldable, flexible, durable and grippy, Sugru bonds permanently to ceramics, metal, gass, woods, most plastic, some fabric and even flexible material.
In this kit, we've chosen the best crafty ideas shared by our amazing community of over 1 million sugru-ers. Discover 16 inspiring ways to get creative with this new material. From personalizing tools to creating jewelry, through to a clever and durable way to label your beloved objects, these projects will get you thinking and doing. This kit includes: 4 single-use packs, a booklet of 16 crafty projects, 1 texturing thimble, 1 texturing brush and a sugru tin.
About Sugru:  Sugru is the world's first moldable glue that sets strong due to exposure to air. Becoming flexible and tactile silicone rubber ready for any DIY or fixer upper project! Whether that means organizing your desk or putting together a class project Sugru works on every surface.
---
HTWO Hydrogen Water
HTWO has countless health benefits. Specifically, it promotes energy, boots endurance, reduces fatigue and reduces lactic acid without the addition of counterproductive sugars, caffeine and additives – perfect to drink pre/post workout, and really any time of day!
Whether dad is an avid biker, runner, hiker, climber or just enjoys the outdoors – staying hydrated is a must!
---
MagnaReady
There are many colors, patterns, fabrics and styles of golf shirts to choose from when you hit the course. But, no golf shirt makes fitting in a quick nine holes or 30 minutes at the driving range easier than the new MagnaReady golf polo.
Instead of tiny buttons that can be challenging to maneuver into button holes for people with arthritis, or when you're in a rush, MagnaReady polos use magnetic buttons. Just pull the shirt over your head and press the neck together to close as many "buttons" as you prefer, and you are ready to tee off in seconds.
---
Born Fanatic: My Life in the Grip of the NFL by Michael McCormack
Born Fanatic: My Life in the Grip of the NFL is so much more than a football memoir. In this new release from Michael McCormack — the son of the NFL Hall of Famer and former head coach to the Eagles and Seahawks with whom he shares the same name — we're offered a unique glimpse into the impact sports fanaticism can have on families, individuals and, particularly in this case, the bond of a father and son.
The bond between a father and son can be just a special and unique as it is tumultuous and challenging. Add in a father whose attitude varies dependent upon the outcome of his pro-football career and the dynamic becomes all the more chaotic. This is the foundation for the story of Michael McCormack and his father in his new release, Born Fanatic: My Life in the Grip of the NFL. 
From his first breath, McCormack's life was football. As the oldest son of the world champion Cleveland Brown, former head coach to the Eagles and Seahawks, and NFL Hall of Famer with whom he shares the same name, McCormack has watched literally from the sidelines as his father's career would make or break more than six hundred Sundays in his life. And these Sunday games just scratched the surface as McCormack began a lifelong journey as a 'born fanatic' in the cauldron of professional football.
No ordinary football memoir, in McCormack's Born Fanatic, he offers a glimpse into his unique experience with football fanaticism, leaving fans and readers alike both nodding with understanding and surprised by his insights into one of America's most beloved pastimes. Few individuals have learned about pro football from the classroom of life the way McCormack has and through his storytelling — woven with research and insights from his "insider perspective" — readers are given a deep look into what makes football fanatics tick and inspires them to meet the challenge of recovering the most important thing about pro football before it's too late.
Learn more at www.bornfanatic.com.
---
Here's a brief summary of some Spring 2018 releases (simply click the below title links for further book & author info + advance samplers OR click here to view the full Spring 2018 catalogue):
RobertRose Books New Releases
AROMATHERAPY WITH ESSENTIAL OIL DIFFUSERS: For Everyday Health & Wellness Aromatherapy and essential oils are more popular than ever. Diffusing essential oils can improve your health and well-being. Karin Parramore Oregon
150 BEST WAFFLE MAKER RECIPES: From Sweet to Savory Now home cooks can enjoy scrumptious restaurant-quality sweet and savory waffles. Marilyn Haugen Wisconsin, Jennifer MacKenzie Ontario
5-INGREDIENT AIR FRYER RECIPES: 175 Delicious & Easy Meal Ideas Including Gluten-Free & Vegan Enjoy fried foods anytime, with a fraction of the fat and calories and none of the messy clean-up left in the wake of traditional oil-fried foods. Camilla Saulsbury Texas
SERIOUSLY GOOD FREEZER MEALS: 150 Easy & Tasty Meals You Really Want to Eat Delicious meals that will have you feeling anything but left out in the cold! Karrie Truman Washington
FERMENTATION REVOLUTION: 70 Easy, Healthy Recipes for Kombucha, Kimchi and More Everything you need to know about fermentation to start a little revolution in your pantry! Sebastien Bureau + David Cote Quebec
USING THE GAPS DIET: 175 Recipes for Gaining Control of Your Gut Flora A comprehensive introduction and 175 tasty recipes to help you gain control of your health and intestinal flora. Signe Gad Copenhagen
---
Lessons From My Grandfather: Wisdom for Success in Business and Life by Marc Demetriou
Lessons From My Grandfather chronicles Charlie's migration from Cyprus to NYC, and his trials and tribulations in work and in love. Remarkably, he leaves Cyprus at 16 without telling anyone, including the young woman he was set/intent to marry. Many years later, her family falls on hard times and migrates to the same Cypriot community in New York. They reconnect and get married. 
This book is a reminder to communicate with the younger generations and serves as motivation for all ages. It's also a great conversation starter for anyone of any age!
More information available at www.GrandfatherLessons.com.
---
For the millions of seniors who suffer from some form of arthritis, easy-to-operate basic essentials are always welcome. ShedRain seems to be having an impact with its new e-Motion umbrella, the first fully motorized umbrella that opens and closes completely with a push of a button. The standard auto open close umbrella (that was introduced more than 25 years ago) still requires a two-handed action to pull the closed canopy down to the handle.
The e-Motion is the only umbrella that closes the canopy and brings it down to the handle – all with just one hand. 
e-Motion $99
Shedrain introduces the newest innovation in the umbrella industry with the fully automatic e-Motion™. Twenty-five years since the Auto-Open/Auto-Close concept first made umbrellas easier to handle, the e-Motion™ adds the final touch to simplify the action and make the motion complete. This new motorized umbrella is the first to not only close the canopy, but also slide it all the way down to the handle- in one motion with the push of a button. The battery-powered umbrella can be recharged with a connector included in the handle of the umbrella with one charge lasting a full 150 openings and closings! This rainy weather must-have is available in a stick or compact version. Watch it in action:  http://vimeo.com/213757181
---
TahiniBAR
NEW! SNACK BARS TAKE THE TAHINI CRAZE TO HEALTHY, DELICIOUS NEW HEIGHTS
Absolutely Gluten Free Introduces TahiniBAR, the Energy Bar Made From Sesame Seeds
Available in Three Exciting Varieties: Cocoa Nibs, Pistachio, and Vanilla
Absolutely Gluten Free, maker of all-natural crackers, flatbreads, and pizza that are both delicious and gluten-free, is taking on the energy bar category with the launch of TahiniBAR, a grab-and-go sesame seed snack that weighs in at only 100 calories. All varieties are certified OU Kosher and dairy-free.
TahiniBAR is leading the pack in many of today's hottest food trends:
Demand for authentic Mediterranean food, particularly seed-based spreads like hummus and tahini, is on the rise in the United States, with even more growth in the forecast. 

 The market for healthy portable snacks has seen dynamic growth; bars are more widely available and consumed on a more casual basis than ever before.

The gluten-free movement continues to gain traction as shoppers become more mindful of diets that support health and wellness. In fact, more than 30% of Generation Z and Millennials say they are willing to pay a premium for gluten-free products.

Finally, consumers are expecting intriguing new textures and flavors, and they want to indulge in ingredients like fruits, nuts, and chocolate.
Sesame seeds are truly one of the most ancient foods on earth. In fact, sesame plants are the oldest known plant species to be grown primarily for their seeds (pods) and oils rather than for their leaves, fruit or vegetables.
Health Benefits – Sesame seeds are an excellent source of copper, manganese, magnesium, calcium, phosphorus, iron, zinc, molybdenum, and selenium. These translate into a variety of health benefits including cholesterol-lowering phytosterols, heart health, improved blood pressure, hormone balance, as well as cancer fighting and fat burning properties. Sesame also helps boost nutrient absorption and energy levels, too.
TahiniBAR satisfies all of these demands in a novel new format. Like tahini and its decadent dessert cousin, halvah, the energy bars are made from all-natural roasted sesame seeds. Sesame seeds help boost energy levels and are a good source of vitamins, minerals, protein, fiber, Calcium, Iron, Zinc and potassium.  Much lower in calories than many other bars, this 100% gluten-free treat is available in three delectable varieties – Cocoa Nibs, Pistachio, and Vanilla – and sold in packs of 7 bars (4.4 oz.). The MSRP is $2.49 – $2.99 per bar.
Absolutely Gluten Free is headquartered in Bayonne, NJ, and currently has a line of gluten-free flatbreads and crackers, Superseed Crunch, Blondies and cauliflower crusted pizza, among other items, available in stores nationwide:  www.absolutelygf.com.
---
"Ball & Chain" nightclub and bar owner, Zack Bush 's "MADE FOR ME" children's picture book was written for dads and is a tribute to the immediate bond between father and child.
JUST IN TIME FOR FATHER'S DAY! THE VIRAL HIT CHILDREN'S BOOK
"MADE FOR ME"
This new picture book celebrates the special bond between fathers and their children. Zack Bush, Miami nightclub business owner, has written Made for Me, a children's book that recently hit #1 on Amazon's Children's Picture Books category, about the devotion and love only a father could know. Bush, the man behind world famous Ball & Chain, is father to three-year-old son Ace and baby daughter Ava – the inspirations behind his new life chapter as an author.
Made for Me highlights the tender moments between father and child. Through thoughtful rhyme and touching illustrations, Made for Me shows that with every step or new word, the love between a father and his baby is forever. When a father holds his child for the first time, something magical happens. In that moment a bond is formed, and even the toughest of men become wrapped around those tiny fingers.
"Of all the children that ever could be, you are the one made just for me."
Title: Made for Me  |  Author: Zack Bush  |   Illustrator: Gregorio De Lauretis  |     Publisher: Familius Publication: March 1, 2018   |  Price: $16.99  |   ISBN: 9781945547690
32 pages, Hardback with embossing on dust jacket
---
Music festival season is upon us, and there are a few essentials everyone should bring with them: water, good vibes, and a funky fedora.
Tenth Street Hats make the most fashionable, high-quality hats, perfect for street and music festivals. From fedoras to wide-brimmed, our men's and women's hats are perfect for staying cool during any music festival. Most of their hats are UPF50+, have a waterproof barrier, and are supported by the Skin Cancer Foundation.
Some favorite music festival hats include:
AMIENS – the floppy, wide-brimmed hat with a round crown hat and vibrantly painted wool is crushable and portable, perfect for bouncing around the festival.
NAMASTE – this one was made for stuntin' in the sun: There's a braided leather tail, leather binding and a peacock feather.
---
Most of us know Salvador Dalí for his eccentric life and art, including the infamous melting clock and phrases like, "I don't do drugs, I am drugs." But ever think you'd have the chance to own or gift a Dalí? Here it is…
David Beaulieu, creator of the new Salvador Dalí action figure, has created the first and only collectible action figure to be endorsed by The Gala-Salvador Dalí Foundation. For less than $29, you can own or gift a Dalí! With over $25,000 in pre-orders and support via Kickstarter, this collectible includes:
– Dalí's signature melting clock
– 3 removable and customizable mustaches
– 5 mini masterpieces to be displayed on a mini-easel
– 10 interesting facts about Dali
Salvador Dalí is the 7th artist to enter the Art History Heroes Collection. Others in the Art History Collection include Leonardo da Vinci, Frida Kahlo and Vincent van Gogh. Whether gifting it to yourself, or looking to win the "most thoughtful gift giver" title, the Salvador Dalí action figure makes the perfect present to celebrate art, eccentricity, and thinking out-of-the-box.
---
Bachelor Girl by Kim van Alkemade
From Carlisle, PA native Kim van Alkemade, author of the New York Times bestseller, Orphan #8, comes a new and exceptional work of near-history fiction—BACHELOR GIRL, a gripping story about the destructive power of secrets and the redemptive power of love set in 1920s New York City. BACHELOR GIRL offers a compelling answer to the real life mystery surrounding Helen Winthrop Weyant's inheritance from legendary New York Yankees owner Colonel Jacob Ruppert.
The author stumbled upon the story of Helen's inheritance and her relationships with Ruppert and Albert, his personal secretary. The situation of these three characters immediately suggested a fascinating tangle of relationships which inspired her to write BACHELOR GIRL. The novel foregrounds the stories of working women, gay men, and people of color against the well-known backdrops of World War I. Kim van Alkemade's historical narrative elucidates the true meaning of family, identity, and love in all its forms.
Kim van Alkemade is the author of the historical novels Orphan #8 and Bachelor Girl. Her creative nonfiction essays have appeared in literary journals including Alaska Quarterly Review, CutBank, and So To Speak. She is a Professor in the English Department at Shippensburg University and lives in Carlisle, PA.
---
Good Idea®
Good Idea® – The Swedish Sugar Buster is a scientifically proven dietary supplement designed to go perfectly with any meal. The big deal is that Good Idea® – The Swedish Sugar Buster contains a blend of five amino acids and a mineral in sparkling water that can help those with normal blood sugar levels handle the sugar spike following a meal1 – and it works with any meal containing fast carbs and/or sugar. That´s why Good Idea® – the Swedish Sugar Buster might well be your best lunch date ever…and one that you can have every day!
Good Idea® – the Swedish Sugar Buster is the result of many years of research at Lund University – one of the leading universities in the Nordic countries, and a hub for healthy food inventions. The starting point was the discovery that a certain combination of amino acids – the building blocks of all proteins – could have a beneficial effect on the blood sugar rise following a meal. Repeated clinical studies have confirmed it really works, and it is this knowledge that has been built into Good Idea® – the Swedish Sugar Buster. Our aim has been to develop a product, attractive to everyone who is interested in maintaining and/or moving towards a healthier lifestyle, and we´re proud of the result.
Good Idea® – the Swedish Sugar Buster comes in two different flavors – Lemon/Lime and Orange/Mango – both of them are absolutely free from sugar and artificial sweeteners, and they contain only 10 calories per serving (12 fl oz).
---
From Anova Culinary…Skip the restaurant scene this year and get Mom a gift she'll love with limited-time savings on everything in the Anova store. With the Anova Precision Cooker, Mom can enjoy restaurant-quality meals from the comfort of home every night of the week, at the touch of a button.
Wanna earn extra brownie points? Complete Mom's sous vide setup with savings on our collection of affordable, pro-level sous vide tools, now available in the Anova Accessories Shop.
Here are the details for this year's Mother's Day:
Give a gift that keeps on giving with $20 off the Anova Precision Cooker Bluetooth
Upgrade for voice control and more power with $30 off the Anova Precision Cooker WI-FI
Get an extra 10% off with code LOVEMOM at checkout–accessories included!
Mother's Day Specials are limited-time only and savings will run 4/27 – 5/13
---
1571 Fahrenheit Beer Caramelizer
The brand new camping must have is…the 1571 Fahrenheit Beer Caramelizer!
Become a campfire brew-master by utilizing this drink-worthy tool!
You become the campfire brew-master with the 1571 Fahrenheit [1571F] Beer Caramelizer. A flash of heat from the caramelizer reacts with the sugars in the beverage, creating a richer and smoother taste. Don't be afraid to "ex-beer-iment!" The caramelizer will transform your campfires and adult beverages into a brand new "ex-beer-ience."
---
Three Gorges Dam by Thomas V. Harris
As we all had the pleasure of celebrating the beautiful women in our lives on Mother's Day, it won't be long until we have the opportunity to thank the tremendous men in our lives as well!
Just in time for Father's Day, grab the newly released international thriller, Three Gorges Dam by debut fiction author Thomas V. Harris that takes readers through real-life China as Buddhist and Muslim freedom fighters expose the country's fatal flaws.
Three Gorges Dam—a tale of personal redemption wrapped inside a political thriller—offers a birds-eye view of China on the brink of destruction as it faces the worst mass catastrophe in world history. With this edge-of-your-seat new title, readers will fly through the pages as they follow New Yorker Michael Brannigan in the People's Republic of China.
ABOUT THREE GORGES DAM:
New Yorker Michael Brannigan and the People's Republic of China are concluding a triumphant week. The PRC's top energy consultant has fallen in love with Australian geophysicist Kylie Ryan while traveling in Xinjiang Province. President Lao Ming is in Beijing hosting a game-changing summit with the United States. CNN is broadcasting the new reality: the Communist juggernaut has surpassed the United States as the world's top superpower.
Brannigan's train is retracing Marco Polo's historic journey—when the Silk Road Express reaches the Far East's Far West, his team of engineers will assist the Chinese in developing the world's richest oil fields. As Brannigan heads deeper into the Taklamakan Desert, President Lao's motorcade is approaching the end of its parade route. In a few hours, the president will arrive at the Hall of Purple Light to celebrate his victory.
All that changes in two blinks of an eye. Television cameras capture the crumbling of the Communist regime while China's Young Turks and Fighting Monks rock the country. Caught up in the violence, Brannigan's love affair meets a tragic end. Hostiles are raging and the Chinese miracle is self-destructing. In the midst of the turmoil, Brannigan returns to China for a hush-hush assignment at Three Gorges Dam, the world's largest hydroelectric facility. There, he overcomes his demons and finds lasting happiness. Everything is coming up aces.
For more information visit thomasvharris.com.
---
YOU CAN HAVE IT!: More Than 125 Decadent Diabetes-Friendly Recipes by Devin Alexander
Since leaving her position as the celebrity chef on TV's The Biggest Loser, Devin has turned her focus to the 1 in 3 Americans that have either type 2 diabetes or are in a state of pre-diabetes. She's on a mission to help people eat healthier and smarter without sacrifice while championing the fight to reverse the growing number of new diagnoses in North America.
A diabetes-friendly diet isn't a special diet but a smarter diet… and with 1 in 3 Americans living with diabetes or on the brink of it, it is timelier than ever!
---
AROUSED: The History of Hormones and How They Control Just About Everything by Dr. Randi Hutter Epstein, MD
In AROUSED [W. W. Norton & Company; June 26, 2018], Randi Hutter Epstein, MD takes readers on a fascinating tour of the unique history and science behind one of medicine's most important discoveries—hormones—and our quest to understand and control them. Chapter by chapter, topic by topic, with curiosity and wit, she explores the field of endocrinology's most unusual and important scientific discoveries, beginning with the nineteenth-century medical practitioners who started researching the chemical-secreting glands in our bodies.
In the book, Dr. Epstein discusses:
greatest medical advancements to emerge from hormone research: the ability to accurately measure hormones.  For most of medical history, doctors couldn't actually measure them; treatments were based on educated guesses
compelling details of the false "cures" that were peddled
dangerous missteps that were made along the way
lifesaving discoveries made by talented and dedicated medical professionals—many of them women
famous Leopold and Loeb murder trial that played off the 1920s notion that criminality could be linked to hormones
"pioneering" use of vasectomies as a male rejuvenation treatment
use of human growth hormone to "cure" shortness
tragic realization, decades after they are first used, that hormones gleaned from the body aren't necessarily safer than those made in a lab
Randi Hutter Epstein, MD, MPH, the author of Get Me Out, is an adjunct professor at Columbia University, a lecturer at Yale University, and a writer-in-residence at Yale School of Medicine.
---
Eating Across America: A Foodie's Guide to Food Trucks, Street Food and the Best Dish in Each State by Daymon Patterson, $24.95
Daymon Patterson is better known as Daym Drops, an American food critic, YouTube celebrity, and television presenter. He initially gained popularity on YouTube for his video review of a Five Guys takeout meal, which spawned a viral online song by the Gregory Brothers. With hard work and determination, he eventually made his way to becoming Rachel Ray's Food Correspondent. He travels abroad, sampling dishes and many QSR locations, all to give them a Super Official Food Review from the front seat of his truck.
And now, Daym Drops offers Eating Across America for all traveling foodies like you. Eating Across America is a taste bud party of the country's best food trucks, street foods, and cheap eats. Sometimes messy, but always made with love, eating out at local trucks and holes-in-the-wall has become a movement. Daym Drops details the definitive road map to truly tasting Americana. Eating Across America is the perfect tour guide for the travel foodie in all of us. View the book on Amazon!
---
Beer School: A Crash Course in Craft Beer by Jonny Garrett and Brad Evans, $17.95
An insider's guide to craft beer, the world's greatest drink! Since its invention 6,000 years ago, beer has come a long way. The legends of the craft beer industry have made sure everyone's within reach of great beer. But, how do you make sure you get your hands on the right brew? Can you learn how to make beer? Welcome to Beer School, brought to you by the heroes of the Craft Beer Channel, a guide to everything you need to know about the wide and wonderful beers of the world.
In Beer School, we define and detail the finest artisan crafts, including ales, lagers, porters, stouts, and IPA beers. Plus, with the lowdown on everything from hop varieties and barrel aging, to serving temperatures and glassware, Beer School helps you learn how to make beer and get the best from every sip. View this book on Amazon!
---
Answers to Questions You've Never Asked: Explaining the What If in Science, Geography and the Absurd by Joseph Pisenti, $19.95
When you take the most absurd parts of history, science, economics and geography, you end up with a pretty confusing picture of humanity. Why do we have borders? What's the furthest you can get from the ocean? How do you qualify as a country? Why did Vikings wear those silly helmets? These are just a few of the strange questions that bounce around the head of YouTube sensation Joseph Pisenti, aka RealLifeLore.
In his channel, Pisenti presents illogical truths in a logical manner. In his debut book, Pisenti builds on this nonsensical humor of the universe with in-depth analysis of empires, economies, and ecosystems as he helps answer the ridiculous. Why, you ask? Because someone has to. Using line drawings, graphs and charts, Pisenti not only details the absurd, but he also provides explanations on why things are…and why they aren't.
He answered questions like: Where can I move to so that I'm never tempted by McDonalds again? How far into the Pacific does Trump's wall stretch? If Plato came back to life, what would he think of modern democracy? Who decides what countries are allowed to participate in the Olympics? And so much more. Witty, thought-provoking and occasionally snarky, Answers to Questions You've Never Asked is for anyone who beams with curiosity and has a belly-button. View the book on Amazon!
---
The Booklovers' Guide to Wine: A Celebration of the History, the Mysteries and the Literary Pleasures of Drinking Wine by Patrick Alexander, $19.95
Under the careful guidance of his father, Patrick Alexander began drinking wine with his meals at the age of five. At the same age, encouraged by his mother, he began a lifelong love-affair with books. The twin pleasures of wine and writing remained his passion for the next sixty-five years. For the past six years, Patrick has been teaching a sold-out wine appreciation class at the nation's No.1 independent bookstore, Books & Books in Coral Gables, Florida.
The Booklovers' Guide to Wine is based on this very successful class and blends Patrick's passion for the culture and history of wine and his love of literature for the world's great writers. A literary twist on traditional food and wine pairings, this book explores how great wines and great writers can be combined to enhance the enjoyment of both. The book describes the history of wine from the time of Noah to the birth of two-buck Chuck. It explores the significance of terroir and varietal, the differences between Old World and New World wines, and much more. View this book on Amazon!
---
Eating Well to Win: Inspired Living Through Inspired Cooking by Richard Ingraham
Chef Richard Ingraham has been personal chef for NBA star Dwyane Wade for more than a decade. The Miami native is also a Chopped contender and the founder of the private chef network, ChefRLI, which caters to professional athletes. Now this chef to star athletes is ready to share the secrets of cooking for a peak performance lifestyle. Chef Richard's book is designed for those who want to change their diet to achieve peak performance, whether that be at the gym or the office. This is an insider's guide to how it really happens. Step-by-step in 90 recipes, he will show the CrossFit enthusiast, the working mom and the weekend golfer how to eat for optimum performance because he knows all of the secrets, and it's not all kale smoothies and grilled chicken.
In addition to his recipes, Chef Richard will share what he's learned about eating well to live well throughout his career from his parents and grandparents, who were his first culinary instructors, to his celebrity clients. Readers will get advice on how changing what you put in your body will change what you put out into the universe and make you feel better physically and emotionally. It's not just about making sure you get the right mix of veggies and carbs. This is about feeding your spirit as well. Chef Richard is serving up recipes for inspired living. View this book on Amazon!
---
Notoriously Dapper: How to be A Modern Gentleman with Manners, Style and Body Confidence by Kelvin Davis, $19.95
Kelvin Davis, founder of body-positive menswear blog Notoriously Dapper, has brought us a book full of expertise and experience for men everywhere. From wedding etiquette to all-around decency and dignity, this book is a treasury of information. Davis covers all the bases, including dating how-tos (hint, pulling up and waiting for them in your car is wrong), social skills, and etiquette for all occasions.
He even counsels on improving your character. Whether you are at a weekend wedding with your friends, courting a new lady, being a great colleague at work, or becoming a dad, Notoriously Dapper provides practical information and inspiration for the modern gentleman seeking to build body positivity and essential life skills. View this book on Amazon!
---
Anime Impact: The Movies and Shows that Changed the World of Japanese Animation by Chris Stuckmann, $27.99
Anime holds a special place in the hearts of countless fans around the globe. Since the early days of Osamu Tezuka's Astro Boy to Makoto Shinkai's astounding success with Your Name, anime has left an undeniable impact on our culture. Anime Impact by YouTube film critic Chris Stuckmann explores the impression the medium has left on various fans with detailed discussions on television shows and movies from the 1960s all the way to the present.
Learn how anime has impacted culture from authors, artists, critics, anime enthusiasts, and super fans such as John Rodriguez, Alicia Malone, Emma Fyffe, and many more. Each writer has detailed their personal experiences of discovery and how anime has changed their life. Many discuss the implications that some anime shows and movies have on our society. While many books on anime simply offer a list of "essential titles" and recommendations, Anime Impact goes deeper by showcasing the many voices of anime's biggest fans. You'll find many distinct stories that only each specific writer could tell, all painting a fun and surprisingly touching portrait of the true impact of anime over multiple generations. View this book on Amazon!
---
Advancing Your Photography: Secrets to Amazing Photos from the Masters by Marc Silber, $19.95
Take your photography to new levels with Advancing Your Photography, an easy to understand and use handbook that is packed with tips from some of the world's best photographers. Find out how you can apply their secrets for capturing outstanding photos. With Advancing Your Photography, you will understand all steps needed to advance your photography and capture amazing photos. Learn how to capture stunning images, photograph in many lighting conditions, get inspired, and bring your images to life.
You might know there's something missing in your photography, but how do you get inspired? Explore a simple but powerful way to expand your ability to imagine a photograph in new ways. Author Marc Silber gives you guidance on training your eye to see composition with emotional impact, demystifies the settings on your camera, teaches you how to process your images, and so much more. Don't get overwhelmed—get Advancing Your Photography. View this book on Amazon!
---
GUTS: Find Your Greatness, Beat the Odds, Live From Passion by Sam Bracken, $18.95
Do you want to understand the important difference between head, heart, and gut and where each fits into better decision-making? Are you ready to enjoy a purpose driven life and all of the joy and contentment it can bring? GUTS will help you find that purpose driven life that is yours to live with joy, passion and success. Now, more than ever, is the time to go for the gusto, to find your own Duckworth grit. In his book GUTS, Sam Bracken explains why we all need to dig deep and do soul searching to see what lights the fire within that brings forth our very best. When we say something takes guts, we usually mean it takes courage to do it. It takes guts to go skydiving or to run a marathon or to try out for the school play.
Look back at the great personalities who made a difference in the pages of history. What did they all have in common? Determination and tenacity. In short, GUTS! Science now tells us that lots of talented individuals produce great stuff, but very few produce a lot of great stuff—and even fewer produce a lot of great stuff over a long career. What do these few highly productive people have in common? Grit and grace and a large helping of self-belief. To be a true leader, you have to start with yourself. Are you ready to do some soul searching and learn the secrets to guts, self-empowerment, a purpose driven life, and grit and grace? View this book on Amazon!
---
Power Your Life With the Positive: Life Lessons and Secrets for Success From Luminaries and Everyday Heroes by Cyrus Webb, $16.95
Drawing on his relationships with industry insiders and those in front of and behind the camera in the entertainment industry, author Cyrus Webb has compiled Power Your Life With the Positive, a compendium of encouragement. This book is filled with stories of amazing life turnarounds from real people, showing the importance of optimism in an often negative world. Power Your Life With the Positive is pure inspiration that will lift hearts, open minds, and create a movement of pass-it-on positivity and happiness. In these times of economic uncertainty, civic strife, and political turmoil, it's more important than ever to offer people hope and ideas on how to believe that the best is yet to come.
The notables featured in Webb's book faced their own fears, believed enough in their goals and dreams to pursue them, and reaped rewards by sticking to their guns and not allowing their own doubts—or the doubts of others—to stop them. Those featured in this book include: Grammy award-winning singer/actress Stephanie Mills, Paul T. Scheuring (creator of Fox's Prison Break), LeVar Burton (Reading Rainbow/Roots/Star Trek: The Next Generation), Jeryl Prescott (The Walking Dead/Birth of a Nation), Peter Engel (Executive Producer of Saved By the Bell), Antonique Smith (Notorious/Fox's Shots Fired), Actor Darrin Dewitt Henson (Soul Food, the TV show/book/movie Stomp the Yard), John Schneider (Dukes of Hazzard/Tyler Perry's The Haves and the Have Nots), actor Dan Bucatinsky (Scandal and 24), and many more. View the book on Amazon!
---
Stockpile!
Eighty-six percent of American adults have never owned an individual stock, and 80% of stock is owned by the wealthiest 10%.  Stockpile was founded to give everyone, including millennials, kids, and teens, an easy and affordable way to start investing for their future.
Stockpile offers an easier and more affordable way to start investing. Available online or via smartphone, stock can be purchased in affordable denominations through fractional shares. Customers can open brokerage accounts and purchase fractional shares with as little as $1, making it possible for anyone to own favorite brands like Amazon, Apple, Alphabet, Disney, Nike, Tesla or 1,000 other stocks and ETFs.
Stockpile customers can download the iPhone or Android app or visit stockpile.com to open a free account for themselves or anyone in their family, including children under 18.  They can buy individual stocks or ETFs at 99 cents a trade, set up an automatic investment plan, track their investments, learn about stock investing through free mini-lessons, or help others get started by purchasing e-gifts or physical gift cards redeemable for stock.
The company also offers the world's first gift card for stock, making it easier to give stock to family or friends, popular for graduations, weddings, baby gifts and the holidays. Stockpile gift cards are available online, at major retail chains such as Target, Kroger, Office Depot, Safeway and Staples.
Once a stock is purchased or redeemed, the stockholder receives a fractional share of the stock in a real brokerage account that will go up and down with the market. Stockholders can hold on to the stock and track its progress, buy more of the stock or other stocks, or cash out of the stock by selling it whenever they want.
---
AirPods case joins the Catalyst Waterproof Case for Apple Watch in Best Buy stores across the U.S. along with a wide range of Catalyst products available at BestBuy.com
Catalyst, the award-winning manufacturer of the world's most protective and stylish cases and accessories for electronic devices, is expanding the availability of products in Best Buy stores across the United States and at BestBuy.com. Starting today, hundreds of Best Buy stores will carry the award-winning Catalyst Case for AirPods in addition to the waterproof, drop-proof cases for the Apple Watch.
The multiple award-winning Catalyst Case for AirPods is the world's first and only AirPods case that offers complete protection for your Apple AirPods. A winner of the International Design Award in 2017 and a CES Innovation Awards Honoree in 2018 showcases the premium design and development capabilities that Catalyst is recognized for globally.
The Catalyst Case for AirPods is a premium protective case that is a stylish, essential everyday accessory that is the first of its kind. Made of a soft premium silicone, the case is IP67 waterproof to 3.3ft (1m) and drop proof to 4ft (1.2m) making the Catalyst Case for AirPods the must-have accessory for your AirPods. This patented, award-winning design is slim and minimalistic and allows users to have convenient access to the Lightning charge port. The included carabiner allows the case to be easily attached to a belt loop, bag or backpack so that you can always find your Apple AirPods and the waterproof case is easily accessible.
US $24.99 | Available Now | Colors: Frost White, Blueridge/Sunset, Army Green, Deep Plum, Slate Gray
US $29.99 | Available Now | Colors: Glow-in-the-Dark
---
Supersmile
Supersmile®, the #1 Whitening System recommended by cosmetic dentists, is excited to announce the launch of the new flavor Tahiti Vanilla Mint to their collection of Professional Whitening Toothpastes. Supersmile®, founded by Dr. Irwin Smigel, the world-renowned Father of Aesthetic Dentistry, offers a clinically proven collection of premium whitening, breath-freshening and cavity-fighting formulas designed to deliver the most safe and effective oral care. Tahiti Vanilla Mint Professional Whitening Toothpaste is clinically proven to whiten teeth 4 shades and up to 6 shades when used with the Supersmile® Professional Whitening Accelerator. Tahiti Vanilla Mint is a delicate fruity, floral flavor of tropical vanilla orchids with notes of licorice, cherry and ground cinnamon melded with the vibrant cooling fresh taste of Yakima Valley peppermint.
This best-selling formula contains Calprox®, the unprecedented science behind Supersmile®, a proprietary technology of encapsulated calcium peroxide and minerals. Calprox® works by gently and effectively dissolving the sticky bio-film from your teeth to which plaque, bacteria and stains (such as coffee, tea, tobacco and red wine) adhere. Calcium, magnesium, phosphates, and fluoride remineralize and restore enamel, and fight cavities without the risk of sensitivity. This proprietary formula leaves the teeth looking brighter and feeling cleaner for a longer period of time.
TAHITI VANILLA MINT: (4.2 oz; $23.00)
The newest flavor safely and painlessly whitens and strengthens teeth without harsh abrasives. So far this year, Supersmile® was awarded the Most Powerful Whitening Toothpaste by NewBeauty Magazine, QVC's Beauty Choice Award, and Men's Health's Grooming Award. Sold at Neiman Marcus, Bergdorf Goodman, Ulta Beauty, many other upscale specialty stores, spas and resorts, and in international markets.
Additional benefits of Supersmile® Tahiti Vanilla Mint, Professional Whitening Toothpaste:
Restores bonded teeth, veneers, caps, dentures to their original shade.
Clinically proven to be 75% less abrasive and inhibits plaque 10 times better than other leading toothpastes
Use twice daily for a whiter smile, healthier gums, and fresher breath
Ultra-convenient one step system (just brush)
Free of: silica, parabens, sulfates, gluten and known allergens, animal by-products and BPA. It's also Kosher!
---
From Enemies to Partners: Vietnam, The U.S.. and Agent Orange by Dr. Charles Bailey, coauthored with Dr. Le Ke Son.
This new book makes a great gift for Father's Day — especially for the history buffs and military dads out there:  From Enemies to Partners: Vietnam, The U.S.. and Agent Orange (February 2018, G. Anton Publishing), by Dr. Charles Bailey, coauthored with Dr. Le Ke Son.
More than four decades after the end of the Vietnam War, the United States and Vietnam are just beginning to address the negative consequences of Agent Orange, the dioxin-contaminated herbicide used during the war. In this groundbreaking book, two leading experts on Agent Orange and its aftermath explore current scientific understandings of the chemical and consider the promising solutions to addressing the consequences of its use.
From Enemies to Partners outlines the moral reasoning for a fuller American response and present further steps the United States and Vietnam can each take in a joint humanitarian initiative to resolve the legacy of Agent Orange/ dioxin in Vietnam. They address the critical issues of whether dioxin pollution still exists in Vietnam, what needs to be done to finish the job of cleanup, how many victims of Agent Orange carry out their lives today, and the impact of Agent Orange on relations between the United States and Vietnam.
From Enemies to Partners provides a fascinating look at this dark part of history, and clearly maps out just what needs to happen today to work toward making things right.
---
Gourmet Coffee Blends & Handcrafted Gifts from GettysGear.com
Why not make Father's Day truly memorable this year with American-made gifts and collectibles from GettysGear.com? Dad doesn't have to be a history buff to start his day with a robust cup of coffee roasted in small batches at the Great Gettysburg Coffee Company™ or enjoy the quality of a hand-painted American eagle cast right in Gettysburg, Pa. He can even close his special day with the fine taste of a hand-crafted cigar made in the country's oldest operating cigar factory.
Dedicated to commemorating and creating awareness for the Gettysburg National Military Park, GettysGear.com specializes in apparel, accessories, and home décor produced, manufactured, and packaged in Gettysburg by local merchants. Available in special gift packs and shipped via USPS Priority to ensure speedy deliveries, the wide variety of GettyGear® gift items include:
Gourmet Coffee Blends & Mugs – Coffee lovers nationwide revel in the glorious taste of the Guardian, a dark roast with a bittersweet, full-bodied taste; the President, a medium roast reminiscent of a breakfast blend; the Quartermaster, a splendid, aromatic blend of cinnamon, pecan, chestnut, and rum; and the General, a delicious blend of mocha, caramel, and vanilla
Hand-cast Aluminum Eagles made in the traditional sand cast method and meticulously hand-painted in a four-step process available in a variety of finishes and with wing spans ranging from 12" to 25"
Guardians of Gettysburg® Statuary – 5 1/2″ tall statues hand cast and finished right in Gettysburg and available in antique blue, bronze, pewter, and silver
Civil War Field Bags, Replica Revolvers, and Rifles hand cast or finished with commemorative etchings and art
The Original Gettysburg Cigar® hand-crafted by the Great Gettysburg Tobacco Company® and offering a variety of tobacco blends and sizes made with Pennsylvania leaf wrappers and protected in hand-dipped wax sealed glass tubes
To take a walk back in time and a step up in quality please visit www.GettysGear.com or email info@gettysgear.com for your next holiday gift idea.
---
What to get Dad? A tricky question when Dad usually will remark that he has everything he needs, save your money.
Something that may have never occurred to him might be the solution to the dilution problem, watered down spirits. Whether Dad drinks Whisky, Bourbon, or Rum …the need is the same. To maintain a cool consistency in a way that doesn't interfere with the flavor of a full-bodied beverage. WHISKY STONES® ICON – DAD does just that!
7/8″ cubes | Etched Black Stones | Set of 3
$14.00 MSRP
*Teroforma, inventors of Whisky Stones® beverage cubes have an entire collection of additional products that cater to your cocktail. Check them out on shelf at retailers across the nation and on www.teroforma.com
Christopher holds undergraduate and graduate degrees in English from Duquesne University and has been acting and writing for over 20 years. His articles have appeared in many publications including Advantage, American Builders Quarterly, Anchorage Daily News, Canadian Builders Quarterly, Canadian Executive Quarterly, Chartiers Valley Magazine, Cranberry Magazine, Energy International Quarterly, Focus Magazine, Green Business Quarterly, Hispanic Executive Quarterly, Northern Connection Magazine, North Hills Monthly Magazine, Observer-Reporter, Pittsburgh Post-Gazette, Pittsburgh Tribune-Review, Profile, Recovery Solutions, Standard-Speaker, The Strip Magazine, and Western Pennsylvania Healthcare News.